Bra Fitting Tips
A Mini Bra Style Guide For Different Types of Clothing
---
Bra Fitting - Most of us think that getting the right bra size is the key to looking great and feeling fab.
True, but getting the correct bra size is only half of the equation.
What's the other 1/2? It may surprise you, but choosing the best bras for your shape and clothing are just as important as getting the right size.
Without both being "in sync", it really doesn't matter what you wear, it won't look great.
Different clothing styles need different types of bras. So, we put together a mini bra style guide to show you the best bra styles. So, without further ado, let's take a closer look...

T Shirts & Knitwear
---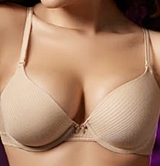 Body skimming T shirts, tight fitting tops and peekaboo sweaters and knitwear need a smooth bra style. Avoid lace bras and seamed bras that magnify seams, lumps or bumps.
Opt for seamless bras or contour bras in microfiber, nylon or matte satin (in a lycra blend) for a smooth and polished look.

Low Cut Dresses, Shirts & Tops
---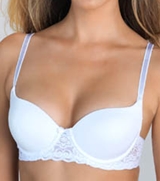 V neck, square, low cut dresses, tops and shirts need an underwire bra with a demi or half cup that shows off the top part of the breasts, for an impressive decolletage.
These sexy bras are also flattering and comfortable enough for everyday wear.
Available in combinations of lace, nylon and microfiber fabrics.

Office & Everyday Wear
---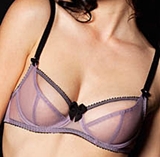 You have far more flexibility and choice when it comes to practical everyday bras.
You can wear them for work, weekend or anytime wear. Underwire bras and wirefree bras are both suitable, depending on your preference.
The key to looking great is comfortable bras in neutral colors that blend with your skin tone.

Strapless Dresses & Gowns
---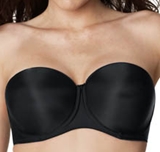 Cool summer dresses, sexy strapless gowns and halter tops need smooth strapless bras, bandeau bras, or even adhesive bras.
These specialty bras usually have a thin narrow band of silicone along the inner edge to keep them in place. Opt for contoured, and preferably seamless for a smooth and flawless appearance.

Sexy Nightgowns
---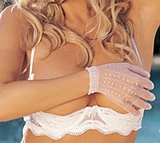 Sheer, sexy nightgowns and seductive exotic lingerie are best paired with peekaboo open bust lingerie.
These exotic bras come in open nipple, open bra and shelf bra styles that, depending on the style, show off the breasts completely. Opt for lace or silk in black or sexy jewel tones.


---
Carmen's Tip
Contour bras are seamless bras with a thin, light foam padding. Contrary to popular belief, they do NOT make your breasts appear fuller.
These specialty bras are designed for better support and shaping, and give you a smoother bra fit and appearance.
Related Bra Fitting Links
---
Bra Size Converter - converting your favorite European and international brassieres and panties into North American sizes is a breeze with this easy bra fitting chart.
History of bras - part I - find out how far back the brassiere goes, how it all started and when it really gained popularity.

History of the bra - part II - from ancient times to modern day and everything in between, we trace the history and popularity of today's bra styles, part II.

Take off bra - There are several ways to comfortably take off a bra without struggling. Here we discuss two popular options.

What is a demi bra - demi bras are perhaps one of the most popular types of bras available today. Find out what makes this bra style such a long time favorite with women everywhere.

Leave bra fitting and return to exotic lingerie