The Ultimate Guide To Ladies Sleepwear
From Cotton And Satin To Flannel And Sheer Nightgowns...
---
Ladies Sleepwear - Intimate and comfortable womens sleepwear and nightwear are an easy way to ensure a comfy and good night's sleep.
Whether you prefer wearing night gowns or womens pajamas, what you wear to bed can make a great world of difference between waking up refreshed and well rested or feeling exhausted throughout the day.
So, perhaps it is time to jettison that old and worn out T shirt that you've had forever and take a look at some favorite womens sleepwear styles.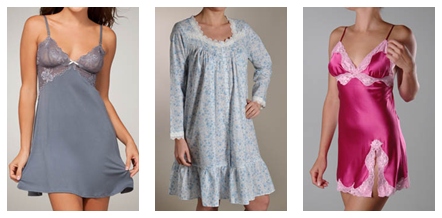 Ladies sleepwear now comes in various cuts, styles, colors, and prints. Here are just a few of the popular nightgowns and sleepwear styles that continue to be lingerie drawer favorites:


---
Cotton Nightgown

Cotton Nightgown
- For proven comfort and softness, you can never go wrong with a
cotton nightgown
. Romantic
Victorian nightgowns
are a classic favorite.
Thick cotton flannel is cozy for winter, while lighter fabrics are for humid nights. You can also choose from solid colors and vibrant prints to suit your taste.

Love of Lingerie guide to Cotton Nightgown


---
White Nightgown



White Nightgown - An all time favorite nightgown style. A white nightie has a fresh and crisp look with an innocent appeal. Nothing beats white cotton nightgowns for cool and comfortable summertime lingerie.
For a romantic evening opt for silk or satin nightgowns or those trimmed with ribbon and lace embellishments.


Guide to White Nightgown
---
Shop For Short Nightgowns
---
Womens Nightgowns

Womens Nightgowns
- Casual and comfy or cool and elegant. Today, these
night gowns come
come in hip-length, knee-length, and calf-length designs with either short or long sleeves.
In choosing the best color for these nightgowns and sleepwear, go with hues that complement your skin-tone.

Love of Lingerie guide to Womens Nightgowns


---
Nursing Nightgown

Nursing Nightgown
- This
ladies sleepwear
style is designed with reversed pleats or a split front for convenient and veiled breastfeeding.
Pastel colors give a cool look, while delicate prints offer a fun charm. Cotton is the best choice in fabric for nursing nightgowns as it won't irritate your baby's delicate skin.


Love of Lingerie guide to Nursing Nightgowns


---
Carmen's Tips
Do you have sensitive skin that chafes easily? Opt for nightgowns made from cotton. Cotton is a natural fiber that combines a soft touch and feel with comfort and breathability.


---
Plus Size Robes

Plus Size Robes
- If you're conscious about your figure, you can bet on this
womens robe
for a beautiful look and a comfortable fit.
Terry cotton and cotton-polyester are the conventional materials. For a more daring take, choose silk, lace, or mesh with sequins or fur trim.


---
Satin Nightgowns

Satin Nightgowns
- Satin not only boasts breathability and comfort, it also has a soft and pleasing feel against the skin.
The ladies sleepwear that has it all: for a feminine and romantic look opt for a satin nightgown in peachy hues. For more dramatic appeal, go with satin sleepwear in bold prints or colors with lace trimmings.

---
Shop For Long Nightgowns
---
Flannel Sleepwear

Flannel Sleepwear
- Made of 100% cotton,
flannel sleepwear
keeps you comfortable and warm during the cold winter months.
A flannel nightgown, flannel nightshirt, flannel robe and flannel pajamas are an ideal choice for cold winter months as they envelop you in comfortable & cosy warmth.


Love of Lingerie guide to Flannel Sleepwear


---
Womens Robe

Womens Robe
- Traditional
womens robes
wrap around your body in stylish options like
satin robes,
terry cloth robes,
and
spa robes.
Popular ladies sleepwear styles to lounge in include the tie front, and caftan; while the
zip front robe
is a favorite cover for swimwear and beachwear.
Intimate Apparel guide to Womens Robe


---
Easy Lingerie Links
---
Satin Pyjamas

Satin Pyjamas
-
Ladies pajamas
in satin and
silk sleepwear
have long been a bedtime staple and are great gift ideas for the holidays, anniversaries, and birthdays.
Both satin lingerie and silk lingerie range in styles from shorts to full length pants and sleeveless, cap sleeve, or long sleeve tops.


---
Sheer Nightgowns

Sheer Nightgowns
- Feminine and glamor best describe this favorite
sheer lingerie
style that continues to enchant both men and women alike.
From light as gossamer chiffon to classic cotton cambric, there is a surprising array of sheer, lightweight lingerie fabrics available today. Here we take a closer look a dozen sheer intimate apparel fabrics.

Love of Lingerie guide to Sheer Nightgowns


---
---
Vintage Nightgown


Vintage Nightgown - from romantic turn-of-the-century cotton Victorian nightgowns with French lace and satin detailing to glamorous silk and satin nightgowns from the 1930's and 1940's, the vintage nightgown offers a variety of choice and feminine appeal.
Vintage lingerie is available online through specialty retailers and estate sales, flea markets, and garage sales.

Guide to Vintage Nightgown


---
Related Lingerie Links
Leave ladies sleepwear and return to exotic lingerie