Guide To Plus Size Bras
Plus size bras come in a variety of different styles and bra sizes to suit virtually every taste, shape, and occasion.
A lingerie drawer should include different types of bras that enhance the silhouette and fit of one's clothing while supporting the bustline.
Wearing the correct bra size can of course make or break the look of any outfit, and it's also important to remember that a brassiere that may have fit well a few years ago may not necessarily be an ideal bra style now, since women's bodies can change throughout life.
Let's take a closer look...

Plus Size Bras - Bustiers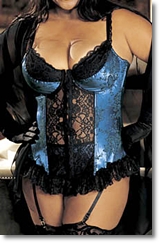 Plus Size Bustier - Plus size bustiers are a longer version of full figure strapless bras - a one piece shapewear undergarment with flexible boning that starts at the bosom and ends at the hip.
Similar to a push up bra these plus size bras push the breasts upwards, while shaping the midriff for a smoother fit.
Popular bustier styles include the satin bustier, sheer bustier and strapless bustier.
Bustier tops may also have detachable shoulder straps or a garter belt making them more versatile for different outfits.

Plus Size Demi Bras
Plus Size Demi Bra - A favorite of gentlemen everywhere, demi cup bras are a flattering underwire brassiere style that provide a gentle lift.
A demi bra (from the French word "demi" meaning half bra ) has bra cups that are partially cut away to show off the top part of the breasts or decolletage.
With less breast coverage than full bras and more coverage than balconette bras (also known as balcony bras) these contoured bras are the perfect combination of beautiful lingerie and elegant styling for low cut necklines.



Plus Size Push Up Bras
Plus Size Push Up Bra - A push up bra is designed to push the breasts together while lifting them to create the illusion of greater cleavage.
Most pushup bra styles have additional padding along the bottom and inner sides of the bra cups.
Some plus size push up bras also have removable gel or foam inserts to boost the bustline, while others have air or water pillows.
While push up bras were originally designed for special occasion outfits and evening wear, many women also love this brassiere for daywear too.

Plus Size Sports Bras
---

Plus Size Sports Bras - A plus size sports bra is a support bra designed to prevent damage to the breasts during physical activity.
Though many women find these plus size bras comfortable enough to wear on a daily basis.
Available in numerous large cup bra styles, lingerie and intimate apparel manufacturers often classify sports bras according to the physical activity and intensity.
From high impact to low impact, if you engage in various physical activities you'll probably need several different sports bras.

Related Links:
Bra Size Calculator - Finding the right bra size is easy with this three step guide. You can do it yourself, or have a friend help you.
All you need is a soft measuring tape and a pen and paper. Find out how to determine bra size by clicking on the bra size calculator link above.

Bra Plus Size - There's an endless selection of bras that you can shop for with a simple click of a mouse, anywhere anytime. Here are some quick lingerie shopping tips.


Herroom Plus Size Bras & Lingerie
Bra Size Converter - Bra sizes, lingerie and intimate apparel varies significantly from one country to another. Use this easy bra size conversion chart to determine your bra size.

Full Figured Bras - Having a difficult time getting full figure bras and sexy plus size bras to fit you properly? We've listed some frequently asked questions and answers in this full bra guide.

Plus Size Nightgowns - From long cotton nightgowns and flannel nightgowns for those cold winter nights to sexy nightgowns in silk and lace for romantic moments, there are a multitude of fantastic plus size lingerie intimate apparel styles available.

Large Cup Bra - These bras are available with or without underwire, seamed or seamless... in cotton, polyester, or microfiber with or without lycra and beautiful trims such as lace, satin, and mesh.

Lingerie Bra Plus Size - For so many gals choosing lingerie bra plus size and plus size intimate apparel can be a frustrating experience; one they try to avoid long past their favorite bras best by date!

Beautiful Lingerie