Secrets of Luxury Robes
Luxury robes are a step above everyday womens robes and make fantastic gifts for yourself and all of your loved ones.
Whether it's for a birthday, holiday, anniversary or special occasion, there's a wonderful variety waiting to be discovered.
And, and with a few lingerie tips tips you can easily select the perfect gift for everyone on your list.
We've put together a few of our favorites and a few insider lingerie shopping tips!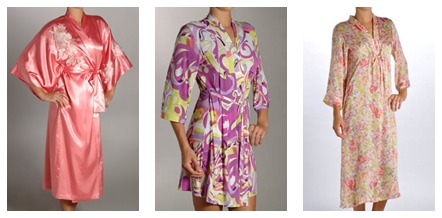 Luxury Robes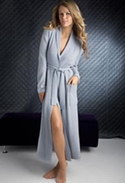 Cashmere Robe
- Cashmere robes
are the crème de la crème of lingerie and intimate apparel and will provide decades of unbelievable softness and comfort to those whose budgets allow for these
luxury robes
.
While cashmere is a thin and very fine material, both mens and ladies robes in cashmere are incredibly warm and cosy.



---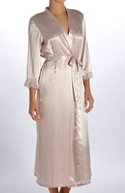 Satin Robe - satin robes add a touch of serious glamor to any lingerie collection without breaking the bank.
Satin lingerie has become an affordable alternative to its more expensive cousin, silk.
Look for satin nightgowns, satin pajamas, chemises and slips to wear under a satin robe for a beautiful matching luxury sleepwear set.


---


Microfiber Robe - microfiber robes are a great choice to wear after the long shower or bath.
Plus, they're fabulous as a cover up over swimsuits at the beach or pool.
This spa robe in particular is a soft and lightweight intimate apparel fabric that is designed to draw moisture away from the skin.



---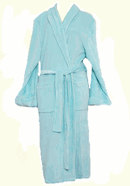 Velour Robes - are a fantastic choice for both men's and women's luxury robes, especially in the hooded robe style.
The buttery-soft feel of velour against the skin makes these luxury robes a joy to wear; velour is also flattering on people of all sizes and ages.
If you're carrying extra weight, opt for a long robe in a dark color or jewel tone, since white and cream can visually add weight.

---
                                ~ Lingerie Tip ~
If, you love to travel but hate to give up precious room in your suitcase, opt for a lightweight short robe in charmeuse or light cotton. They take next to no room, don't need to be pressed, and let you look great on a moment's notice.

---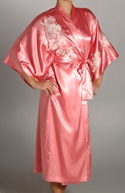 Kimono Robes - one of the more exotic womens robes is the kimono robe.
Kimono robes are often elaborately embroidered and may also feature hand-painted, unique designs that turn the robes into works of wearable art.
Some kimono robe fabrics are dyed using an intricate Japanese tie-dye process, which creates stunning patterns on the fabric. Learn more about this favorite womens robe here.


---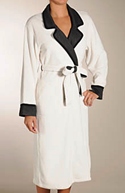 Chenille Robes - the chenille robe is an ultra soft, thick and nubby bathrobe that is an ideal choice to slip into after a long bath or over your pajamas or nightgown on a cold winter evening.
While chenille robes may all feel the same in quality, they are not.
It is best to opt for a cotton weave chenille fabric that is better able to absorb moisture gives the bathrobe better breathability.


---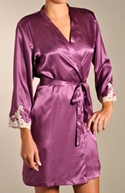 Charmeuse Robe - satin charmeuse is another luxurious lingerie fabric. Some expensive satin robes are made from silk fibers; synthetic charmeuse is much easier to care for, and almost always machine washable.
For the ladies on your gift list, consider a matching satin nightgown or satin pyjamas. For the men, a few pairs of satin boxers compliment new mens robes nicely. A satin sleep mask is another excellent choice for either gender.


---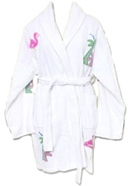 Terry Cloth Bath Robes - Terrycloth is a material that is often overlooked in luxury women sleepwear styles. Chosen carefully, terrycloth can be both functional and beautiful.
The most luxurious effect with terrycloth can be achieved with a long robe, preferably with an attached hood.
Opt for terry cloth robes in shades of bright, pristine white, cream, deep chocolate, or black.


---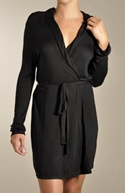 Cotton Robes - whether short, mid-length or long, cotton robes are a great option that complement matching cotton night gowns, womens pajamas and a vast cornucopia of womens sleepwear styles.
Womens robes in cotton are an ideal choice for both warm and colder climates since they come in a wide variety of styles that include lightweight cotton robes for summer wear and thicker, heavier cotton robes for the cold winter months.


---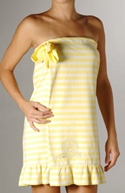 Wrap Robe - Often made of soft terrycloth, these ladies robes are commonly known as spa robes and are a more structured version of the "towel toga" designed for after a bath or shower.
These womens robes are an ultra convenient lingerie undergarment style since they free women up for blow-drying their hair and applying make up.




---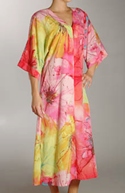 Zip Front Robe - These robes for women are designed with a vertical front zipper closure that offers a comfortable and easy fit.
And, while just about everyone enjoys this womens robe style, its easy access design is a great choice for children, seniors and everyone who has difficulty with conventional bathrobes and their long belts.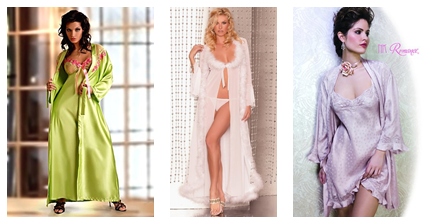 Shop For Beautiful Robes & Sleepwear
Beautiful Lingerie