Sleepwear Guide To Night gowns
Womens Sleepwear And Nightwear -
From Victorian Nightgowns to Sexy Nightgowns
---
Night gowns, over the years have become an incredibly diverse category of ladies sleepwear. No longer are the choices limited to just basic white cotton nightgowns or purely practical flannel nightgowns.
On the comfortable side are soft cotton nightgowns or light weight tricot nylon nightgowns.

Vanity Fair nightgowns and Calida nightgowns are designed for easy wear convenience in a multitude of fabulous colors and fabrics.
And, on the provocative side there are full length and short sexy nightgowns in a variety of lacy or sheer fabrics that are often decorated with lace trim and worn with matching panties.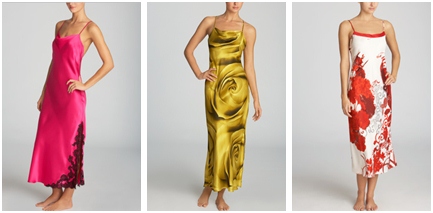 Let's take a closer look at some of the most popular night gowns that women love to wear...

---
Cotton Nightgown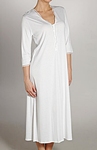 Cotton Nightgown
– Cotton is a lightweight natural fabric with the advantage of breathability.
Available in woven or stretch fabrics with a hint of lycra, a cotton nightdress is an affordable and feminine womens sleepwear option.



---
Flannel Nightshirt
Flannel Nightshirt
- Flannel nightgowns are a lighter counterpart of wool fabric and an ideal choice for cool nights.
While flannel sleepwear usually comes in plaid designs (red is the best known favorite), you can choose from various hues and prints to suit your fancy. For more ideas, check out Lanz nightgowns.


---
~ Lingerie Tip ~
Do you wake up in the middle of the night, drenched in sweat? Cotton sleepwear may solve your problem. Cotton is lightweight, breathable and keeps you cooler by wicking moisture away from the body.


---
Victorian Nightgowns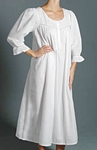 Victorian Nightgowns
- These romantic cotton nightgowns gain their inspiration from the era of Jane Austen novels and lush period films such as Sense and Sensibility.
Victorian nightgowns
tend to be gathered with exaggerated and ruffled detailing around the neckline and sleeves with lace accents and satin bows.
---
Long Nightgowns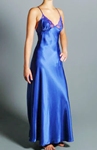 Long Nightgowns
– This full length nightgown style is usually a flowing design that is available in several sleeve lengths that vary from sleeveless or spaghetti straps to cap sleeve or long sleeved.
Full length nightgowns
are one of the
top five night gowns
. Opt for satin and silk fabrics to add a touch of sexiness to this rather conservative lingerie garment.
---
Shop For Nightgowns
---
Silk Nightgown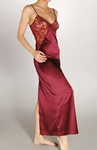 Silk Nightgown – A favorite honeymoon lingerie style through the years, silk nightgowns have a luxurious appeal.
These night gowns have an ultra soft, smooth gleam that highlights the best part of a woman's silhouette. With details like bows and lace, your sweetheart will love you in silk!


---
Maternity Nightgown


Maternity Nightgown – Lightweight and loose around the waist, maternity nightgowns are specially designed for mommies-to-be.
Some even double as nursing nightgowns with front pleats which cleverly allow breastfeeding minus the hassle. Look for easy to wash and wear nursing nightgown fabrics such as cotton with lycra for a comfy fit.


---
Nylon Nightgowns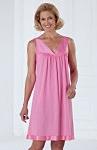 Nylon Nightgowns
- lightweight, stretchy and comfy to lounge or sleep in, a
nylon nightgown
continues to be a sleepwear favorite for women of all ages.
Available in long or short nightgowns with matching robes, this popular style also makes a clever travel choice since it takes very little room in your suitcase.



---
Related Nightgown Links
---
Satin Nightgown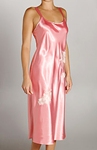 Satin Nightgown
– If you're striving for glamor minus the cost, take a close look at beautiful
satin nightgowns.
Combining the comfort of cotton and the polish of silk, the easy wear and care for polyester
satin nightgown
transitions effortlessly from loungewear to sleepwear in the blink of an eye.
---
Eileen West Nightgowns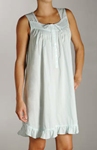 Eileen West Nightgowns
– This established brand has long been celebrated for its tasteful take on
women's sleepwear
.
These feminine nightgowns offer intricate necklines, with lace detailing or embroidery. Similar to popular Miss Elaine nightgowns, Eileen West nighties are available in short, knee, and full length.


---
Sexy Nightgowns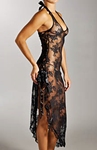 Sexy Nightgowns
– A
sexy nightgown
is the epitome of femininity and romance.
This style is equally beautiful and tempting in long or shorter lengths, and V or rounded necklines.
Opt for a silk, satin or sheer nightgown or shorter chemise with lace trim to enhance romantic evenings.


---
Finding a sleepwear gown that you'll love is largely a matter of personal taste, and the styles mentioned here are just the tip of the proverbial lingerie iceberg.
So, take your time and discover the fabulous world of night gowns.
It's a treasure trove of hidden intimate apparel gems. When you find a nightgown that you love, you'll sleep like a dream!

Leave night gowns and return to exotic lingerie