*FTC Disclosure - If you make a purchase through a link on this site, we receive a small commission at no extra cost to you.*
Wacoal Bras As The Best Choice For Everyday Wear?

Do we consider Wacoal bras as one the best choices for curvy silhouettes?  After years in the lingerie biz and investigating a multitude of brands from every corner of the globe, we think it is.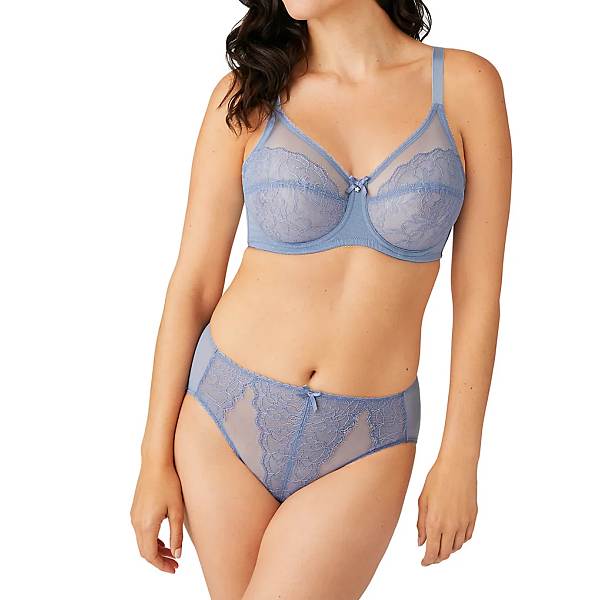 For close to 70 years, this Japanese-based intimate apparel brand has enjoyed a stellar reputation for beautiful lingerie that offers classic styling and a comfortable fit in fabulous fabrics.
The best part of Wacoal bras and lingerie? They're widely available at  major department stores and intimate apparel boutiques throughout the world, and many retailers on the Internet.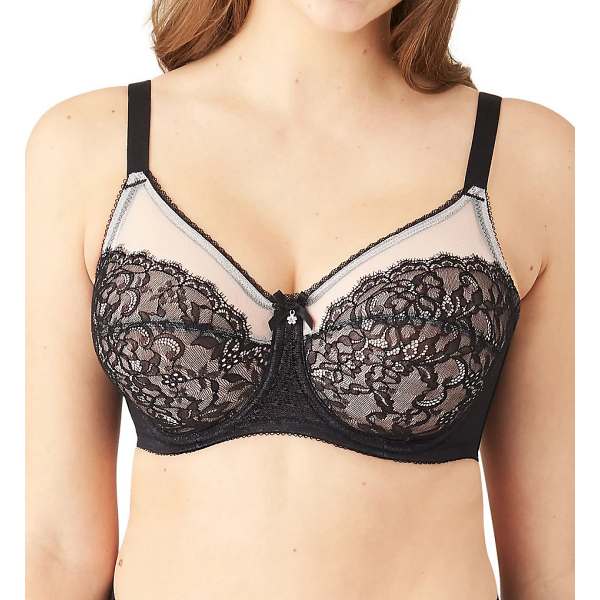 SHOP NOW
Wacoal Bras As Comfortable As You'll Find

Wacoal lingerie is available in an extensive range of bra sizes from petite bras in AA to plus size bras in a G cup.
Wearing the correct bra size is essential to looking good and feeling great.
Too many women go about their lives without realizing that their back, neck, or shoulder pain is caused by wearing an incorrectly-sized bra without realizing it.
There are many websites that provide information on bra fitting and finding the right bra size.
Most ladies will find these step by step methods are easy to use, as long as they opt for a soft tailor's measuring tape and not the stiffer metal variety. See bra size calculator for more great "how to fit a bra" advice.

Wacoal Lingerie
These bra measurement methods, however, may become a bit more difficult for women with breasts that are a D cup or larger.
If you're in doubt about your size, it is always wise to be sized by a professional bra fitter.

Sales staff at lingerie boutiques and reputable department stores know how to measure for bra size, and usually offer this service free to their clients.
Another suggestion is to again check with your local department store and ask if and / or when the brands that they carry offer bra clinics. 
Brands will send out a specialist who knows their bra styles and sizes in great detail - perfect for getting the inside scoop on your favorites.  And best of all? These bra clinics tend to be free.
Wacoal bras offer a multitude of brassieres to fit virtually every lifestyle and silhouette and shape.
For example, women with very small cup sizes frequently purchase padded push up bras for an enhanced cleavage.

Push up bras have padding in the cups that make the bust line appear larger and creates more dramatic cleavage.
Women with very large bust lines, on the other hand, should usually avoid pushup bras with extra padding and may actually opt for minimizer bras.
These women are often well-served by a minimizer bra which has the opposite effect.
A minimizer bra reduces the size of the bust by up to one cup size, creating a smoother silhouette beneath clothing.
Many women have a strong preference for bras with no underwire.
Wacoal bras as many women already know, pride themselves on producing bra styles that are a dream to wear; however, they make several wirefree brassieres (called softcup bras or wireless bras) without underwire to cater to this specific client demographic.
These brassieres range from traditional petite bras to full figured bras and provide support through elastic banding and supportive fabric, but have no wires at the bottom of the cups.
They are also often a good choice for bed-bound women who prefer sleep bras, or for sleep wear. ladies sleepwear. The lack of underwire is also often appreciated by the elderly, whose delicate skin may be more easily irritated.

Wacoal bras and other lingerie undergarment styles are available at better department stores, as well as on the Internet.
These brassieres are among the highest-quality pieces of lingerie available.
Many intimate apparel brands charge higher prices, but Wacoal lingerie's commitment to quality and style are uncompromising.
There is truly no need to spend more! Treat yourself to the Wacoal experience today.