*FTC Disclosure - If you make a purchase through a link on this site, we receive a small commission at no extra cost to you.*
Wacoal Bras - The Best Styles For Average & Full Busted Women
Wacoal Bras - For those of us who are average or full-busted and looking for quality, tailor-made lingerie that's affordably priced, Wacoal is a comfy fit and looks amazing favorite. 

From smooth seamless T shirt bras to contoured strapless bras, Wacoal offers an amazing choice of average and full figure bras to suit every occasion from morning till night. Below are the key styles that will give you a polished look every time.


Wacoal Bras - Seamless Underwire Bra

No additional lining or bulky padding make this a perfect choice for warm summer weather. Smooth, seamless and roomier than average cups provide great support. Sizes C through DD.
Made of lightweight, stretchy supplex (a super soft nylon & spandex fabric) that offers a comfier fit, it's any easy essential for everyday wear.

---
Underwire Lace Bra

Soft and stunning, this embroidered lace bra with scalloped edging and delicate detailing is a Wacoal lingerie favorite that embodies luxury and elegance.  Sizes B through DDD.
Seamed two part bra cups with a light lining along the bottom offer a comfy fit for average sizes. Note that the lace is visible under sheer and lightweight fabrics.

---
Full Figure Underwire Bra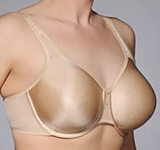 Smooth and seamless, this stretch nylon underwire bra is a good choice for fuller busted women. Sizes C through H.
Lightly lined cups are molded, wider than average sides make this a great pick for everyday wear, especially under your knits and fitted clothing.

---
Seamless Mininimzer Bra
One of Wacoal's most popular bras, this smooth and seamless minimizer bra decreases your bustline up to one full bra size. Sizes C through DDD.
Underwire polyester cups and no extra padding give you a very easy bra fit. A good option for your T shirts, sheer blouses and fitted clothing.

---
                                              Bra Tip
Contrary to popular belief, contour bras don't make you look bigger. They offer a smoother & shapelier look; more so than other types of bras.

---
Strapless Bra
With an eye to shoulder baring styles that make a fashion statement, this strapless bra is an all-time popular pick that delivers a beautiful full bra fit. Available in sizes D through G.
With lightly padded seamless cups, a secret silicone gripper tucked along the upper and bottom edges and discrete boning, it's designed to stay in place no matter what you're wearing.
---
Sports Bra
Created for high impact sports that demand the best support, this nylon spandex style has straps that are constructed to avoid chafing and seamless cups in Naturexx - a fabric that wicks away moisture for a cooler fit. Available in sizes 32C through 42DDD.
Fantastic for full-busted silhouettes in a variety of shapes, these Wacoal bras double nicely as a comfortable bra with excellent support for everyday wear.
---
Shop Online 

Shopping online for Wacoal bras and intimate apparel is easy on eBay clothing. From minimizer bras to petite bras, bra shopping online has never offered better options.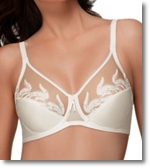 Need help with bra sizes ? Check out our easy 3 step bra size calculator for brassiere sizing tips and finding the right bra size.

When you click on a link a new window will open and you'll see a sampling of what's currently available online. Want to continue lingerie shopping? Just follow the view all items link at the end of the listings...