*FTC Disclosure - If you make a purchase through a link on this site, we receive a small commission at no extra cost to you.*
The Best Minimizer Bra Styles
Minimizer Bra – What are the best bras to wear when you're full busted and want to minimize your girls?  This is one of the most asked questions that I hear from women.
Several top notch bra manufacturers now cater exclusively to larger bra sizes and full bras have never been as fabulous and comfortable as they are nowadays.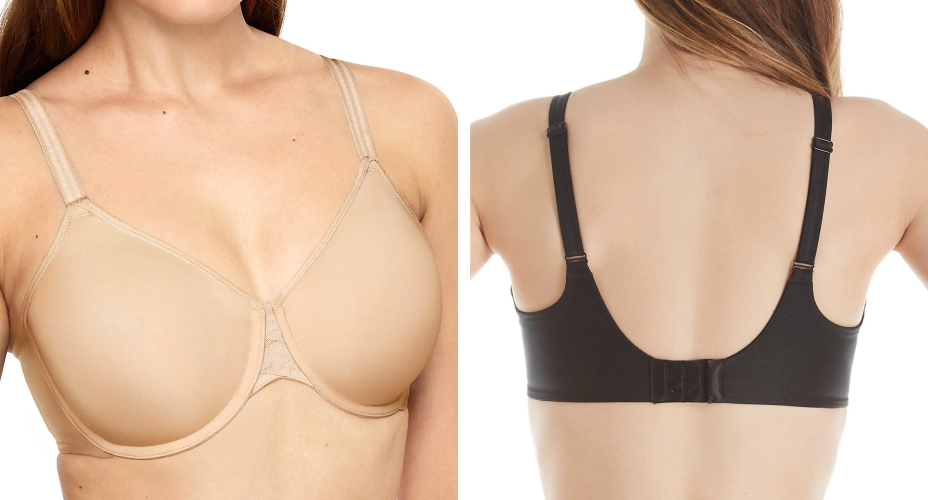 With so many lingerie manufacturers, it can be confusing at times knowing which brassieres offer the best fit and look great. No worries!
In this minimizer bra guide, I'll cover the essentials on 5 customer favorites and show you why they're so popular. Let's get started...
Minimizer Bra Favorites
Olga Bras
Olga Sheer Leaves Minimizer (#35519) – this sheer bra is a perennial favorite for its beautifully stylish look.
Sheer, stretchy fabric with a leaf motif in black, butterscotch or white, and a lightweight inner microfiber lining ensure your nipples do not show through.
Seamless sides and molded bra cups with covered underwire support provide full coverage that's chic and stylish. Bra Sizes 36C to 42DD.
Chantelle Bras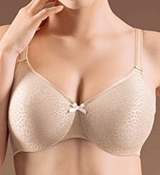 Chantelle Molded Minimizer (#1891) – this jacquard, lightly lined underwire T shirt bra has molded seamless cups for a smoother look.
Great under sheer and lighter fabrics when you don't want your brassiere to show. No padding and seamless sides.
Adjustable bra straps offer minimal stretch and bra cups are deeper than average. Available colors are minimal – black, nude and red (seasonal). Bra sizes 32D to 44F.
Bra Fitting Tip
Don't get hung up on the size tag. Bra manufacturers have a wide range of bra sizes that all fit differently. The absolute best bra fit all comes down to trial and error, so try, try, try before you buy!

Lilyette Bras

Lilyette Lace Minimizer (#428) - this stretch microfiber and lace bra has two part underwire cups for a more tailored fit.
Comfortable full coverage cups with pretty scalloped lace trim prevents spillage or overflow.
No inner lining or extra padding. Available colors are basic black, white, nude and pearl, making it a good choice for an everyday bra. Bra sizes 34C to 44DDD.
Wacoal Bras

Wacoal Seamless Minimizer (#85154) – one of our all-time favorites for comfort, control and support, this completely seamless minimizer bra can reduce up to one full cup size.
Underwire cups and seamless sides are unlined for a smoother fit and feel. There is no padding which makes it a great choice for close-fitting clothes.
Great under your t-shirts and knits. Available colors are natural nude, black and white. Bra sizes 32D to 40DDD.
Bali Bras

Bali Satin Tracings Minimizer Underwire Bra 3562 – this lightweight underwire bra minimizes your bustline up to 1 3/4".
Soft and stretchy, this multi-part underwire bra is unlined with satin cups and wider straps that offer an smooth and stylish fit.
Pretty lace detailing on the cups gives it a feminine touch. This is a comfortable bra for everyday wear.
Available in basic white, nude and black. Sizes 34C to 50DDD.
Lingerie Shopping Online

Shopping for a minimizer bra, full bras, plus size bras, shapewear lingerie and intimate apparel is easy online.

From comfortable Just My Size bras to your favorite discontinued Bali bras to Wacoal bras and more, bra shopping has never been more affordable or offered more fabulous options.