*FTC Disclosure - If you make a purchase through a link on this site, we receive a small commission at no extra cost to you.*
Petite Bras: 3 Must Have Bra Styles
Petite Bras ...Many petite women feel they can make do with one or two brassieres; surprisingly some may even opt out of wearing a brassiere altogether.
Why? Because they don't believe they need a brassiere.
Contrary to popular belief, going braless or making do with just one or two basic bra styles can't possibly cover the range of clothing that most women have in their wardrobes today.
Whether you wear aa bras, or b cup bras there are three basic types of bras you should include in your lingerie drawer.

Petite Bras: Padded Bras For A Lift

Let's take a closer look at these 3 bra styles:

What makes padded bras the best bras for petites? In a word, cleavage. They offer enhanced padding that ranges from lightweight and thin to thick and removable bra pads, depending on the bra style.
They're a great option for smaller busted women who want flexibility. Padded petite bras fall into 3 categories, including:
Push Up Bras – underwire bra styles designed to push the breasts forward and together for bigger and better cleavage
Demi Bras – underwire half bras with wide set straps that are designed to show off the upper half of the bustline.
Balconette Bras – lightly padded underwire bras that combine the shape of a demi bra and the lift of a corset.

                                   Did You Know?
Pushup bras offer the best cleavage booster bra styles. Opt for removable foam or gel inserts for maximum lift.


SHOP NOW
Seamless Bras For A Smooth Look

Whether you're plus size or petite, seamless bras are a must-have for every lingerie drawer.
Why? These versatile everyday brassieres offer smooth, seamless bra cups which makes them a great option for almost every style of clothing.
                            Beautiful Lingerie Tip

Opt for basic colors in white, nude or natural nylon / microfiber petite bras under lighter colored clothing; slate and black under darker colors.


Sports Bras For Working Out

Last but certainly not least are sports bras. While many petite women may scoff at the idea of wearing a sports bra, it's more important than you think.
If, you're one of the millions of health conscious women who keep in shape by working out at the gym, running, walking, hiking, biking, or any other sport or physical activity, wearing a brassiere that is supportive while you exercise is a must.
Why? From 32aa to 38 dd, sports bras are designed to protect delicate breast tissue and minimize bounce.



Beautiful Lingerie Shopping Online

Shopping for your favorite bras and small cup bras has never been easier than it is on ebay clothing.

From Calvin Klein bras to your favorite Wacoal bras and a variety of different types of bras, bra shopping has never offered more fabulous options.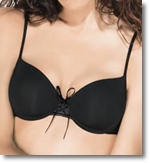 Need help with bra sizes? Check out our easy 3 step bra size calculator for sizing tips and finding the right bra size.

All of the brassieres listed below are available right now - so if you see something you like, hurry and place your bid.
When you click on a link a new window will open and you'll see a sampling of what's currently available online.
Want to continue lingerie or bra shopping ? Just follow the view all items link at the end of the listings...