*FTC Disclosure - If you make a purchase through a link on this site, we receive a small commission at no extra cost to you.*
DDD Bras
DDD bras - People assume an ample bosom is a blessing, but if you're well-endowed you know that spending 5 hours on a Saturday searching for full bras at the mall is no picnic!
If you've ever gone from store to store trying to find that elusive DDD bra, you are probably shaking your head in agreement right now, knowing that it's almost like looking for the proverbial needle in a haystack.
And, while while some larger department stores offer a limited selection of different lingerie manufacturers that specialize in bigger bras like
Wacoal lingerie
Chantelle lingerie
Lunaire lingerie
... many women who live outside city centers often don't have access to specialty bras in DDD cups and larger bra sizes. Many of our customers who lived in the suburbs or outside the city would simply call in and place their order.
No matter what size you are, bra shopping doesn't have to be difficult. Armed with a few simple lingerie tips you can and WILL find a bra that fits well and looks great. All is takes is a little thinking outside the box...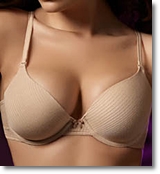 DDD Bras: Consider Other Bra Sizes

First, expand your search. DDD bras are not actually a standard bra size despite what you may have thought.
Every lingerie company uses different bra measurements to size their brassieres – contrary to popular belief, they are not standardized.
You probably already know this if you've ever shopped for a pair of jeans or shoes: no size is ever the same. A size 6 in Gap may be a size 4 at Sears and so on.
So, with this in mind don't be afraid to try on one of those E or F bras – the size tag is not remotely important.
You are looking for a great bra fit with awesome support, so just cut out the tag and throw it away, if the idea of an E bra bothers you. No one will know and you'll have a great brassiere that feels fab!

SHOP NOW
DDD Bra Shopping Online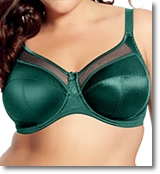 Consider shopping online. This gives you access to all of the great lingerie stores that are only available in larger cities and the online stores that specialize in large size bras.

Macy's, Saks Fifth Avenue, Nordstrom, Bloomingdales, Dillards, JC Penney, Sears, Herroom, and Fresh Pair are several stores that come to mind.
They cater to the well endowed woman, and best of all you can shop in your pajamas at your leisure whenever you want instead of racing through the mall and the crowds.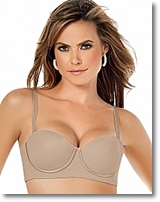 Remember to check the return policy first, and then order one of the DDD cup bras and then two extra – one smaller and one bigger.
Then, try them on at home and send back the two that do not fit. You can try to rely on measuring tapes and size charts, but the best bra fit ALWAYS comes from trying a brassiere on.
Once you have done this, you never need to go through the process again because you know how a specific retailer sizes their brassieres.


Consider Minimizer Bras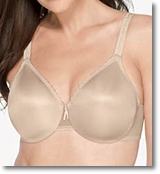 Another great alternative for larger busted women is minimizer bras.
Minimizer bras use compression technology that "compresses" or minimizes the breasts by moving them closer to the chest which makes them look smaller.
These specialty bras have an underwire and can minimize your bustline up to an inch and a half, depending on the style. This is a great option for those who are self conscious about their bra size.

Shopping Online 
Shopping online for DDD bras, full bras, plus size bras and your favorite intimate apparel is easy on eBay clothing.

From sleek Calvin Klein bras and Wacoal bras to Champion sports bras and Olga bras, bra shopping has never been more affordable or offered more options.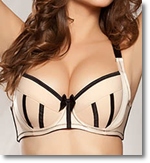 The different types of bras listed here are available right now - so if you see something you like, hurry and place your bid.
Need help with bra sizes ? Check out our easy 3 step bra size calculator for sizing tips and finding the right bra size.

When you click on a link a new window will open and you'll see a sampling of what's currently available online.
Want to continue lingerie shopping? Just follow the view all items link at the end of the listings...