*FTC Disclosure - If you make a purchase through a link on this site, we receive a small commission at no extra cost to you.*
Bigger Bras - The 3 Things You Need To Avoid
Many large busted and plus size women struggle to find bigger bras that look great and fit well.
And, while bra shopping for most women can be frustrating even at the best of times, for those who wear full figure bras this challenge is doubly true.
But, it doesn't have to be.
Once you understand what things to avoid and what to concentrate on, bra shopping can be quite enjoyable.
Let's take a closer look.

Bigger Bras

Keep in mind that small bras, petite bras and even average size brassieres are designed to fit quite differently than bigger bras.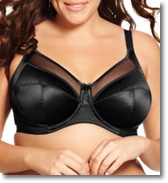 And, since support is not a big issue lingerie brands that cater to smaller bra sizes tend to concentrate more on the design of the brassiere.
So, even if they potentially offer bigger bra sizes, the likelihood that you'll get a bra that fits really well is not great since these bras are geared to a smaller and less supportive fit.
Better to focus on brands that are specifically designed for comfort and support in larger bras such as:
These types of bras have the benefits of wider and deeper bra cups, wider bra straps, and wider side panels that prevent side spillage, which makes for a more comfortable fit.

Choosing The Wrong Bra Size
---
This may seem obvious and common sense. But, many women are still wearing the same bra size that they wore 20 years ago.
But, as we age, have children, gain or lose weight, and have surgeries, our bodies are constantly changing.
And, as our bodies change, bra sizes change. As a result it's important to be properly fitted on a regular basis.
If, it's been awhile since you've been fitted and you're not sure what size you are, or need help finding the right bra size, contact the lingerie section of your local department store and ask when they are having a bra fitting clinic
Book a fitting. It's quick, painless and best of all, usually free.

Buying A Bra Without Trying It On
---
This is a big no-no that many women commit for the sake of saving time.
Unfortunately it rarely works and usually ends up costing more time and frustration when you discover the brassiere that you bought doesn't fit and has to be returned.
Even the very best bras vary a lot in sizing, depending on which lingerie facilit they were manufactured in.
Unless you've worn your favorite brand, style and size before, for the most comfortable and best possible bra fit, when bra shopping follow this important lingerie tip:
AVOID BUYING BEFORE TRYING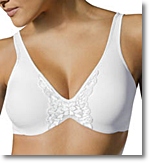 Once you've found a bra style you love and you're ready to go bra shopping, take a look at the listings below.
When you click on a link a new window will open and you'll see the details of that listing. a sampling of what's currently available online.
Want to continue lingerie shopping? Just follow the view all items link at the end of the listings... Enjoy!