*FTC Disclosure - If you make a purchase through a link on this site, we receive a small commission at no extra cost to you.*
Olga Bras By Style - How To Choose The Best Ones

Olga bras by style - Beautiful with a luxuriously comfortable feel, Olga is one of the few lingerie brands that design with the curvy figure in mind.
So, what makes these full bras a favorite that never seems to go out of style? Beautiful bras that take you through the busy day in comfort with an easy fit. And, best of all they're affordable.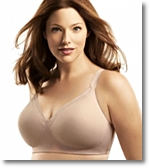 While most of us know that finding a brassiere that fits well is difficult enough; with fuller silhouettes it can be an even greater challenge.
Bumps and bulges, spillage and discomfort, and lack of support are just a few of the problems with wearing wrong bra sizes.

Over the long term, wearing the wrong brassiere can be damaging to the spine and posture. And, deep shoulder grooves can become permanent.
So, how can these problems be avoided? This is where Olga bras by design really shine. Follow along as we share the best styles (and tips) for beautiful bras with a comfortable fit.
Olga Bras By Style - The Fundamentals

Before heading off on your shopping trip, the first step is finding the right bra size.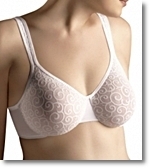 OLGA BRAS
Although professional lingerie fitters in most department stores are available to help determine bra size, if you don't like being poked and prodded by strangers, getting the correct bra size is really only a tape measure away with the bra size calculator.

There is one caveat to this method though. Once you find your basic bra measurements, they should only be used as a guideline, since bra sizes are never cast in stone, and can vary from style to style and brand to brand.
Although Olga bras by default cater to women of all sizes, the following bra styles are designed for fuller busted women.

Smooth Minimizer Bra
When it comes to minimizer bras, this style is a very good option for everyday wear.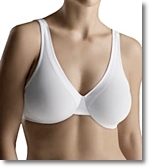 The stretch nylon and spandex fabric reinforces supportive seamless bra cups while at the same time, smoothing and reducing the bust size by cleverly redistributing the breast tissue.
Front bra straps are adjustable, allowing you to adjust the lift and support for a comfortable bra fit.

The back panel offers a comfortable wider-than-regular-bras triple hook and eye closure ensuring the brassiere will remain in place throughout the day.
This minimizer bra is available in sizes 36C all the way to 42DD, and can be worn under sheer blouses and tighter fitting sweaters and tops.
                                                   Did You Know?

That Olga specializes in seamless molded cups. This makes them a great option for under your fitted clothing, sweaters, blouses and t-shirts. If, a smoother silhouette is what you want, seamless cups are the best choice.
Shaper Underwire Bra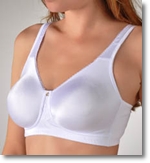 A shaper wirefree bra is a great option that addresses the problem of bulging or "side spillage" under the arms and on the sides that many women have.
This soft cup bra eliminates side bulging with a wider support design for improved shaping. It smooths over the problem area under the arms, eliminating the lumps and bumps that appear with more narrow-fitting brassieres.
Designed with seamless cups, this wireless bra is a good choice if you have form fitting clothes in mind. It is available in sizes 36C to 42DD.
Sheer Leaves Minimizer Bra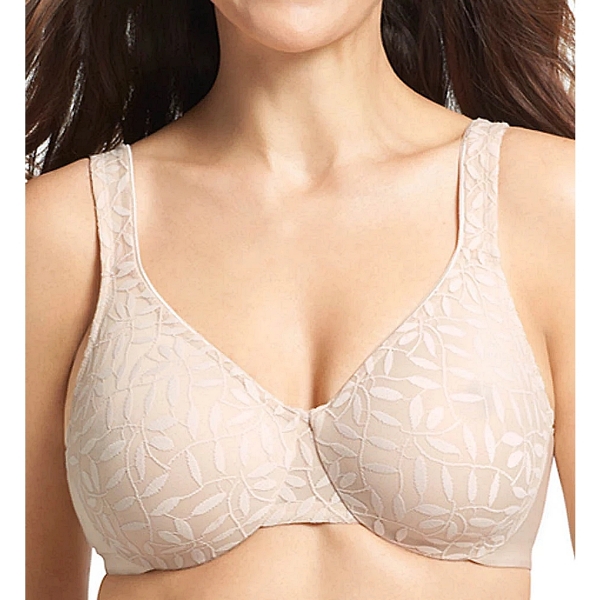 MINIMIZER BRA
Sheer Leaves Minimizer Bra is a perennial favorite among minimizer bras for a reason. It is designed in a sheer nylon and lycra blend with an elegant leaf pattern.
This minimizer bra has seamless molded bra cups and seamless sides that prevent major spillage. Although this is a sheer bra, nipples are well covered with a sheer lining that camouflages.
Good for everyday wear and evening wear, keep in mind that the leaf pattern may be visible under sheer blouses and clothing. Available in sizes 38C to 42DD.
Tapestry Minimizer Bra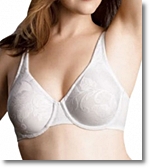 Tapestry Minimizer Bra - this seamless semi-sheer bra is a stylish choice for everyday wear. It features molded bra cups and wider than usual seamless sides for extra support.
The stretch back has a four row hook and eye closure to smooth over any lumps and bumps while staying comfortably in place, even after a long day.
When it comes to Olga bras by Olga, this bra comes in a greater range of bra sizes, from 36C to 42DDD.
Luxury Lift Underwire Bra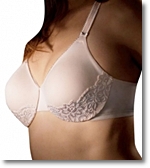 UNDERWIRE BRAS
Luxury Lift Underwire Bra - this lightly padded seamless contour bra is designed to offer a comfortable lift throughout the day.
Designed in a lightweight nylon and lycra fabric, the underwire bra cups, are not stretchy, but they do offer a firmer support to those women who need it.
A delicate lace overlay on the outer side of the bra cups offer a touch of stylish femininity.
This popular brassiere comes in sizes 36C through 42D.
Bra Shopping Tips
While we've outlined 5 popular brassieres, Olga bras by Olga lingerie offers a multitude of other bra styles that are designed specifically for the fuller busted woman who wants comfort, support and just the right amount of lift for her silhouette.
From specialty lace bras to everyday seamless bras, their quality brassieres (and matching panties) offer women quality and affordability in bra styles that fit and flatter to a T!