*FTC Disclosure - If you make a purchase through a link on this site, we receive a small commission at no extra cost to you.*
Minimizer Bras - The Best Picks For Busty Gals

Minimizer Bras - Banish any out-dated notions that you have about bras for larger busts being frumpy or industrial. While in the not-so-distant past, function over form was par for the course, times have changed - and definitely for the better.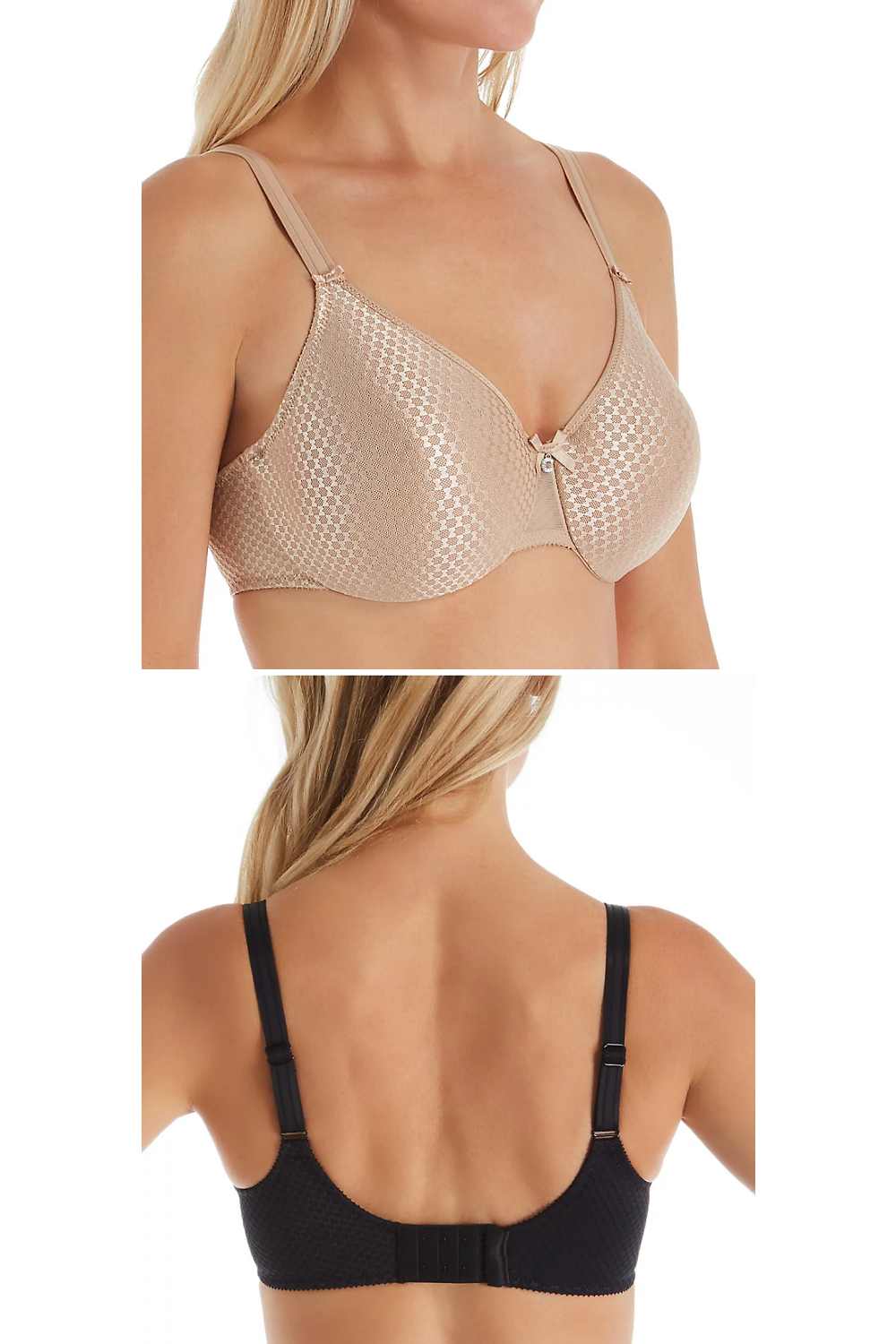 The metamorphosis of plus size bras has been nothing short of a miracle.
Nowadays, bras are beautiful AND comfortable, especially when it comes to the popular minimizer bra.  
With a sleek and chic look, this bra style is an excellent choice for well-endowed DD+ cup sizes.
Designed to give the appearance of a smaller bustline by carefully redistributing the breast tissue, it also smooths bumps and lines for a flattering silhouette. 
In this article, we'll take a closer look at five of the best minimizer styles for busty silhouettes, and how they can work with favorites from your closet. From T shirt bras to wireless, convertible to everyday comfortable, looking great has never been so easy!

---
Minimizer Bras - The T Shirt Bra
Think of the t shirt bra as your #1 staple bra, so take the time to choose the perfect one and be prepared to spend a little extra on an essential.
This sleek bra style will work under almost everything in your wardrobe and you'll turn to it again and again. Look for a brassiere with seamless microfiber cups that give you a smooth and flawless figure under even the softest tees and tops.
Nude or black bras will be the most versatile, and taking the time to find the perfect bra fit guarantees the minimizer t-shirt bra's top tier status in your collection.
---
Style Secrets

Minimizer bras typically have wider, padded bra straps that do not dig or cut into the skin. They also usually have wider bra bands that close with four or more hooks, to keep the brassiere in place.

Back Smoother Bra

We love this sleek style of minimizer bra that not only smoothes your bust but pays extra attention to supporting you from all sides.
This full coverage bra style offers extra coverage across your back, adding the extra support that larger busts need.
It also holds in your sides and back, giving you a smooth rear view that's free of lumps, bumps, and rolls that regular bras can sometimes cause.
This will be one of the most comfortable bras in your collection because you'll be fully supported and won't have any bra bands digging into your skin.
---
Convertible Bras

The most versatile minimizer bra is the convertible bra - wear it strapless, halter, racer back, one strap, or with classic straps.
Choosing a supportive style means that you'll get the smooth figure you love along with the many strap configurations that any stylish woman needs to compliment her wardrobe.
There's no need for multiple bra styles when you want to pare down and stick to this one do-it-all style.
Pay extra attention to choosing a convertible bra with a wide band, underwire cups, and boning at the sides to give you the lift you need to keep your bust smooth and in place.
---

Beautiful Lingerie Tip
While most brands carry a good range of bra sizes, there are several brands that cater specifically to larger sizes.  A few of these brands include:
Lunaire Bras
Wacoal Bras
Olga Bras
Elomi Bras
Gossard Bras
Chantelle Bras

Wireless Bras

Underwire cups are a great choice for lifting and supporting your bust, but they're not the only option for well-endowed women.
Larger busted gals often shy away from wireless bras with the assumption that they're not supportive enough, but it's time to take another look.
You'll love the comfort of a bra without stiff underwires, and if you choose a well-made brassiere with enough structure you'll be amazed at how well it easily and comfortably holds you in place.
Look for all the features you would in an underwire bra:
wider straps
wide bra band
full-coverage molded cups
that fit your shape perfectly. If you nail the right fit, the wireless minimizer bra will be one of your favorites.
---
Comfortable Bras

Larger busts typically don't need bras with extra padding, but that doesn't mean that flimsy fabric cups are the right choice either.

Create a sleek silhouette with lightly molded cups that smooth your curves and provide a little extra coverage.
The added structure of molded cups has a minimizing effect as they hold you in and provide the support that larger busts need, without any of the bulk of heavy padding.
Stock your drawer minimizing comfortable bras with molded cups in basic neutrals, and treat yourself to one of two in pretty colors or prints.
---