*FTC Disclosure - If you make a purchase through a link on this site, we receive a small commission at no extra cost to you.*
How To Determine Bra Size In 6 Easy Steps

Determine Bra Size - When the only thing standing between you and beautiful clothing that shows off a flawless silhouette is a bra that fits you to a T, it's always best to have a plan. 
Without a doubt, bra sizes can be confusing, and virtually everyone who has worn a bra has experienced it at one point or another.
With band and cup sizes, bra measurements and a dizzying array of bra styles, sister sizes, etc., it's easy to quickly become lost in the details of finding the right bra size. 
What's the easiest way to solve the problem?

There is the obvious route of being properly fitted by a professional at a lingerie store - if you have the time.
If not, no worries. There's an easy way to determine your approximate bra size at home. All you need is a soft tape measure, a pen and paper, a few minutes and a bit of patience. Below, we share those steps.
How To Determine Bra Size

---
Start Braless Or With An Unlined Bra
You want to measure yourself as close to your natural shape as possible, so you can get the best fit. 
Don't try to determine bra size while wearing of the specialty bras, like a pushup bra, sports bra, or ultra-padded style that will distort your figure and misconstrue your size completely.
Take your bra measurements braless, or while wearing a simple bra that's comfortable and an easy fit - if you're not sure, cotton is a good choice.  Also, opt for unlined bra cups.
---
 2. Use The Right Form To Determine Bra Size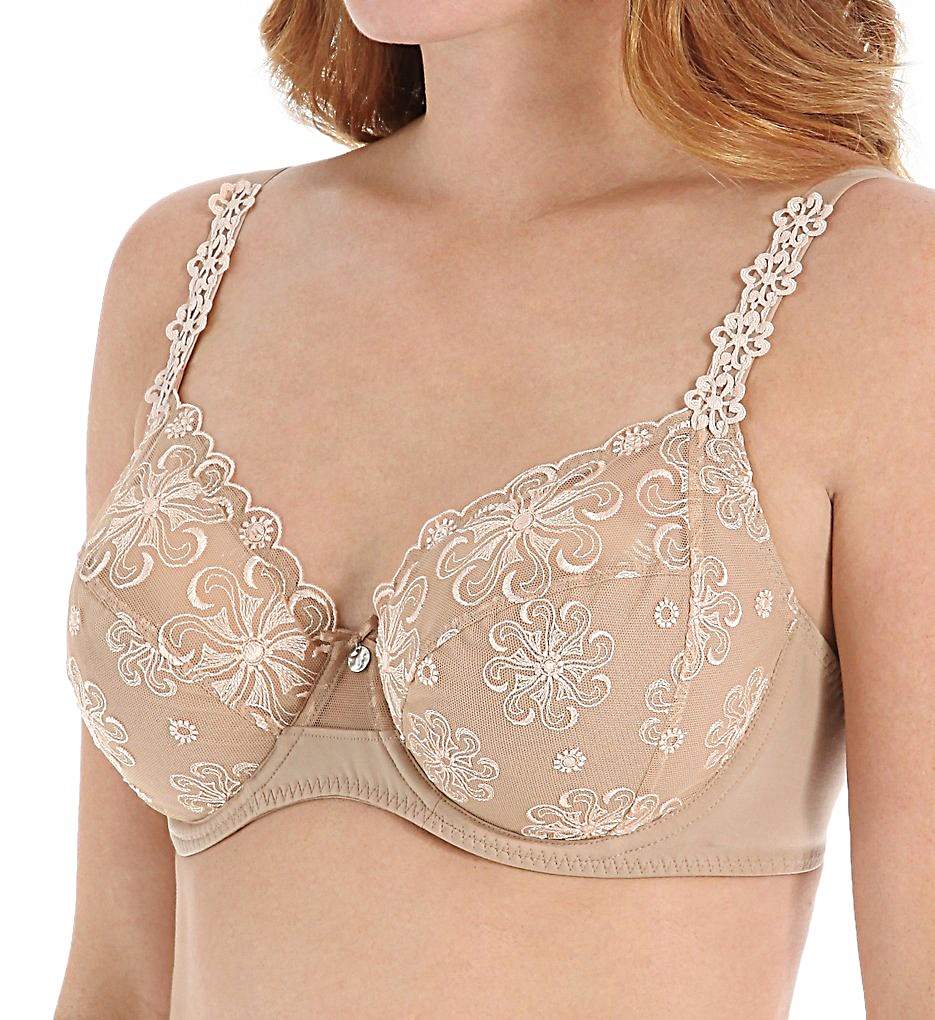 There are a few sneaky tricks will make all the difference between the right size and the wrong bra fit. 
For starters, take your mother's advice and stand up straight. Hunching over, arching your back, or shrugging your shoulders up will skew your measurements.
Avoid a tense stance or sucking your ribs in and try to be as relaxed as possible.
Stand in front of a mirror to make sure the tape measure stays parallel to the floor all the way around and isn't twisted.
Finally, make sure to hold the tape measure snugly around your body when you measure. A slack or loose measurement will result in a bra that's not fitted enough to offer proper support.
Did You Know?
Many women suffer from neck and back pain on a daily basis because they're wearing the wrong bra size and don't realize it!
 3. Use The Basic How To Fit A Bra Formula

Follow the standard instructions for taking your measurements to determine bra size.
For the band size, measure right under your bust.

If the number is odd, round it up to the next even number.

Refer to a bra size chart to see how this measurement corresponds to standard bra band sizing.

For the cup size, measure around the fullest part of your bust.

Then subtract the band measurement from this measurement.

If there's a 1" difference you're an A cup, a 2" difference is a B cup, 3" is a C cup, and so on.
 4. Use An Online Bra Size Calculator

If calculating your own size is confusing, simply use an online calculator that takes your measurements and gives you the proper size instead of you doing the math yourself.
There are a number of easy to use calculators available online and a quick search will have you on the path to the right fit in no time.
---
 5. Bra Fitting Is Not An Exact Science

I can't stress this enough, no matter if you measure yourself or have a professional determine your bra size, it doesn't mean you'll always wear that same size.
Different designers cut their bras differently, some styles fit different than others, international sizing often varies, and your body changes with weight gain, loss, muscle development, or after a pregnancy or hormonal changes.
The bottom line? Always try a bra on before you buy and be prepared to try on several sizes and styles before you get the perfect fit.
---
6. Try Sister Sizes

If you try a bra in your usual size only to find it doesn't fit quite right, try on the sister size. This is the next size that's in the same proportion to what you normally wear.
To determine a sister size just add or subtract 2 to the band size, and go up or down a cup size. For example, the sister sizes to 34B are 32A and 36C.
These sizes keep the cup-to-band ratio in the same proportion that you're currently wearing so you're more likely to find the right fit than you are if you only go up or down by cup size.