*FTC Disclosure - If you make a purchase through a link on this site, we receive a small commission at no extra cost to you.*
Luxury Sleepwear - Which Brands Are The Best?

Luxury Sleepwear - at the turn of the century the words luxury + sleepwear were synonymous with long nightgowns with frilly bows, heart-shaped buttons and frou frou elastic waist bands.
Fast forward one hundred years and the lingerie landscape has changed - a lot.
Today, the word luxury represents everything from glamorous high end brands like Natori sleepwear and Hanro of Switzerland to more moderate lingerie brands such as DKNY and Eberjey.
Pricewise, the variety is fantastic. A classic A-line silk nightgown or lush cashmere robe can run from several hundred to several thousand dollars.
And, a pair of simple cotton pajamas or cosy flannel pajamas can retail for under $50.00. The variety is endless. Let's take a closer look....


Luxury Sleepwear

Silk sleepwear rules, but flannel sleepwear feels good. There was a time when one had to choose between the comfort and looks of the two. But, today a consumer does not have to make that compromise.
Nothing can come close to the special feeling of snuggling up to that special someone in luxury sleepwear made of silk. However, some find that a wafer thin silk nightgown can be clingy and not the most appropriate choice when a door bell needs to be answered.

Flannel in the past has had a bad rap with its basic designs and turn up collars, not to mention its overnight pilling. But, not anymore! Both silk and flannel pajamas have come a long way in offering a variety of modern, chic and comfortable designs.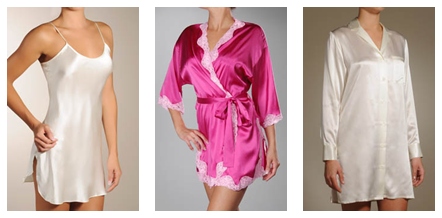 SHOP NOW
Classic womens pajamas now have a modern twist with bust darts for a perfectly tailored look. And, the timeless full length pajama tops feature hidden seams and shirt-tail tucks to ensure a comfortable fit.
Elegant detail is offered by a fine cord in a contrasting color elevating the design to a high fashion echelon. Cropped or full length pants with a convenient side button keep everything flat and covered.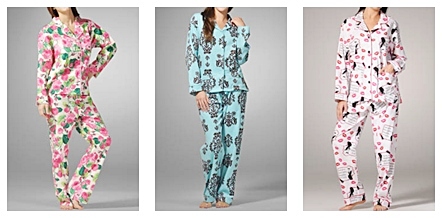 Womens Pajamas
---
Sleeveless pajamas that are great for lounging on summer days can feature an empire waist in newer designs.
Cropped or full-length pajama pants with side vents and back elastic hold everything in place while promising comfort.
More stream lined versions are entering the market that feature clean lines paired with minimal but flattering drawstring waists.
The half or three quarter-sleeved pajama, a relatively new style offers a longer than cap sleeve top in a sheer fabric.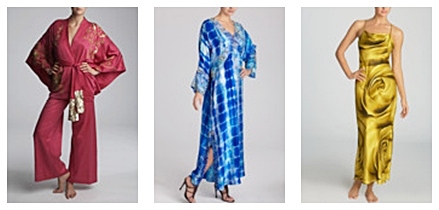 Night Gowns
---
Full-length long nightgowns are making a come-back, having given way to the more minimalist pajama trend back in the nineties.
These high end night gowns are designed to be sleek, simple and form-fitting; they are often gathered at the bust to highlight the feminine figure. Silk and sateen cotton sleepwear (similar to traditional silk) styles are among popular choices because of their smooth and silky feel.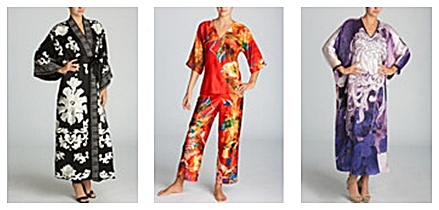 Chemises & Sleepshirts
Chemises and slips were traditionally meant as underwear that smoothed lines when wearing form-fitting clothes.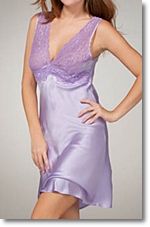 Of late, chemises have become a favorite luxury sleepwear as an alternative to the longer nightgown.
Simple styles that are cut on the bias with or without an A line skirt offer a sleek yet comfortable look.
Sleepshirts are also a favorite offering for those who prefer longer sleeves, but do not like the bulk of long nightgowns or pajamas. They are also referred to as sleep tees.
Notch collars are a common feature of the sleepshirt. Button-front and mid-thigh versions are the most popular.
Luxe satin and silk fabrics are favorites as they skim ever so gently over the feminine form. Many styles do double duty as loungewear, since many are easily worn over pants or jeans.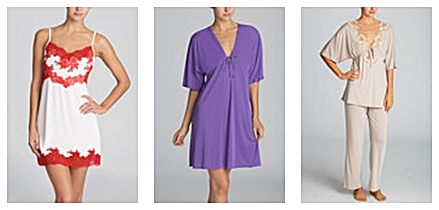 Sleepwear: Challenges
---
High-fashion ladies sleepwear sizing comes with its own set of challenges. Getting the right relaxed fit while not compromising on esthetics separates designer sleepwear from the department store brands.
In general, luxury sleepwear offers a greater opportunity for a tailored fit with a wide range of full and half-sizes to fit virtually every silhouette.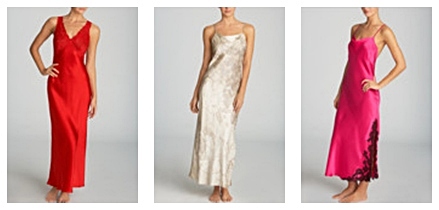 Modal is another luxury fabric worth taking a look at. Known for its ultra soft, stretch benefits, this fine lingerie fabric is fast becoming the choice of women sleepwear couture designers. It is a natural raw material that blends with cotton to form a soft and breathable fabric.
Its claim to fame is that it doesn't harden with repeated washing, making it an ideal choice for womens sleepwear.
Today's variety of luxury sleepwear offers women a sumptuous fare of high thread counts and new fabric blends leading to a pretty package of both comfort and style that is sure to please lingerie divas everywhere!