*FTC Disclosure - If you make a purchase through a link on this site, we receive a small commission at no extra cost to you.*
Long Nightgowns - 3 Beautiful Need To Have Styles

Long Nightgowns - whether you prefer simple or sensational, long sleeve, short sleeve or even sleeveless, night gowns are one of the must-have essentials for any well-stocked sleep wear drawer.
Long nightgowns offer something for every occasion. From beautiful to practical, sexy to relaxed, this always popular sleepwear style manages to cover all the bases, while looking stylish and feminine.
Beyond the basics are three favorite styles that always inspire. Below, we share the top 3 picks that our clients love to slip into at the end of the day.
---
Long Nightgowns: A Glamour Gal Favorite In Silk Or Satin

Whether you're wearing it for a lucky loved one or better yet for yourself - because you are so worth it - a luxurious nightgown should definitely be a sleepwear staple in your repertoire.
Love the idea of luxury sleepwear, but not sure where to start?
SHIRLEY OF HOLLYWOOD
If you love glitz and glamor, channel a popular movie star from Hollywood's Golden Era, the 1950s - Marilyn Monroe, Elizabeth Taylor or Grace Kelly - in a sweeping silk or satin nightgown that pulls out all the stops with feminine sensuality.
Look for -

Bias cuts to hug your curves
Glossy fabrics to evoke a look of elegance and sophistication
Femme fatale details like a thigh high slit
Sweeping layers of sheer chiffon
Plunging neckline that bring a no-holds barred approach to sensational sleepwear
Make any evening feel like you have something to celebrate when you slip into a beautiful nightgown that looks and feels as luxurious and posh as something designed for the red carpet.
---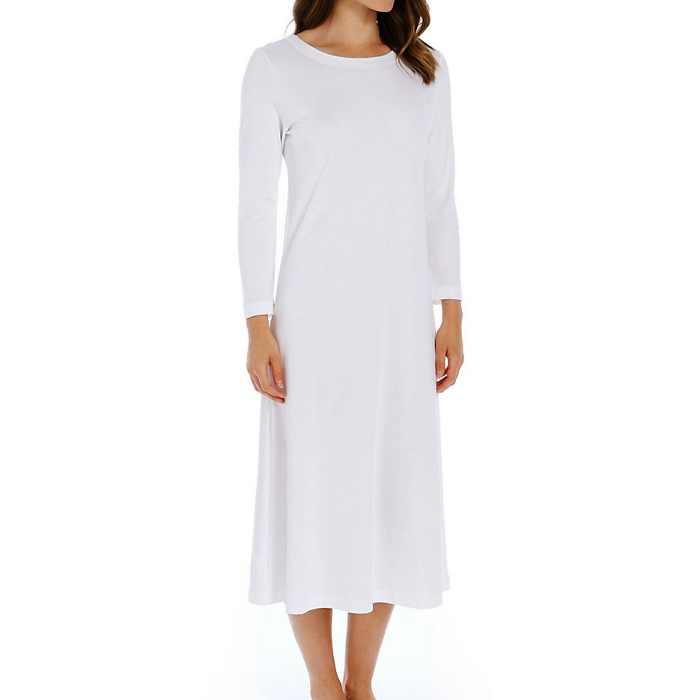 P-JAMAS
Romantic Victorian Nightgowns

A sentimental favorite, the Victorian inspired long cotton nightgown is a must-have for any beautiful sleepwear collection, especially if you loves feminine and romantic lingerie.
This is on our list of top ten favorites.
We adore the lovely grace and charm that these nighties add to a bedtime routine, from the crisp and fresh lightweight cotton and floor sweeping hemline, to the sweet and delicate details that these styles are celebrated for.
Did You Know?

The lightweight whimsical all come together to make the long Victorian nightgown part of a sleepwear collection that feels like pure pampering.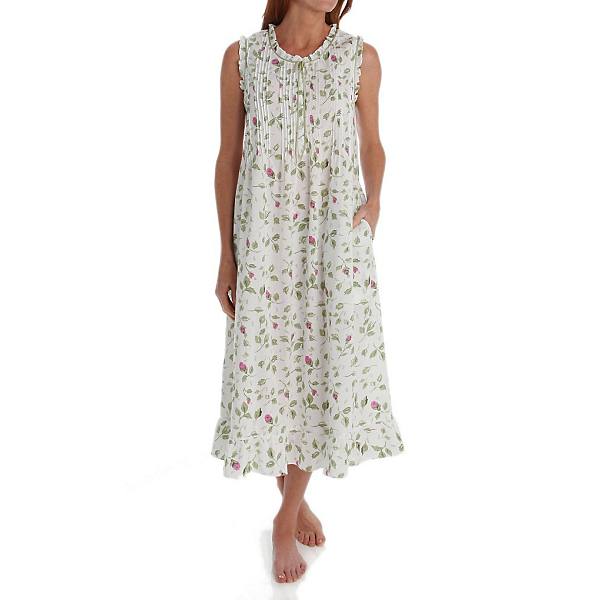 The bonus? Long nightgowns in cotton tend to be flowing and roomy, which makes them very comfortable to sleep and lounge in.
Love the look of romantic sleepwear? The secret is in the details and the shape of the nighties. Look for modern styles with a vintage look and feel that focuses on femininity -
Ribbon trimmed cuffs
Voluminous, gathered sleeves
Beautiful lace collars
Tiny pearl buttons
Pin-tucked bodices
Light and airy colors
Styles with an ethereal look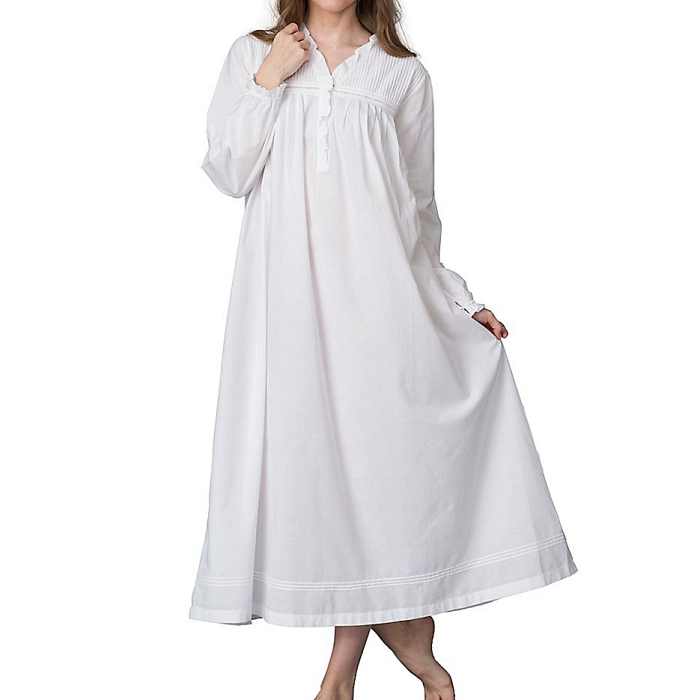 THEA
Sleepwear Tip
If you live a super busy lifestyle and need something quick and easy, cotton nightgowns are a great option.  Cotton is a natural fabric that's comfy yet feminine and wears well.
Cotton Nightgowns - Cool, Casual & Comfy

Beautiful night gowns aren't just about glitz and glamour 24/7.
Sometimes the most satisfying thing to slip into at the end of a long day is a cozy and comfy cotton nightgown that makes all of the stress of the day melt away the moment you put it on.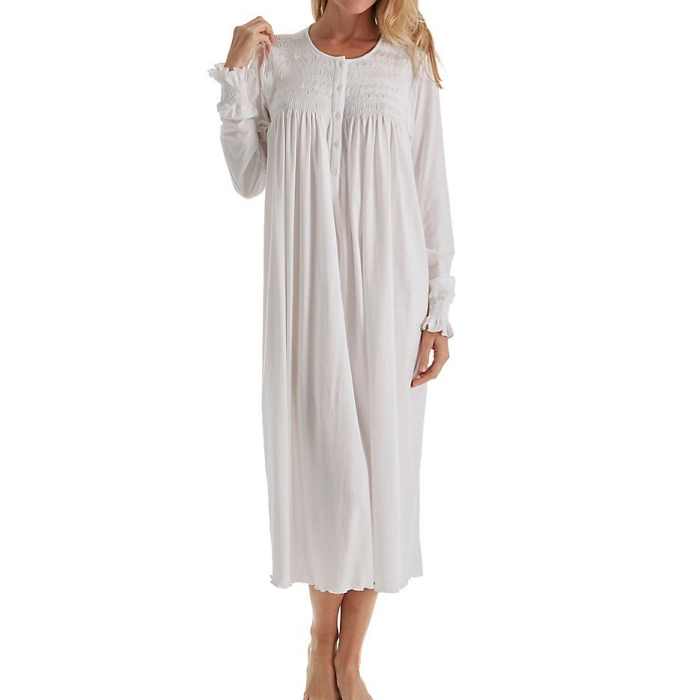 P-JAMAS
Simple styles like easy pullovers or classic button-ups are the way to go for a no-frills approach to carefree and casual long nightgowns, which are a welcome addition to today's busy women.
Even without all of the bells and whistles of other styles, these types of nightgowns tend to be effortless and can look and feel just as luxurious.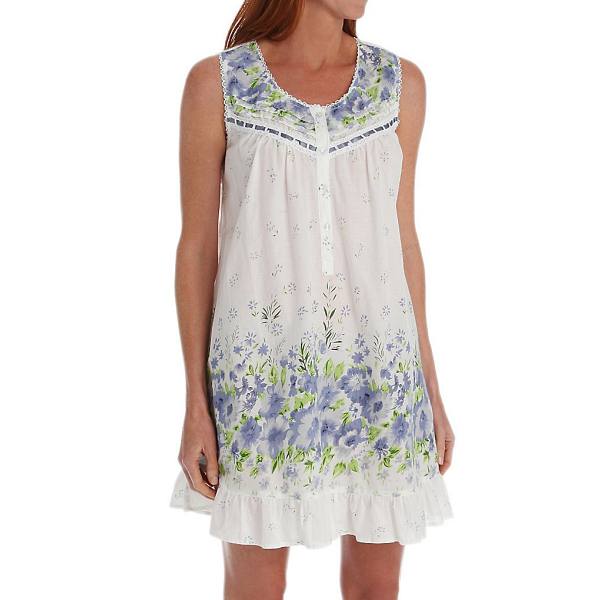 What to look for?
Quality matters, especially when it comes to cotton. Opt for the highest quality cotton or cotton blends
Choose easy and flowing styles that are effortless to wear, and offer coverage that leaves you enveloped in comfy, cozy softness
No matter how fancy your personal style is, everyone loves slipping into the simplicity of a basic cotton nightie.
LA CERA