*FTC Disclosure - If you make a purchase through a link on this site, we may receive a small commission on the transaction - at no extra cost to you.*
The Most Luxurious Silk Sleepwear Styles In The World
Silk Sleepwear -  You're stylish.  You love luxury and the finer things in life, and when it's time for a sleepwear splurge, silk is one of the first things that comes to mind.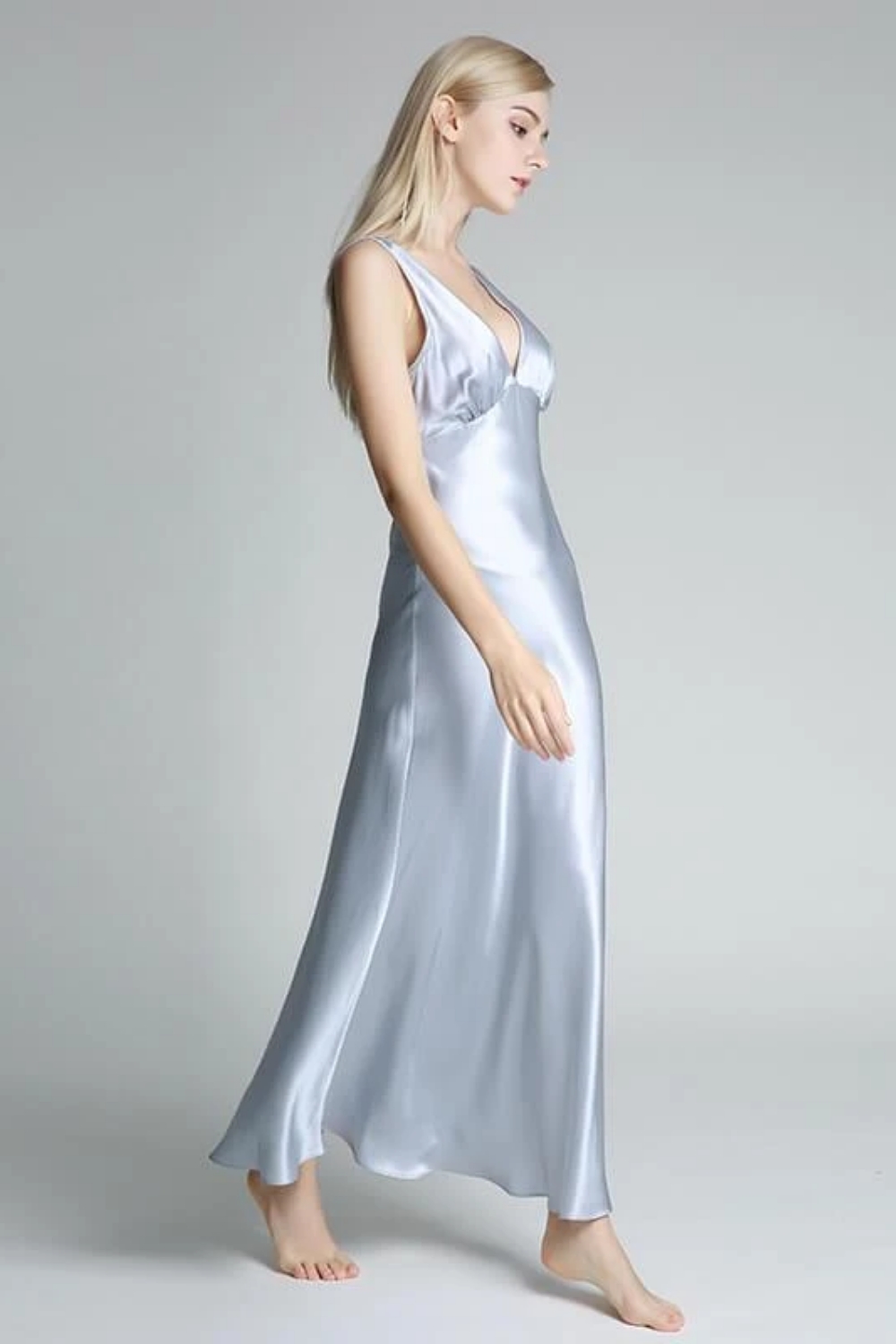 Whether you fancy a gift for a loved one, or better yet for yourself, shopping for silk sleepwear can feel a lot like browsing a high-end chocolate shop when you're famished - hard-to-resist delights are everywhere you turn. 
Without a fixed idea as to what you want or need, you may very well end up spending a fortune on something that you had not planned for. 
The answer? An awareness of what you truly want and need, and who you're shopping for. 
Beautiful silk chemises, nightgowns, tailored pajamas, luxurious kimonos, silk sheets or, lucky you, all of the above?  With silk, there's a style for every occasion and moment of whimsy.

Popular Silk Sleepwear Favorites

Chemises

Equal parts beautiful and bold, a silk chemise or slip is the perfect style for any one wanting to indulge in her femininity and sensual side.
Opt for a lightweight silk chemise that skims the body for a feeling of pure pampering.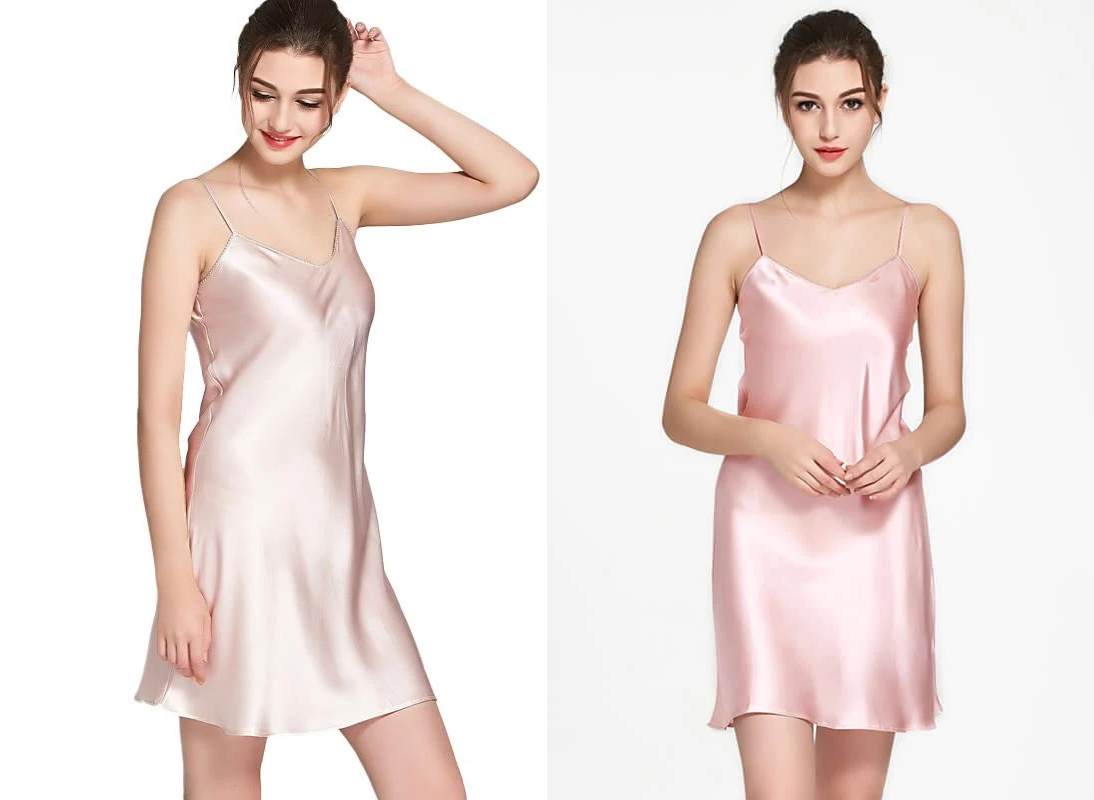 Kimonos

A silk kimono is a special treat than any woman will adore. Slip it on over your favorite nightgown and transform your look into one that's decadent and beautiful.
Choose a statement kimono or robe with embroidery or embellishments for a stunning style that makes a statement when entering a room.
KIMONO ROBES
Babydoll Sets

Get fancy in a pretty babydoll nightie in whisper soft silk chiffon with fluttered edging and matching panties.
This is a wonderful choice for showing off long legs, and you'll love the beautiful way it feels when you slip into this silky favorite.
Camisole Sets

Show off a little more of your curves in this classic combo for a coquettish look that makes any woman feel feminine and pampered.
Look for lace trim and a pretty hue to enhance your skin tone and features.
CAMISOLE SETS
Nightshirts

Not all silk sleepwear needs to be sexy or daring, and this popular style definitely fits the bill.
A easy-fitting nightshirt in ultra-soft silk jersey is the perfect sleepwear choice when you're looking for a chic and stylish way to indulge in luxury, while keeping things comfy and cozy.
Keep your look both relaxed and special in this popular style that will feel like amazing every time you slip it on.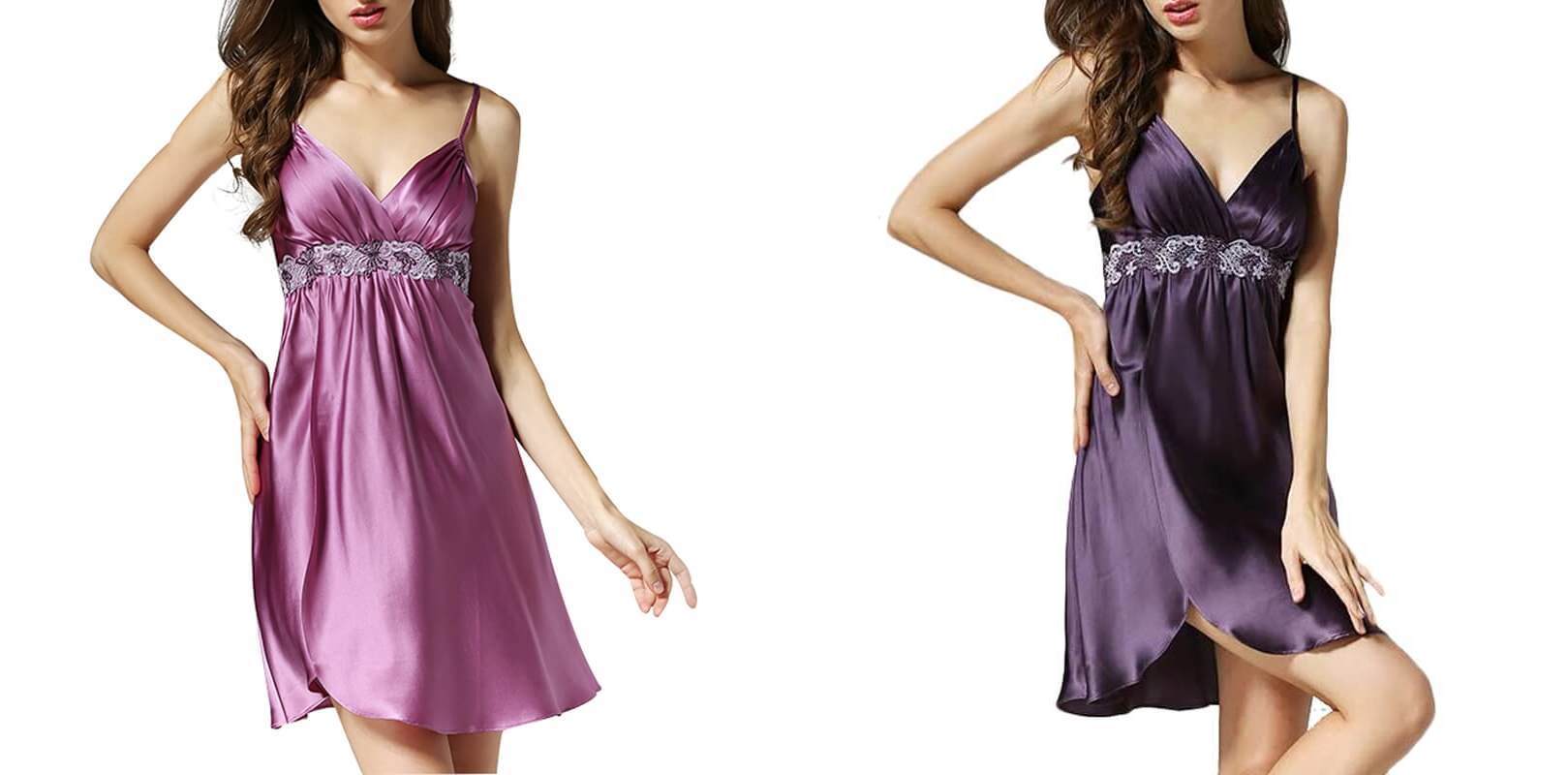 Long Nightgowns

Long nightgowns in luxurious silk are the classic preference.  Channel old Hollywood glamour in a long silk gown that accentuates femininity and exudes a bombshell quality that both you and your sweetie will love.
Choose a style with a thigh high slit to kick it up a notch, and add a pair of heels for a super glam look.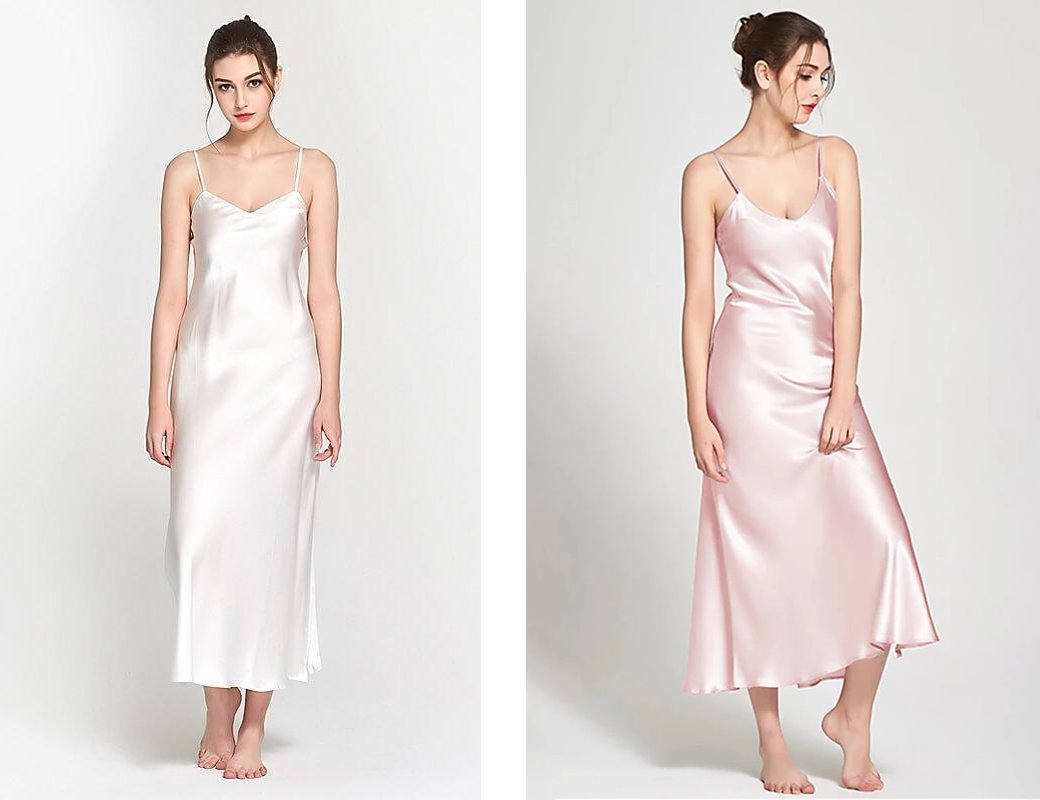 SILK NIGHTGOWNS
Beautiful Robes

Take your love of silk sleepwear to beautiful heights in a stunning silk robe - also known as the quintessential splurge.
Whether you're gifting a loved one (lucky them!) with a long luxurious Mulberry silk robe that evokes film star glamor, or treating yourself to a sensational short robe soon to be favorite, you'll love how this amazing style easily combines glamour and comfort.
Turn any evening into an elegant affair when you spoil yourself in this stunning silk lingerie.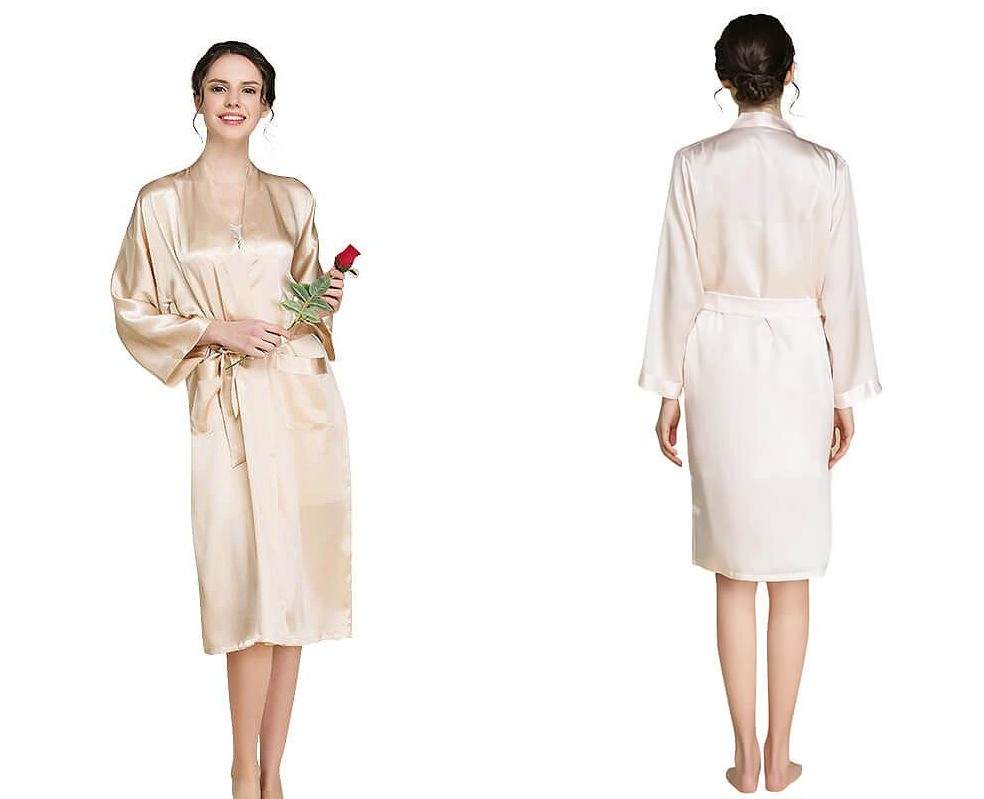 Silk Pajama Sets

Yes, pajamas can be chic and luxurious!
Enjoy the elegance of beautiful silk pajamas that are the ultimate in smooth, silky soft sleepwear.  Opt for tailored menswear style pajama pants and a button-up shirt that are classically styled and not overly detailed.
The flip side to short and sassy nighties, silk pajamas offer cool classic lines that skim your silhouette, and are great for evening lounging at home and savoring your morning coffee.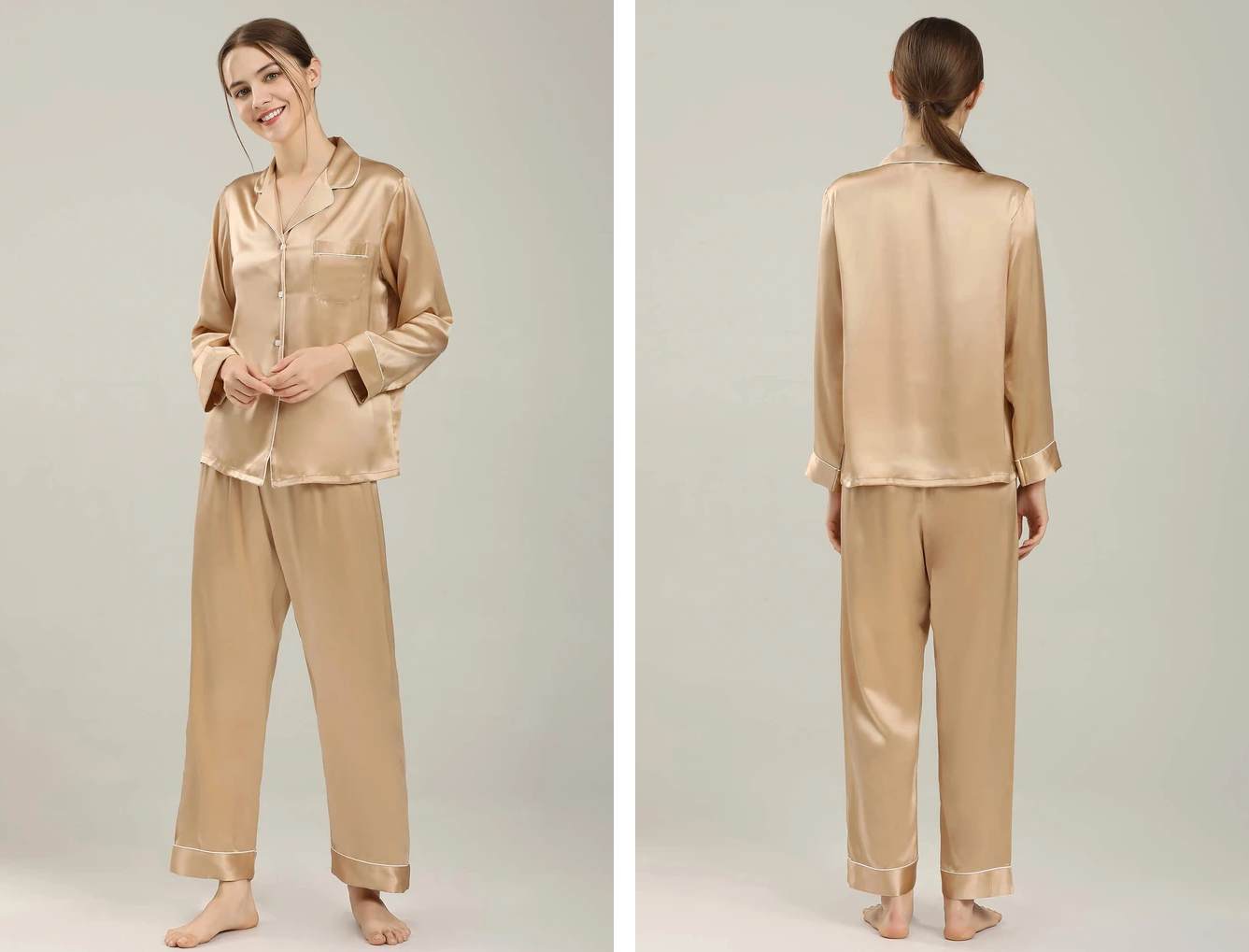 SILK PAJAMAS
Silk Pillowcases

While silk pillowcases may seem like a splurge, they are a fantastic way to add a nice touch of comfort and self-care when heading off to bed.
Touted by fashion editors and dermatologists, they have genuine health benefits that make them even more tempting..
With a reputation for minimizing wrinkles and staving off bad hair days, silk pillowcases are a wonderful accessory to to add to your lingerie collection.

Did You Know?

Silk sleepwear is one of the most popular choices for birthdays, anniversaries and just because. It's a favorite and timeless gift - no matter what time of the year.
Sensational Silk Sheets

Though not technically sleepwear, we had to include this unforgettable bedtime indulgence.
Go for devastatingly decadent when you want to make a change - swap cotton sheets for silk.  Silk sheets are the epitome of glamor and luxury, with a feeling that's wonderfully indescribable. 
You'll be counting down to bedtime when you get to wrap yourself in their luxury and silky softness!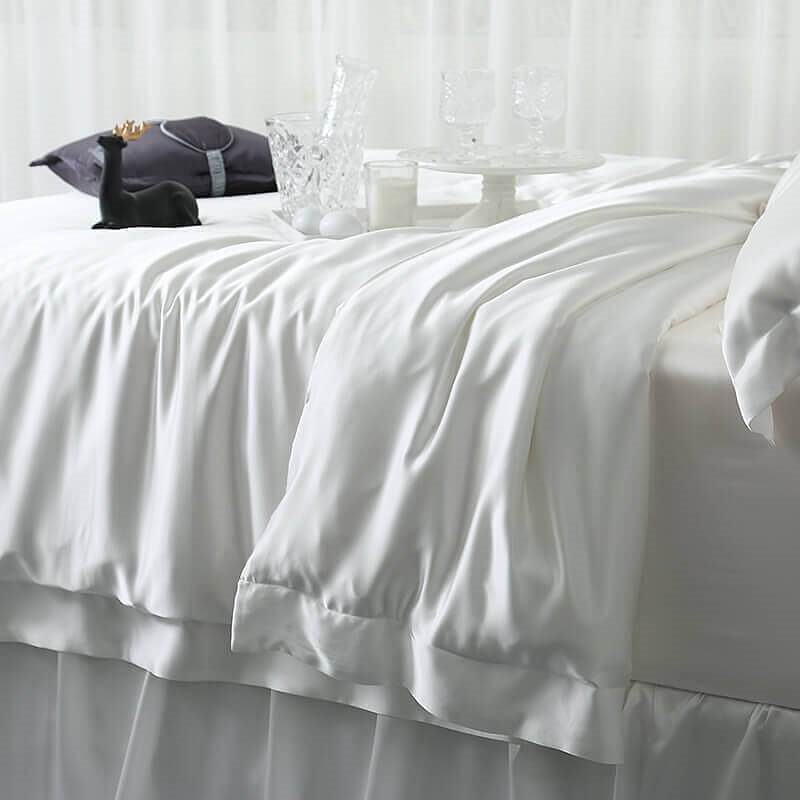 SILK BEDDING