*FTC Disclosure - If you make a purchase through a link on this site, we may receive a small commission on the transaction - at no extra cost to you.*
Which Night Gowns Are The Best For Your Shape?
Which Night Gowns Are Great For Your Silhouette – From luxurious long nightgowns to silky short nightgowns and the amazing ladies sleepwear in between, no matter what your shape or size, the selection has never been better.
When it comes to womens sleepwear, it's easy to assume that if it's comfortable it has to be frumpy, but this is an intimate apparel myth.
The truth is, there are nightwear styles that look (and feel) fantastic for every silhouette. The key is knowing which nightgowns are a great match - the rest is a piece of cake!
Which Night Gowns Are The Best For Petites?

With petites, getting it right is all about proportion. Petites look best in night gowns that don't overwhelm a smaller frame.
Look for either short lengths to show off your legs or floor-length styles

Avoid knee length or midi nightgowns, which cut the legs off midway and make them appear shorter
Smaller scale prints are more flattering that big and bold patterns which can be too much for a smaller frame
Sleeveless and cap sleeve styles ensure that you won't be drowning in sleeves that are too long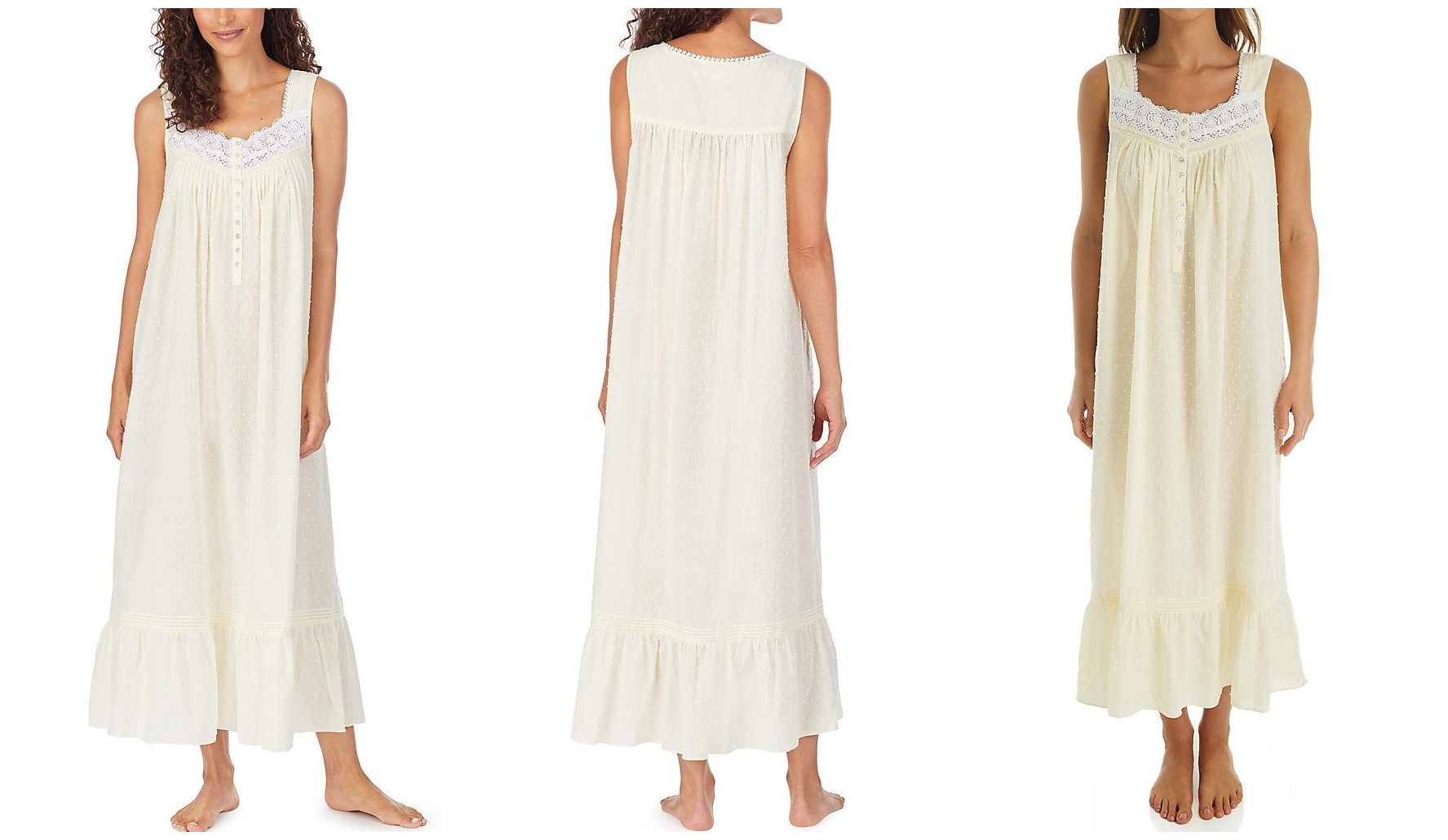 EILEEN WEST
Which Night Gowns Are Great For Plus Sizes?

Many curvy and plus size women expect that they automatically need to cover up completely, but the best way to flatter a rounded shape is in fact the opposite.
The best sleepwear and nightgowns are those with definition at the waist that show off your curves rather than covering them up
Don't be afraid to show a little skin
Sleeves styles with a scoop or v-neckline break up your silhouette and show off your décolletage

Shorter lengths let your legs shine
A few feminine details go a long way in making the most of a plus size shape and looking your very best in a beautiful nightgown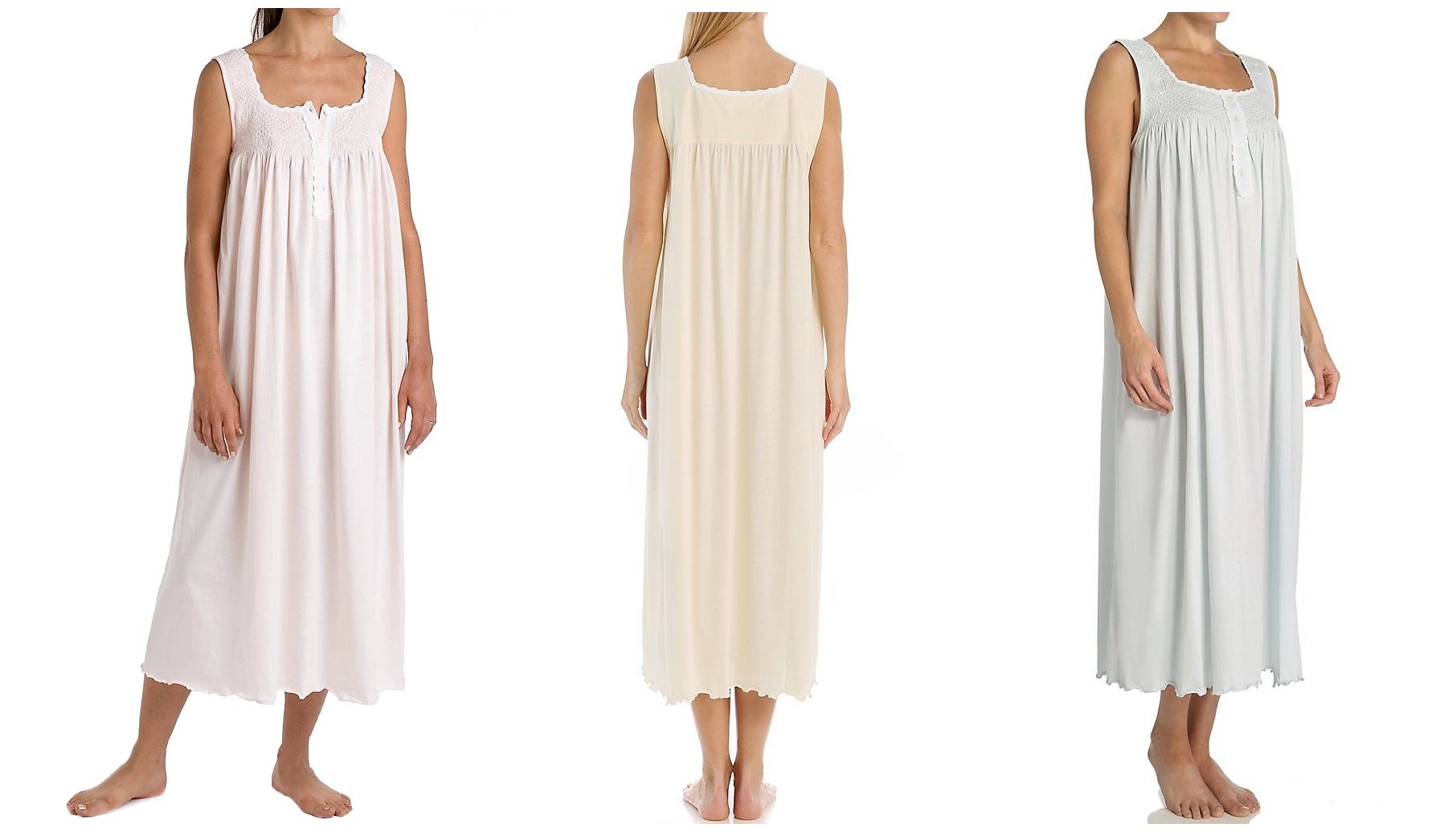 P-JAMAS
Which Night Gowns Are Sensational For Larger Busts?

The secret to flattering a large bust in any type of nightgown can be summed up in two words - great support.
Square, round or V neckline style nightgowns are best, rather than nightys with a high neckline which can overpower the rest of your look
If you want a more traditional or modest look, seek out full length nightgowns that cover the legs and keep you from revealing too much skin
Make it a beautiful sleepwear set by adding a matching robe to keep warm during the cooler winter months for a tailored look that flatters your figure
Which Night Gowns Are Fantastic For Pear Shapes?

Much like petite silhouettes, for those with curvy pear shapes the best sleepwear styles are all about balance and proportion.
Play up your upper body to balance a fuller lower half. This means looking for styles with fuller sleeves, ruffles, trims like lace or gathered chiffon, and detailing around the neck
Drawing the eye upward minimizes fuller hips
Seek out flowy styles that fall softly around your lower half rather than tight pieces that can make your lower body overpower your frame
CALIDA
Which Night Gowns Are Attractive For Smaller Busts?
Small busted women can easily wear simple minimalist style nightgowns. They also have the option of playing up their bustline in sexier nightys that are fun and fabulous, and give their bustline a boost.
A babydoll or chemise is best, especially when it has a padded underwire pushup bra built in
You can also play up your upper half with details and trims that add bulk and visual interest
Think gathered fabric, ruffles, ribbons, bows and lace. - Look for decorative straps and pieces that add oomph to a smaller bust