*FTC Disclosure - If you make a purchase through a link on this site, we receive a small commission at no extra cost to you.*
Convertible Bra Tips & Tricks

Convertible bra - Among the many different types of bras there are specialty bras for just about every clothing type and occasion that you can imagine. Some include:
Seamless bras for sheer tops / summer dresses
...just to name a few! Each bra style caters to one specific need and rarely ventures beyond that. As a result a specialty bra can be limited in its use, and can sit waiting in your lingerie drawer for a long time in between.
There is one bra style however, that crosses over and can be used several different ways: the convertible bra.
Unique and multi-functional the convertible brassiere is a favorite for its practical yet clever construction.
Convertible Bra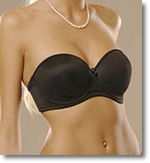 Most convertible styles can be worn in the traditional configuration of 2 standard bra straps, while others can be reconfigured to strapless, backless, later, T back and even one shoulder.
Most convertible bras can be reconfigured 2-3 different ways. This makes them incredibly versatile.
Keep in mind that bra manufacturers offer different options in convertible brassieres. Unfortunately, there is no one super bra that covers every single clothing style in your closet.
Let's take a look at 3 of our favorites...
Favorite Convertible Styles
---
Fruit of The Loom Push Up Bra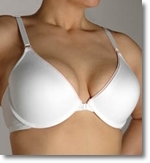 A multi-functional padded pushup bra that is a good option for everyday wear with a boost.
Smooth and seamless bra cups snap together with an easy front closure - optimal for those who have difficulty with a traditional back closure.
This bra fit is on the small side. You may want to opt for a larger cup size. Also, the padding is not removable. Bra sizes 36B through 40D.
     Lingerie Tip
This push up bra converts easily to a racerback bra.

QT Seamless Bra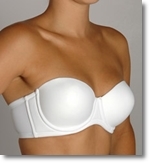 This underwire brassiere offers amazing versatility. Moderately padded seamless bra cups make it a great choice for sheer and tight fitting clothing.
Clear wide set gripper bra straps can be worn traditionally in 2 strap configuration as shown here, or removed for strapless or halter clothing. Available in bra sizes 32A through 40DD.
                        Lingerie Tip
This brassiere combines the best of a push up bra and a strapless bra. Note that bra pads are not removable.

Va Bien Longline Bra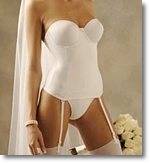 Lightweight and smooth, this molded long line bra is a popular wedding gown option because it is seamless and offers great tummy control.
A hidden inner corset and outer microfiber shell provides additional support and lift while acting as a shapewear minimizer.
Clear adjustable bra straps can be removed or worn in a traditional, criss-cross or halter configuration. Available in sizes 34B through 42DD.
                         Lingerie Tip
For additional cleavage you can add removable bra pads, cookies or cutlets in silicone or foam.


Bra Shopping on eBay.com
---
Shopping online for a variety of different types of bras has never been easier than it is on eBay clothing.
From classic strapless bras, and backless bras to specialty strapless backless bras for strapless dresses, tops and wedding gowns, ebay.com offers a multitude of affordable options.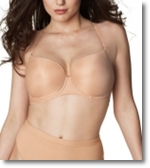 Everything listed is available right now - so if you see something you like, hurry and place your bid.
When you click on a link a new window will open and you'll be taken to the listing which will give you additional detailed information.
Need help with bra sizes ? Check out our easy 3 step bra size calculator for sizing tips and finding the right size. Want to continue lingerie and bra shopping ? Just follow the view all items link at the end of the listings...