Demi Bras
Demi bras are one of the most versatile, flattering, and popular types of bras on the market today. The French word "demi" literally means half, and in true bride lingerie fashion represents a demi or half bra.
The feature that unites all demi cup bras are the brassiere cups, which leave the half or top portion of the breasts exposed.
Most demi or half bras cover approximately one half-inch above the nipple, leaving the skin above that exposed.
This makes demi cup bras a fantastic choice for low-cup tops and flirty dresses.
Demi Bras

Small-busted women often choose a demi cup bra that has padded cups; this makes the bustline appear larger, and helps push the breasts together to create dramatic cleavage.
Some demi or half bras have gel inserts that are designed to mimic the texture and temperature of breast tissue; others have cloth or foam pads, which may or may not be removable.

Another popular half bra style is the balconette bra, which features demi-style cups, wide-set straps, and a horizontal bust line that helps lift the breasts.
Demi or balconette bras are a fantastic choice for just about any woman. The perky silhouette these bras provide is sexy at any age for virtually every shape.
Demi bras with contoured or molded cups are a particularly attractive option for women who want to ensure a feminine, rounded shape.
As a result, these womens bras are extremely popular choices as bridal undergarments.
Almost any style or type of wedding dress can be worn with a demi bra because demi cups are found on brassieres of all strap styles.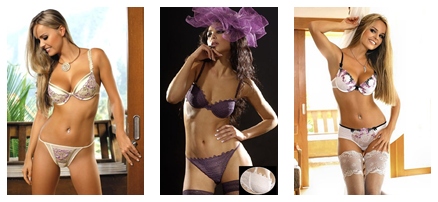 The most versatile of these is called a convertible bra, which has straps that may be adjusted, repositioned, and even removed for wear with a strapless gown.
Brides who select a gown that has a halter neckline would be particularly wise to consider a demi bridal bra.
brassiere because the backs on such gowns can be quite low cut.
Unfortunately, many dresses do not have the built in bra for support necessary to make large breasts look their best. Demi padded bras, to the rescue!

Bridal bras are best in a color close to your skin tone for a tailored look.
Consider a convertible bra that has clear plastic straps for the ultimate in invisibility. Clear bra straps are designed to blend into the skin so that if they accidentally become visible they remain unobtrusive.
Buxom brides may also wish to consider bridal bras that have comfort straps.
These are wider than average and are a lot more comfortable because their width distributes the weight of each breast more evenly along the the shoulder.
This helps prevent soreness and pain, and also reduces the risk of developing unsightly red grooves in the shoulders where the bra straps sit.
The wedding day is long and exhausting; comfortable brassieres and wedding underwear ensure that the bride is able to relax and enjoy her fabulous day ahead!

Leave demi bras and return to bridal bras

Return to beautiful lingerie