*FTC Disclosure - If you make a purchase through a link on this site, we receive a small commission at no extra cost to you.*
Demi Bras - How To Look Luxurious For Less

Demi Bras - A wedding is the perfect occasion to indulge in a touch of beautiful lingerie. Our splurge worthy favorite - the demi bra. 

Designed for low-cut and square necklines, it's a wonderfully flattering sexy bra that can be enjoyed long after your wedding day.
While most of us aren't blessed with an unlimited budget for high end bridal bras and luxury lingerie - weddings can be very expensive - it does not mean that we have to settle for dull and uninspiring intimate apparel.
From tips on the best fabrics to acing the perfect fit, the secret to achieving an exclusive look is in the details.
Below, we share how to get a luxurious look without spending a fortune.
Demi Bras  - How To Enjoy A Luxe Look

Choose Lace - There's just something about lace lingerie that oozes sophistication and luxury, regardless of how much it costs.
Lace is one of those classic beautiful lingerie fabrics that distracts us with its loveliness and can look well made and lavish even if doesn't cost a lot.
How to get the look without spending a fortune?  - Shop chain stores or mass retailers for lace demi bras and enjoy a high-end look on a modest budget.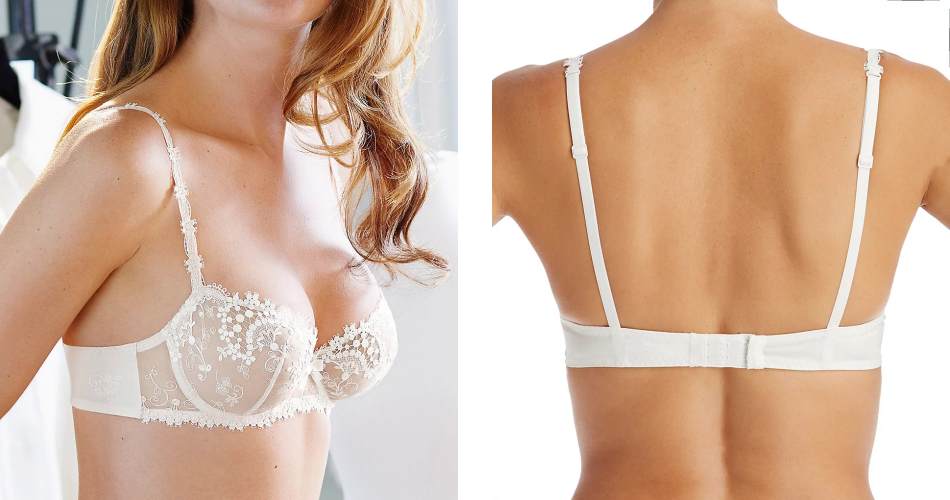 SIMONE PERELE
Did You Know?

The French word "demi" literally means half, and in true bride lingerie fashion represents a demi (also called a half bra).
The feature that unites all demi cup bras are the brassiere cups, which leave the half or top portion of the breasts exposed. This makes these half bras a fantastic choice for flirty gowns.
MAIDENFORM
Choose Classic Colors - Demi bras will look much more elegant and expensive if you opt for chic colors like nude, champagne, white, silver, or soft blush skin tones that are virtually invisible under your wedding dress.
For something a little different, think small-scale florals, delicate polka dots, paisley and pinstripes. Save the colorful prints and patterns for your wedding nite and honeymoon lingerie.

Opt For Pretty Details - Gorgeous brides know that  a plain Jane everyday bra doesn't even come close to looking and feeling as luxe as one that's decorated with pretty details.
How to get a luxe look without going overboard? - Opt for demi bras with ribbon trim, lace details, subtle ruffles or bows, and pretty bra straps with scalloped edging.
You'll instantly feel more feminine, polished, and pampered in luxurious beautiful lingerie. Feeling great translates into that enviable confidence that money can't buy.
SMART AND SEXY
Buy Matching Panties - Nothing feels more indulgent than matching bra and panty sets. Whether you're wearing them to show off on your wedding night, or just for yourself, we love the way luxury lingerie sets make us feel special.
How to get a luxe look? - Whatever demi or half bra you choose, regardless of the price tag, try to score a pair of matching panties to go with it.
In fact, buy several pairs of the underwear so you can get several wears out of the set before laundry day comes along. Slipping into a pretty lingerie set is a luxury that any bride can enjoy, no matter what her budget.
Get The Best Bra Fit - No matter how much you've shelled out for high-end half bras and intimate apparel, they will look cheap if the fit is wrong.
On the flip side, even inexpensive intimate apparel can look luxe if you find an amazing fit.
How will you know? - You'll know that you've hit just the right size when it feels comfortable, doesn't create any spillage at the back or underarms, and creates just the right amount of tasteful cleavage.
Not sure how to get the best bra fit? Lingerie stores offer professional bra fittings and a plethora of information on the brands that are ideal for your silhouette.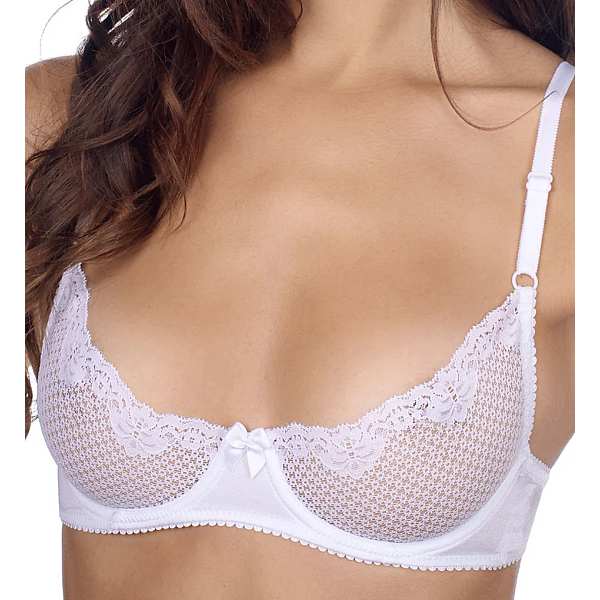 TIMPA
Take Proper Care - Whether you decide to spend $10 or $10 000, it's easy to make affordable bridal bras and lingerie look and feel like a million bucks when you care for it properly.
How to care for beautiful lingerie? - Avoid the washing machine.  Hand wash with a mild detergent, lay flat to dry, and store your lingerie without jamming or shoving them into an overstuffed drawer.
Creased bra cups, pilling straps, or faded fabrics make any half bra look tacky, no matter what you paid for it, and even the most modest bra can look sophisticated and elegant when you treat it like a precious piece.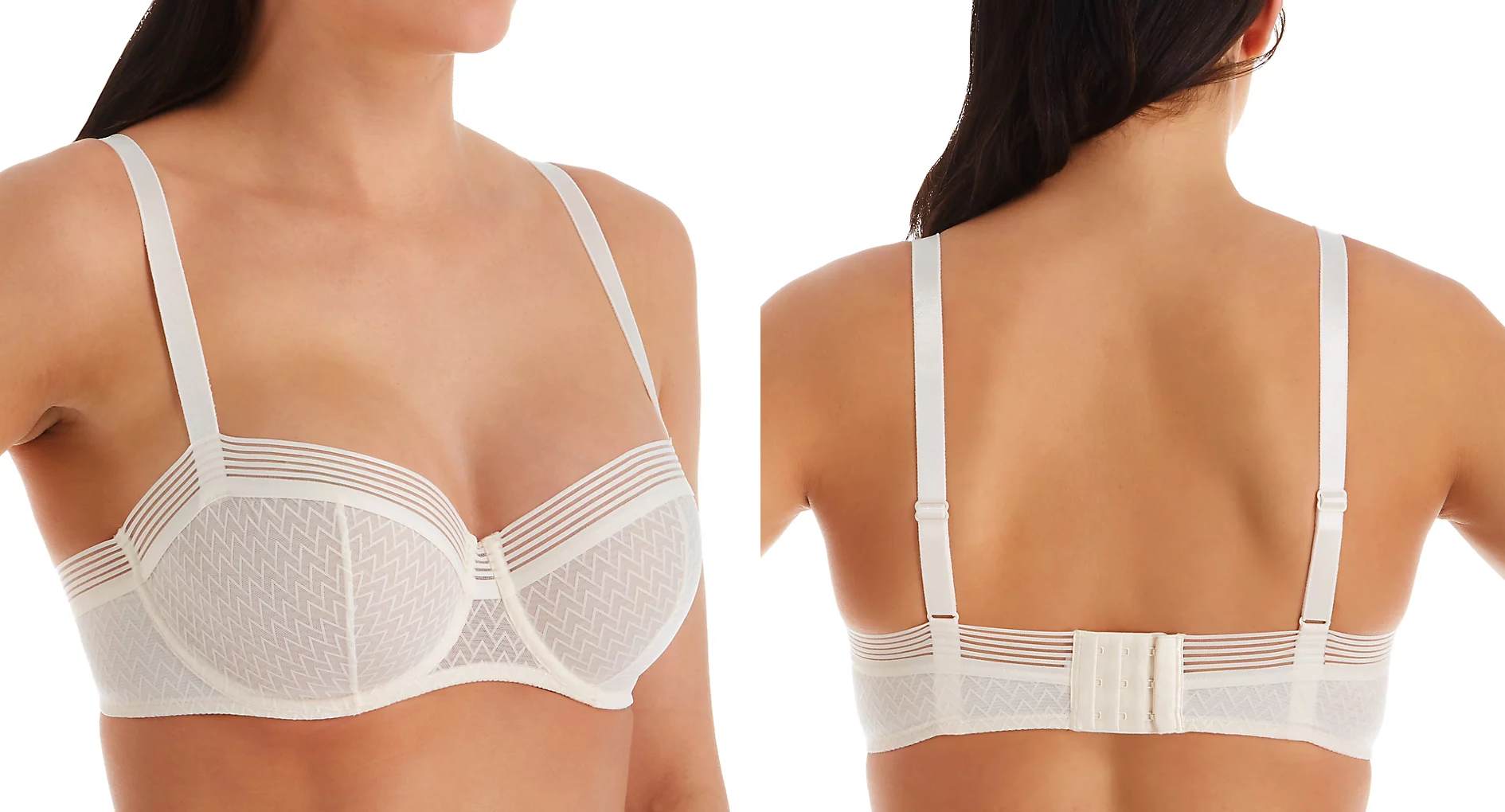 PASSIONATA BY CHANTELLE