*FTC Disclosure - If you make a purchase through a link on this site, we receive a small commission at no extra cost to you.*
Backless Bras - The Secrets To Looking Great
Backless Bras - Why is it that some women manage to look so cool, comfortable and well put-together during the hot summer months of June, July and August?
It doesn't seem to matter whether they're young or old, tall or short, rich or poor, they wear their strapless dresses, and tops with an effortless look that says, "I'm well-dressed".

Backless Bras

Their secret? Backless bras.
Not the bulky, heavy and uncomfortable brassieres of yesteryear, but lightweight and comfortable bras that also fit and flatter virtually every neckline shape.
From the classic scoop neck and square neck, to the sleek V neck and square neck, the backless bra is a very versatile bra style that lends itself to just about any style of clothing.
This leads us to the next question, "how do you get a great bra fit "? It isn't difficult once you understand the basics.
We've gathered a few insider lingerie tips? that will give you a great look and fit every time. Let's take a closer look...

Lingerie Secret #1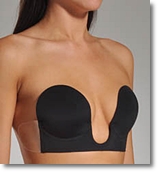 SHOP NOW
Looking chic always starts with a great fit. This often means ignoring the bra sizes on tags and concentrating on getting the best bra fit regardless of what size the tag says.
Concentrate on avoiding the following. There should be no gaps, puckers, bulges or overspill – a big no-no, around the bra cup.
Also, no pulling or visible back fat. The brassiere should also provide you with enough support and be very comfortable to wear.

Lingerie Secret #2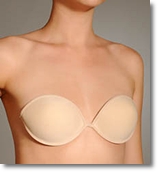 For a smooth and polished look the best bras are seamless bras which are often called T-shirt bras.
Often under-rated these are great multi-purpose brassieres that are a real work-horse in the lingerie world, since they make every outfit look great.
Seamless bras do not have seams in the bra cups, and minimal seams elsewhere, which gives them an almost invisible look.
Look for lightly padded bras with molded cups that will even out an small lumps and bumps for a smoother appearance.

Lingerie Secret #3
Finally, opt for a nude, or skin tone backless bra that is closest to your natural coloring.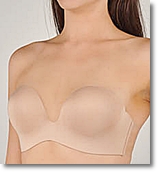 Why? This color provides an invisible look because it blends into your skin tone. If, nude is not available in your local store, then opt for ivory.
The color to avoid at all costs, particularly if you're wearing white is, surprise surprise: white.
Why? Wearing white under white clothing is akin to showing your lingerie to everyone.
A white brassiere under a white dress, top or sweater shows through and is very visible.
So, unless you want to share your lingerie with the world when you're wearing your summer finest, avoid white bras and opt for more neutral nude bras.

Shopping on eBay Clothing
If, you are looking for a large selection of backless bras, strapless bras, or different types of bras, from several manufacturers, a great place to start your bra shopping is on eBay.com.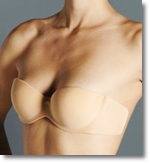 The listings you see below are currently available, so if you see something you like, place your bid.
When you click on the photo link below, a new window will open and you'll be taken to that listing.
If you need help finding the right bra size, please check out our easy 3 step bra size calculator for quick and easy tips.
Want to continue lingerie shopping? Just click on the view all items link at the end of the listings...Enjoy!