*FTC Disclosure - If you make a purchase through a link on this site, we may receive a small commission on the transaction - at no extra cost to you.*
Strapless Bras - 5 Surprisingly Simple Secrets That Will Amaze You

Strapless bras - An amazing lifesaver on your wedding day, these specialty bras can be a real pain if you get it wrong.
A bad fit, the wrong size, or a poor design means you'll be hitching it up all day long, or squirming and fussing with it – not something that any bride wants to be bothered with.
On the flip side, the right strapless bra is an amazing bra style that will give you the freedom of wearing the wedding dress of your dreams without worrying about exposing everything that you're wearing underneath.
Want to know more? Follow along as we reveal the 5 simple secrets that you need to know to ace this exciting style.


Strapless Bras - Behind The Scenes Secrets
The Best Bras Have An Insider Gripper
Forget for a moment the smooth and seamless or pretty lace detailing and take a closer look behind the scenes - on the inside of the bra.
The best bras have a clear rubber or thin silicone strip along the inside edge of the bra. This simple little strip is the invisible miracle that no one sees, but it's super important and makes all the difference in keeping your bra firmly in place.
The rubbery texture grips against your skin and prevents your wedding gown from slipping down your torso and / or twisting around your body.
No one wants to end up with a bridal bra that you're constantly tugging throughout the day, so look for styles with this clever little strip that will help to keep you in place, no matter how much you're moving around on your wedding day.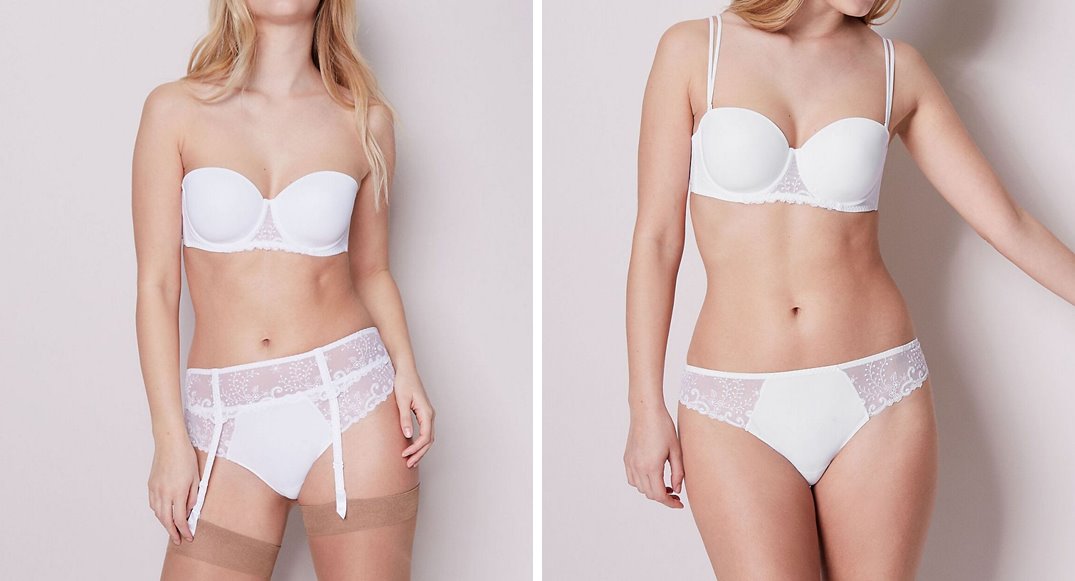 Carmen's Tip
Fragrances, lotions, and liquids don't mix well with rubber / silicone strips. For a secure fit that won't slip and slide, make sure your skin is squeaky clean and dry before you slip into your bra.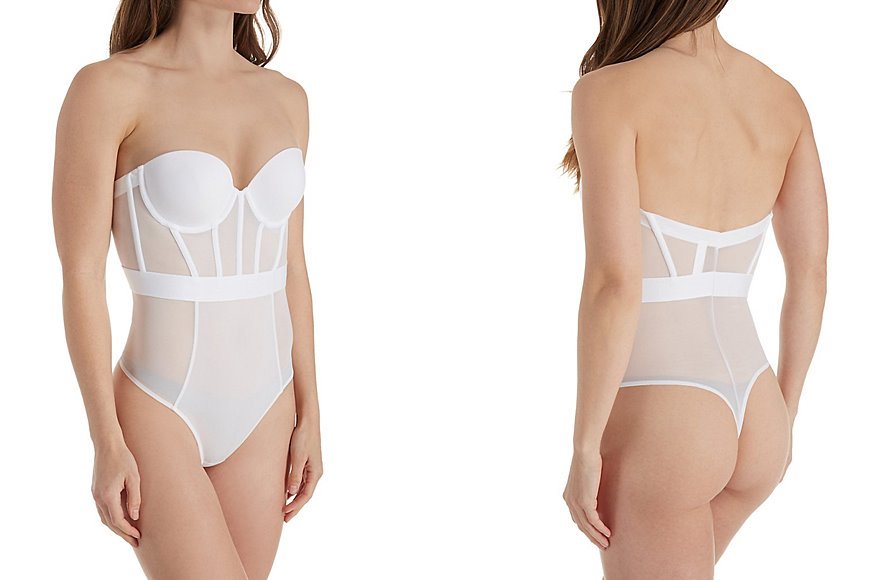 Bra And Bustier Boning Provide Amazing Support
For the best possible fit, strapless bras need structure – bottom line. A flimsy style might look ultra feminine and beautiful, but if it doesn't offer a decent amount of support it won't stay in place for more than a few moments.
Instead, look for structured styles that are equipped with all of the structure and support that they need to stay in place and put you at ease on your special day.
Underwire cups hold their shape and keep your bust contained, molded bra cups keep your breasts hugged in, and boning at the sides of a strapless bra help to keep it in place so that it doesn't slip down around your waist.
These small details come together to create a beautiful bra that stays put and does its job beautifully.
Colors To Crave
The skin-tone choice is particularly wise if the fabric of the wedding dress is thin or translucent.
A brassiere that matches the bride's skin will remain invisible in these conditions, but a white or cream bra is likely to be seen (especially beneath bright lights or in the pop of a camera flash).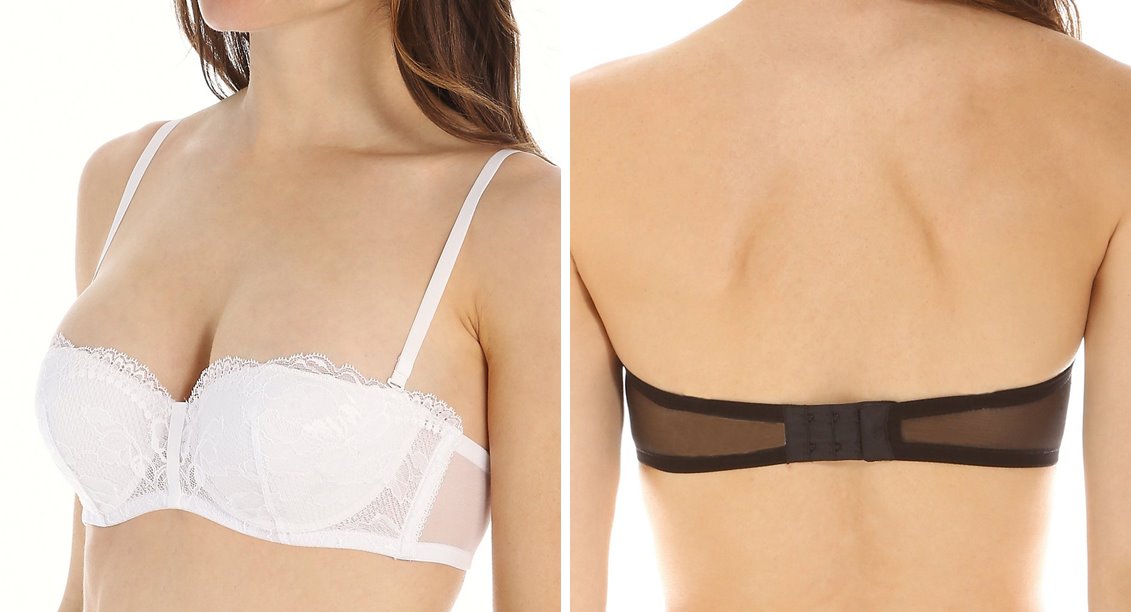 Longline Bras Are Great For Larger Busts
Full-busted brides usually rely on wider bra straps as a major component of support from their bras.
When the bra straps are removed though, it's up to the other elements to step up their game and provide the support that you need.
Longline bras and bustiers are an excellent option for brides who need additional support that's crucial to a polished look and comfortable fit.
They're cut lower along the ribcage than regular bras, and the extra width below the bust increases the lift and control that large busts need.
And, since these styles tend to be longer than regular bras and quite form fitting, they offer the added bonus of mimicking shapewear for a curvier hourglass silhouette.

Bustier Styles Are Fantastic For Petites
Petites need structure and support just as much as plus sizes, but for different reasons.  Flatter chests run the risk of strapless bras slipping and shifting about since they don't have the fullness of a large bust to keep a bra in place.
On the other hand, bustier style strapless brassieres are a great option for smaller sizes because they have extra boning strategically sewed into the bodice, keeping the waist of the bustier in place and preventing the rest of the bra from shifting.

Beautiful Lingerie Maximizes Wearability
Turn your strapless bra into a clever chameleon that can be worn again and again, when you choose an ultra versatile brassiere that converts into several different styles. 
Classic colors like black or nude are easy to wear under anything.  Smooth and silky microfiber cups won't show through your clothing, and convertible styles offer a multitude of options for any style of top or dress that can be worn after the wedding.
From strapless to criss cross, conventional to halter neck, opt for the popular style that supermodels swear by - multi tasking convertible bras to create endless all in one bra styles without needing a drawer full of intimate apparel for every occasion.