Secrets To Strapless Bras
Strapless Bras - Brides frequently rely upon strapless bras and other specialized wedding underwear to create a flawless wedding-day silhouette.
This is a day that will be immortalized both in memories and in pictures and is definitely not the time to cut corners on the bride lingerie that you choose.
Wearing the wrong type of bridal bra, bridal bustier, bridal corset or bridal undergarments can cause significant discomfort and distraction during the wedding ceremony and reception.

Strapless Bras

Thankfully, choosing the proper bridal lingerie and undergarments doesn't have to be confusing.
If in doubt, consult the sales staff at the boutique where the dress was purchased; they are trained to assist brides-to-be in selecting the best intimate apparel for wear under the wedding gown.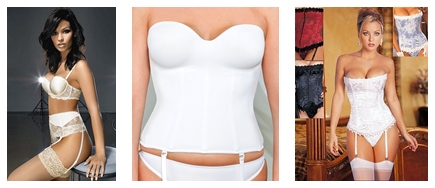 Just as the name suggests, these bras don't have shoulder straps. Most have demi cups and an elastic band that hooks in the back, just like a standard brassiere.
The difference is there are no shoulder straps. The band of these brassieres is responsible for keeping the bra in place.
These types of bras are usually sized differently than standard bras, and fit more tightly so they don't fall down or move during wear.
Even brides who are used to wearing a strapless bustier or brassiere under everyday clothes should concentrate on the importance of bra sizes and the proper bra fitting before purchasing their wedding bra.
It's vital to purchase the correct bra size because this bra should be worn not only on the wedding day but also during all wedding dress fittings and tailoring sessions.
As a result, bridal bras must be purchased before these fitting sessions begin.
Bridal bras come in many colors and lingerie fabrics. Most brides will choose white, cream, or a skin-toned fabric for wear beneath their gown.
The skin-tone choice is particularly wise if the fabric of the wedding dress is thin or translucent.
A brassiere that matches the bride's skin will remain invisible in these conditions, but a white or cream bra is likely to be seen (especially beneath bright lights or in the pop of a camera flash).


The most versatile brassieres are crafted from smooth intimate apparel fabrics like microfiber, satin or silk, so that they can be worn beneath any type of wedding gown.
Avoid lace or bumpy embroidery if at all possible.
This will ensure a smooth bustline beneath your dress, and will also make the bra useable beneath many other outfits in your closet.
Because the elastic in any bra is not intended to last forever, avoid wearing your wedding bra as a piece of "everyday lingerie" until after your wedding has passed.
This will ensure that the brassiere provides maximum staying power on the big day.
After the wedding day, feel free to get the most out of your brassiere by placing it in your normal bra rotation.
Strapless brassieres are particularly useful beneath skimpy tank tops and summer dresses, where they can provide valuable support without unsightly bra straps getting in the way.

Leave strapless bras and return to bridal bras

Return to beautiful lingerie