Chenille Robes Are
A Cozy Sleepwear Favorite!
FTC Disclosure - If you make a purchase by clicking a link on this page, we receive a small commission. There is no cost to you, and this does not influence our content. 

---
Chenille robes are fabulously soft and thick womens robes that are a great choice for keeping warm and for relaxing in after a long hard day.
A staple of high end spas all over the world, these luxury robes have also been voted one of Oprah's favorite things.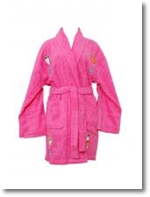 From subdued and elegant to bright and funky, they come in a vast array of colours and styles that you too can enjoy in the comfort of your own home.
Chenille robes are becoming one of the most popular robes for women, especially for those cold winter months, or even if you just feel like cuddling up after a long hard day.
They make great gifts for yourself and loved ones alike. So, what makes them so popular?
Well, to begin with, chenille is a comfy lingerie fabric that appeals to most women.
While the yarn is mostly made from natural cotton fibers, it can also be made from synthetics like rayon or acrylic.
It is designed to keep you warm and cozy, and it has the great advantage of breathability, meaning chenille cotton robes "breathe" for extra comfort.
A chenille wrap robe is tailored in such a way that no matter what body shape you are, you can still look great and feel comfortable.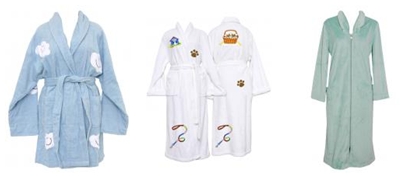 Chenille Robes Are A Comfy Choice

Chenille robes are available in a multitude of different variations that can tie to the side or front, along with a button front or zip front robe or even a classic spa robe.
The wide rib design offers a vertical or slimming effect to any w woman with a voluptuous curve or two. And, if you want to something with a bit more panache or flair you can opt for a snazzy chenille robe with a faux fur collar and cuffs.
A bit of advice; make sure when purchasing any womens robe, especially chenille, that you feel the robe.
Low grade chenille looks just as expensive as high grade chenille, but may feel less comfortable.
The softness of high grade chenille is not something most buyers want to part with.
But, if you're really concerned about softness and the right feel, it's very important to be able to actually feel the bathrobe.
Chenille robes do not stop in styles just for women. You can purchase mens robes, women, teens and even kids robes in chenille.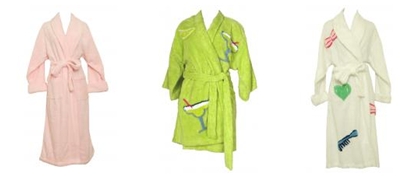 Womens Robes
The variety of colours and patterns are absolutely scrumptious and run the gamut of virtually every shade imaginable, from cool classic white to vibrant cranberry.
Just about every department store carries chenille robes in several different styles and lengths.
Full length or long robes with a wide rib are one of the most popular styles for keeping warm, followed by knee length or short robes that are comfy to wear while putting on your makeup.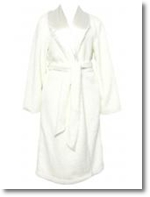 Through the magic of online shopping virtually any ladies sleepwear style that you want is literally at your fingertips.
When shopping for womens sleepwear and robes online, remember to read the size charts and the return policy carefully.
This is a useful tidbit just in case, if for some reason you want to return your purchase.
Some online stores will even ship to their local store and wave the shipping price. That makes it even more inviting!
Beautiful Lingerie  >  Robes for Sale  >  Why Chenille Robes Are A Sleep Wear Favorite