Satin Robes Lingerie Guide
FTC Disclosure - If you make a purchase by clicking a link on this page, we receive a small commission. There is no cost to you, and this does not influence our content. 

---
Satin robes provide an instant face lift to any intimate apparel wardrobe or lingerie drawer.
Available in virtually every color under the sun, and in a variety of ladies sleepwear styles and lengths, the glamour of satin nightgowns and womens robes has made them consistently popular for many generations.
While most satin sleepwear and silk sleepwear is created with women in mind, these luxury robes can be worn and enjoyed by both men and women.
They are easily found in department stores, as well as online and at many local boutiques.
The first factor to consider when purchasing a satin robe, satin nightgown or even satin pyjamas, is the color scheme. It's almost impossible to go wrong with solid colors, particularly jewel tones such as blood red, emerald green, or cobalt blue.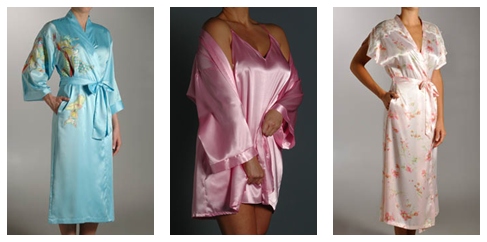 HerRoom Lingerie We Buy For Ourselves
Satin Robes

Black and white or cream are other common colors that look great on everyone.
There are also many, many prints and patterns to choose from, ranging from simple stripes and paisley to more complex designs and even occasionally hand-painted designs.
Since these ladies robes aren't as warm as say, a terrycloth robe, you're almost always safe purchasing a long robe without having to worry about being too warm.
However, knee-length or short robes are also a popular choice, particularly among women who wear them while shaving or applying lotion to their legs.
The short hem length is an advantage as the bath robe is likely to become soiled by excess lotion.
Any lingerie or intimate apparel that gets lotion on it will need to be cleaned, as the lotion will temporarily darken the fabric.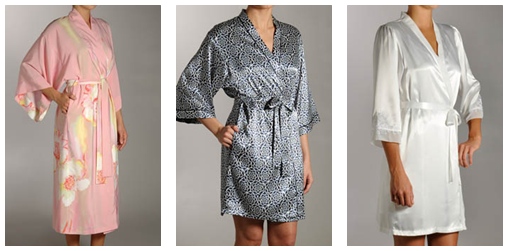 Most robes in satin also have long sleeves; however, it's also common to see robes with ¾ sleeves, or half sleeves.
This is a matter of simple preference; short sleeves are cooler and also leave the hands and lower arms free for activities such as cooking, which might soil long sleeves.
Most robes for women can be either hand-washed, or machine washed on the gentle cycle.
Always check the care label for instructions before washing, and avoid any harsh detergents, stain removers, or bleaches.
Both men's and ladies robes are typically belted with an adjustable satin belt in the same color or pattern as the rest of the robe.
While women can wear satin or silk robes in any color, most men feel more comfortable sticking to dark shades such as black, grey, and navy, or with simple patterns such as stripes or plaid.
A few short decades ago, robes with built-in shoulder pads were popular.
However, since the 1990's, most satin robes intended for either gender have had no padding.
If you decide to purchase a robe with shoulder pads, opt for a bathrobe whose pads are removable so that you have more both options as the years pass.