Fleece Robes Insiders Guide
Fleece robes and are one of the best cold-weather lounge garments for men, women, and children. These long robes and favorite night gowns provide unparalleled comfort and softness against the skin, plus they're also easy to care for, clean, and store.
Fleece is a thick and cosy, synthetic fabric that is able to withstand frequent washings, use of stain-removal agents, and general vigorous wear.
It is a dense and warm fabric that does not easily tear or wear thin, and it provides excellent insulation against cold weather.
These factors make this ladies sleepwear style an excellent and economical choice for the whole family, and particularly for kids robes.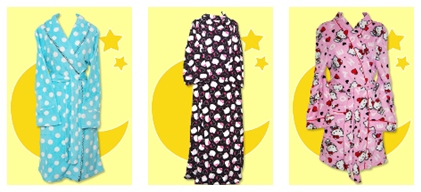 Fleece Robes

When purchasing one of these luxury robes it is absolutely vital to make sure that the fabric has been treated with a flame retardant.
Why? Non-treated fleece is flammable and may melt against the skin, making it a huge liability in the event of a fire.
Always check the labels on any prospective purchase to ensure that the garment is flame-retardant.
Another factor to consider is the high amount of static electricity generated by fleece and even flannel sleepwear. This may be a particular annoyance to people who have pets, since loose hairs will stick to the fleece.
Low-quality fleece and even flannel may exhibit pilling after repeated wear and washing.
The pills of fuzz can easily be removed with tape or a lint brush, and higher-quality fleece will not pill at all. A fabric shaver can also easily remove lint pills if they become a problem.
Fleece robes are available in a fabulous variety of colors, lengths, and popular designs and patterns, so it's common to see these lingerie robes and womens pajamas emblazoned with popular characters from children's books and television programs.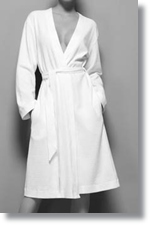 While not as spectacularly absorptive as terry cloth robes or spa robes, fleece is just as warm.
It is a hydrophobic fabric. So, rather than absorbing water, it actually repels it. Even if it does become wet, fleece does not lose its warming powers.
It is also a breathable intimate apparel material. Moisture is able to travel through the fabric and evaporate on the surface.
This thick fabric traps warm air against the skin, insulating the wearer against drafts and colder weather.
Fleece robes,
chenille robes and heavier velour robes for women a great choice for winter and late fall.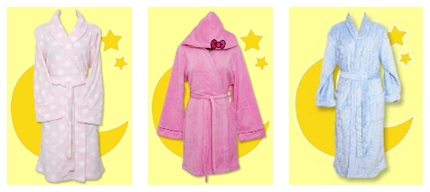 However, most women prefer styles like satin robes, kimono robes and spa robes sewn from thinner materials for wear in the spring and summer months, simply because they are cooler and more comfortable in warmer climates.
Polyester fleece is naturally resistant to many stains, and can be machine-washed and dried in a clothes dryer. These womens robes will dry quickly, even if hung from a rack or a line rather than dried in a machine.
If using a clothes drier, dry your intimate apparel and lingerie robes on the low setting to prevent damage to the fabric. Use cool or warm water when washing fleece and any lingerie fabric.
Fleece can also be spot-cleaned when only soiled in a small area. This is another reason why fleece robes are the perfect choice for children and young teens.
They are also readily available almost everywhere, and often at very low prices. Environmentally-conscious consumers may be interested in fleece made from recycled plastic bottles.


Return to beautiful lingerie