The Versatile Short Robe
FTC Disclosure - If you make a purchase by clicking a link on this page, we receive a small commission. There is no cost to you, and this does not influence our content. 

---
A short robe is a favorite type of womens robe that is worn for a variety of different occasions, and is one of the most versatile ladies sleepwear styles available today.
There are various short and long robes that can be worn over sleepwear, on their own after a shower or bath, or simply to relax in at the end of the day.
The most popular and well known is an informal bathrobe used by women. This robe is thicker and warmer than most and is generally knee-length, but in some cases it can above the knee or even below the knee.
Short Robe
Short Robe

One of the most important decisions in selecting any kind of womens robes is the fabric.
Thick or thin, natural or man made, fabric types can range from traditional cotton and satin to cashmere and microfiber, and virtually everything in between.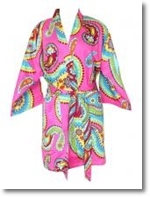 Lingerie materials define the touch and feel of womens sleepwear, and this is particularly true when it comes to robes, whether they are short or long.
Another important criteria when buying robes is to choose a style that will complement your figure and personality.
If you are tall you can wear a knee length robe with a wide belt.
This is an excellent choice for showing off long legs; however, if you have shorter legs that you don't want to emphasize, opt for a slightly longer below the knee length that is more flattering.
If you are heavier and want a slimmer silhouette, opt for a V neck that will draw attention to your decolletage.
And, if you are a petite woman, you may want to try a short robe that is close fitting with a slim narrow belt.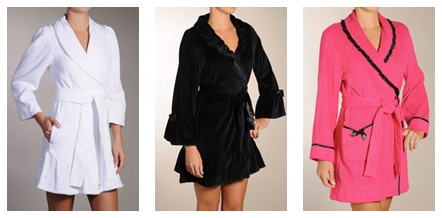 While choosing a short robe decide how it is going to be worn.
So, if, it's something that you're going to wear for long periods of time, select a material that will be comfortable, breathable and absorbent too.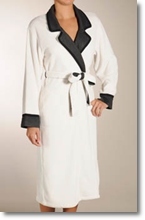 Among the most popular materials with these characteristics are cotton and or cotton blends. Waffle terry cloth robes or cotton robes are great choices that will offer you years of comfortable wear.
If, you are looking for something more romantic or sexy then consider satin or silk robes. These are timeless classics that both women and men love.
A touch of light embroidery can give a sexy robe an extra bit of glamor if you want something with a bit more panache.
The nice thing about shopping for intimate apparel nowadays is that there is such a wide variety available that you can either buy your lingerie online or at your local shopping mall.
Whether you decide to buy online or locally, remember to check out the store's return policy just in case you need to return your purchase.
Last, but not least tip while buying ladies robes, opt for styles that are comfortable and flatter your particular silhouette and shape.
While friends, family and loved ones can provide suggestions and opinions, remember that you are the best judge in choosing something that suits you best!