Plus Size Robes Insiders Guide
Sleek and elegant, or comfortable and cosy, plus size robes are available in a tempting variety of styles and fabrics.
Wrap yourself in a chic microfiber robe, sink into luxurious silk robes, or slide into a cool crisp cotton robe. The choice is yours.
The days of one or two basic and boring plus size lingerie styles are long gone.
Today, curvy women of all shapes and sizes can enjoy wearing scores of fabulous plus size bras, camisoles and cami sets, plus size nightgowns and ladies sleepwear designed specifically for them.
Winter or spring, long or short, no matter what the weather or occasion, womens robes have never been nicer or more plentiful in choice. Let's take a look at a few popular styles.
Plus Size Robes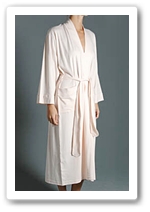 Spa Robes - designed after the luxurious spa robes found in exclusive spas and resorts. Soft and plush waffled cotton or terry cloth robes are cosy and soft with a classic design that is not overdone.
Terry cloth is absorbent and becomes ultra soft with use. White is the color of choice though paler shades are quickly gaining favor. This plus size intimate apparel is perfect for the spa, gym, traveling, or simply lounging around the house.
Hooded Robe - is essentially a cosy bathrobe with an attached hood at the back.
Popular in fabrics like terry cloth, micro fleece, chenille and cotton and a variety of colors, these bathrobes are designed for after bath, shower or swimming.
Traditional wrap around or zipper front style, they are a favorite intimate apparel style for their cosy and comfortable feel.


Bathrobe - bathrobes are often a thick, soft towel like or other absorbent fabric that come in a rainbow of colors.
They are ideal to wear when getting out of the shower or bathtub, and are also perfectly acceptable to wear while doing your hair, putting on makeup or brushing your teeth.
They are also used as a cover-up for swimwear.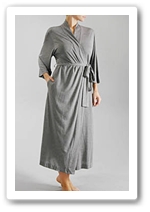 Cotton Robes - cotton is the most popular lingerie and intimate apparel fabric. It's a natural fiber with breathability that is comfortable and absorbent.
There are two cotton materials to note - the cotton velour, which has the rich and luxurious feel of soft velour loops, and the waffle weave, which has a honeycomb look and feel, and is perfect for summer wear.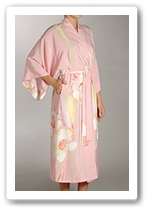 Kimono Robe - the multi-purpose kimono can be a silk robe or a satin robe and used as a robe, dress, or coat. The silk kimono is favorite of many women for its silky softness and cool touch.
Colors and patterns are generally rich and luxurious prints. This style generally has a V neck, long full sleeves and a wrap around design.
Silk Robes - the ultimate in sensual intimate apparel, silk robes are often sold as part of a matching lingerie set with a chemise, night gowns or a bra and panties that match.
These luxury robes are lightweight and soft to the touch.
Plus size robes in silk come in a fabulous array of styles and colors, and make a wonderfully luxurious gift.

Whether you're purchasing a plus size chemise, or a plus size nightgown with matching plus size robes for a loved one, or for yourself, opt for that magical combination of comfort and luxury, and love the lingerie you're in!