Long Robes Sleepwear Guide
What makes long robes so popular? There are a number of reasons. Warmth and of course modesty. Long womens robes cover the legs and offer more modesty and warmth than short robes.
This is appealing in situations where modesty is important, such as young women living in co-ed dorms, or in college or other public places.
At home, if it's early morning or later at night and someone knocks or rings the doorbell, a long wrap robe will keep one appropriately covered when answering the door.
Especially if you're wearing a long nightgown or short pajamas underneath.
Warmth is another factor in choosing a long robe.
Long Robes

A long, fuzzy, chenille robe or even a down robe over a flannel nightgown or sleepwear is the perfect combination to keep you warm on a cold winter's night!
Besides keeping you warm from the cold, a thicker bathrobe protects in another way if you happen to be a cat or kitten owner.
Cats, especially kittens, love to jump on people, and bathrobes are a great protection against those sharp little claws!
There is a fabulous collection of fabrics and styles to choose from. There are thick, plush chenille and fleece robes for warmth. Both are easy to wash and dry.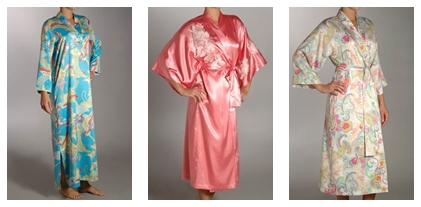 Luxury Robes
The ultimate in luxury robes is the cashmere robe. Ultra soft and luxurious cashmere robes are not as thick as their warm wear cousins, fleece and chenille, though they are incredibly warm, soft and last a lifetime when properly cared for.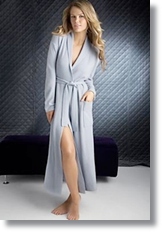 For those who prefer the feel of cotton there are long terry cloth robes.
Super absorbent terry cloth bath robes are great after a shower since they absorb water like a cosy towel, and cotton is a natural fiber that many women prefer.
There are also velour robes or the always stylish microfiber robe that is a favorite in spas all over the world; these are a bit thinner yet can still be warm and stylish and feel wonderful.
Then, for those who want a luxurious feel, there are long silk robes or kimono robes with an oriental or exotic flair.
These tend to be a bit pricier than the others, and need to be dry cleaned, but are very stylish and flattering, and feel fabulous against the skin.
Of course, there are blends, too - cotton and polyester are probably the most likely blends you'll find. Others have blends of rayon or silk. Some are polyester and rayon. The combinations are virtually endless.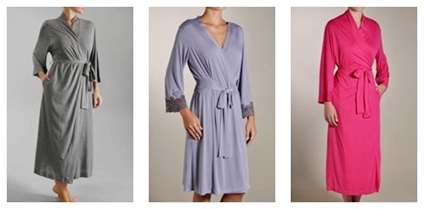 Sleepwear

Shopping Shopping!
---
So, when shopping for a long robe or any sleepwear for that matter, obviously the first thing to take into account is how much money one has to spend.
For those on a limited budget, fleece, polyester or flannel sleepwear material type bathrobes tend to be the least expensive, depending on the label, thickness, style, and quality. Some, of course, can be pricier, especially if they are name brand.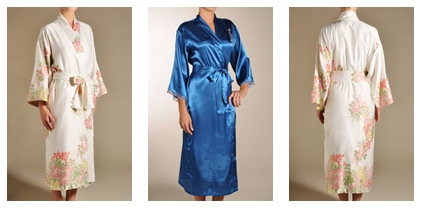 Wrap Yourself In Style...
---
Style is another consideration.
Long robes can come in many styles. There is the basic spa or wrap robe with a belt - a tie belt made of the same fabric that goes through a couple loops.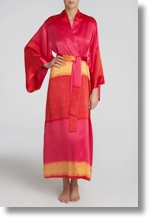 One problem with this is often the belt tie gets raggedy long before the robe does.
There is also the hooded robe. Some hooded robes have zippers for a closure - these are also known as a zip front robe. Some have buttons. Some have deep front pockets; others have side pockets; some have no pockets.
Colors vary, too. Most basic plush velour robes and terry robes are one color. Flannel robes can be one color, too, or have a variety of designs, including the perennial favorite plaid.
Prints can be bright or subdued. They range from elegant flowers to clouds to stars and fun pet patterns. Sometimes there's a logo on a robe. So, no matter what your taste, or budget, there's a long robe to fit every need. Happy shopping!