Best Robes For Women
Robes for women ... When most men think of womens robes, the first thought that usually comes to mind are the floral house coats that their mothers love, or long frumpy terry cloth bath robes that television moms wear.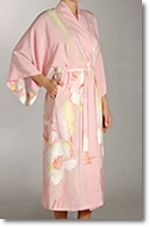 Surprise! Times have changed, and intimate apparel options have never been better.
From luxury robes in Egyptian cotton to sleek satin robes, there is an amazing variety to suit every taste.
Depending on how you think your wife will use her robe will help you decide on what to buy.
Is she off like a flash as soon as she wakes up?
Does she have time to relax in a zip front robe in the evening?


Robes For Women

Cotton robes are always a favorite. These are great if you live in a warm climate or if she needs something quick to throw on while getting the kids ready for school.
Cotton lingerie and cotton sleepwear are easy to care for; just wash in cold water and line dry or if you have a dryer, dry it on low heat.
Cotton robes may not be the sexiest choice, but they are definitely the most practical and very popular with women of all ages.

Long Robes or Short Robes?
---
A variety of robes for women are available, from floor length and long sleeved, to knee length and short sleeved and almost every length in between to suit every personality.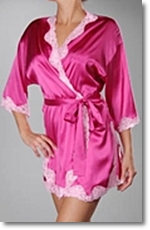 Many women simply prefer knee length or thigh length over long robes because short robes are quite feminine yet practical.
When it comes to ladies robes and womens sleepwear of any kind, make sure you take the time to check the size tag to see if it comes in specific sizes or comes in a 'one size fits all'.
If you're not sure what size your wife wears, buy the larger size and save the receipt.
Keep in mind that a tight fitting womens robe is not comfortable and won't be worn. With the receipt she can always exchange it later.

Simply Sexy Robes
---
The sexiest and most sophisticated robes for women are of course satin or silk robes.
Opt for bra and panties that match or perhaps a sexy nightgown like a satin or silk nightgown for a coordinated lingerie set.
If, your budget can handle it, splurge and buy her the ultimate in luxury robes - a cashmere robe.

Cashmere robes are incredibly soft, romantic and luxurious, and will last a lifetime if properly cared for.

Presentation Is Everything
---
Once you've have found the perfect choice, hang the robe on a nice satin hanger in her closet or in the bathroom and wait to see her reaction.
Whether your wife is a busy mother, executive or even retired, a sleepwear robe is something she will always be able to use.
There is such a variety of different ladies sleepwear styles, sizes, cuts, gorgeous fabrics and patterns to choose from, that it should be very easy to find the perfect match for your sweetheart.
If you have any questions or doubts be sure to ask the store clerk or even other shoppers for their opinions and favorites.
The majority of women wear and love ladies robes and can give you their opinions. Good luck!