Hooded Robe Insiders Guide
FTC Disclosure - If you make a purchase by clicking a link on this page, we receive a small commission. There is no cost to you, and this does not influence our content. 

---
A hooded robe is the ultimate in warm snuggly comfort and convenience. These thick and cosy womens robes are manufactured from a plethora of ladies sleepwear and lingerie materials, and are simply fantastic for beating those cold winter blues.
When most people think of a bathrobe, terrycloth is usually the first fabric to enter one's mind.
Hooded terry cloth bath robes are designed to dry you off very quickly, and as a bonus they help keep damp hair from chills and catching cold.
Also used as spa robes, terrycloth readily absorbs large amounts of water, while quickly wicking it away from the skin.
Take care that your terrycloth hooded robe doesn't become mildewed by washing it regularly and hanging it in a dry location when not in use.
Ugg
Hooded Robe

Fleece is another excellent fabric option for hooded robes worn in cold weather. Fleece is thick and warm like terrycloth, and is softer against the skin.
However, fleece does not absorb moisture well. Terrycloth is the better choice for wear directly out of the shower.
Keep in mind that fleece is also flammable if it hasn't been treated with a flame retardant, so check all labels carefully before purchasing any fleece robes, night gowns, or intimate apparel.
Customers in warmer climates might consider a hooded womens robe made from cotton, which is also an absorptive fabric but is much thinner and more breathable than terrycloth.


Comfortable Cotton Robes
---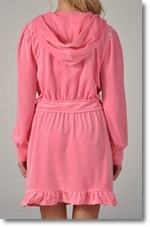 Cotton robes have a smoother silhouette than their terrycloth counterparts. Newer waffle robes may be crafted from a cotton waffle-weave fabric for extra moisture absorption capability.
Cotton has the wonderfully refreshing benefit of breathability, providing cool comfort in warm or humid weather.
In a pinch, a short robe in cotton can also double as a swimsuit cover-up on the beach or by the pool.
Customers with deep pockets might consider this bathrobe in silk or a fine wool blend, such as merino or even a cashmere robe.
These materials feel and look incredible, but require very specialized care on an ongoing basis.

Luxury Robes
---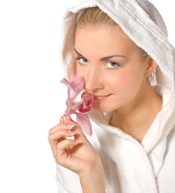 Luxury robes may require dry cleaning on a consistent basis, so the cost of this care should be taken into account when making such a purchase.
The likelihood that a lingerie undergarment lingerie undergarment will need to be dry cleaned increases greatly if it is adorned with extensive embroidery or other fragile decorations.
If you're seeking a luxurious hooded robe that's neither extremely expensive to purchase nor to maintain, consider a satin robe or silk robes as an alternate.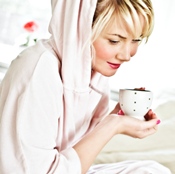 A charmeuse robe can be made from silk fibers, but now is commonly available in synthetic blends such as polyester that feature the luxurious look and feel of satin but are much simpler to care for.

Satin robes can be worn by both men and women, and are available in long and knee-length varieties.
Satin does not have an extensive capacity for moisture absorption, so its recommended to towel off thoroughly after a shower or bath, and then envelop yourself in your hooded satin robe.
For an added boost of elegance, ladies may pair a satin robe with a satin slip or babydoll nightie beneath it.
To further increase the drama factor, slip on a pair of fur-trimmed, high-heeled bedroom slippers. You'll feel and look like a starlet from the vintage silver screen!