*FTC Disclosure - If you make a purchase through a link on this site, we may receive a small commission on the transaction - at no extra cost to you.*
Chenille Robe Secrets That Will Surprise You

Chenille Robe - Picture a cool autumn evening after the leaves have turned. Or a winter weekend getaway with lots of apres ski. When it comes to the subject of plush robes, no conversation would be complete without the mention of perennially popular chenille robes.
Lingerie lovers have been wrapping themselves in this sleepwear favorite for ages - and for good reason. Super soft with a comfy cozy feel, luxurious chenille is one of the best choices for keeping warm when the temperature dips.

From one of the best luxury experiences to easy care (always a bonus), we share the secrets of this warmwear one-in-a-million.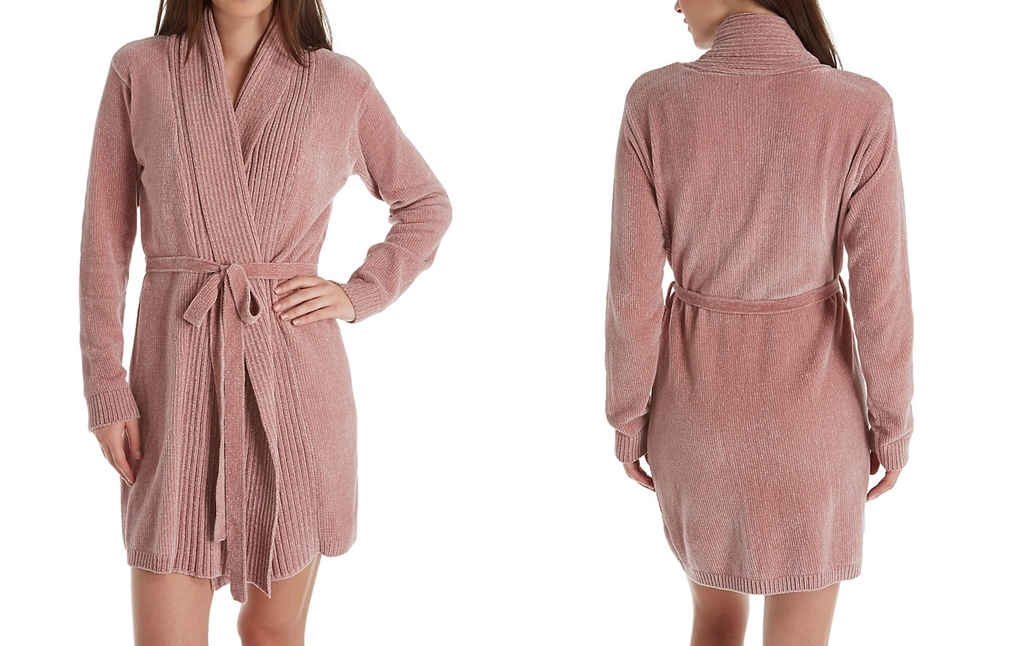 A Chenille Robe Feels Luxurious

Nothing feels more luxe. It's no secret that women love to feel pampered and spoiled with their clothing and accessories, and sleepwear is no different.
When it comes to that plush, luxurious feeling that's crave worthy and affordable, nothing compares to the sumptuous splender of a chenille robe.
From the ultra fluffy fabric to the cozy and comfortable styles, chenille offers all the benefits of high end luxury robes like cashmere and silk, without the often eye watering prices.
Women's sleepwear isn't all about practicality, it's about feeling your very best and most relaxed, and wrapping yourself into a chenille robe at the end of a long and busy day is one of the easiest ways to go from stressed to relaxed in the blink of an eye.
Did You Know?
The word chenille is a French word that means caterpillar, and is so named for the fuzzy, little worm that morphs into a beautiful butterfly.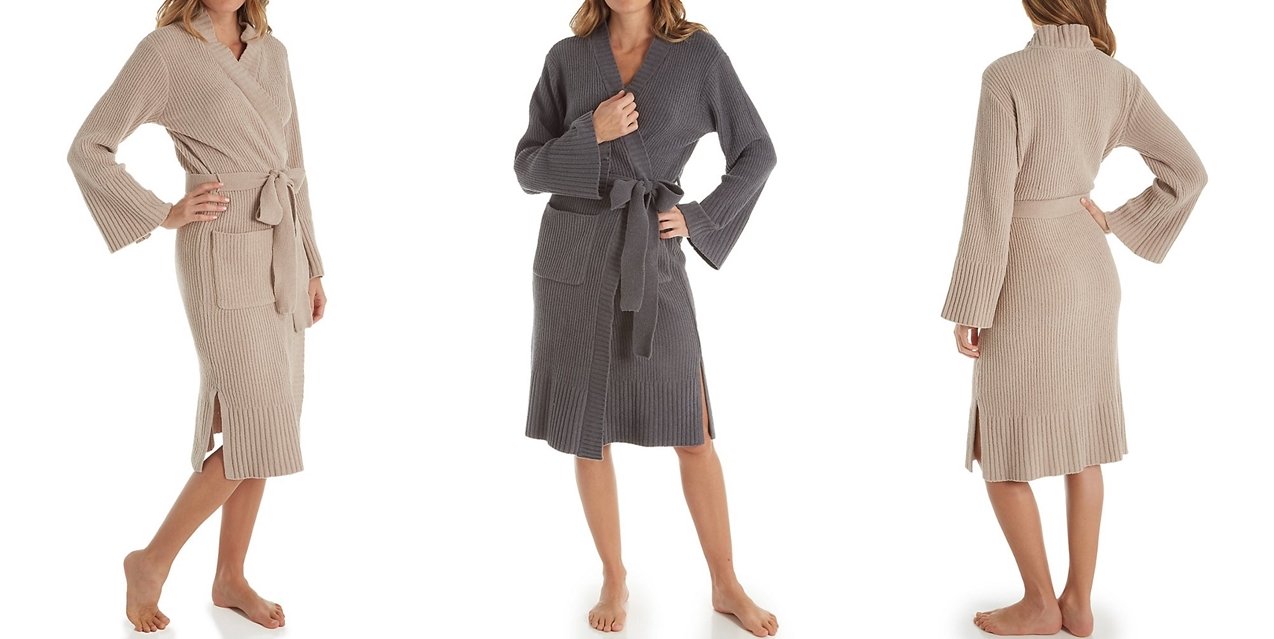 NATORI
Bathrobes That Need No Special Care
Easy care - that's the ticket. While beautiful lingerie is super stunning, who's got time for dry cleaning, hand washing, or fussy sleep wear fabrics?
Women today lead busy lives and the convenience of easy care fabrics has never been more in demand.
The chenille robe gives you all of the softness and luxury of a cashmere robe, and all of the beauty of a silk style, with none of the demands of delicate high end fabrics.
From classic polyester to cotton blends, chenille is long-wearing and easy to machine wash - perfect for the woman who wants effortlessly comfortable and stylish sleepwear.

Sleepwear Secrets

A chenille wrap is fuzzy, soft, nubby and thick - a perfect choice for chilly mornings and evenings, and slipping on after a long hot bath.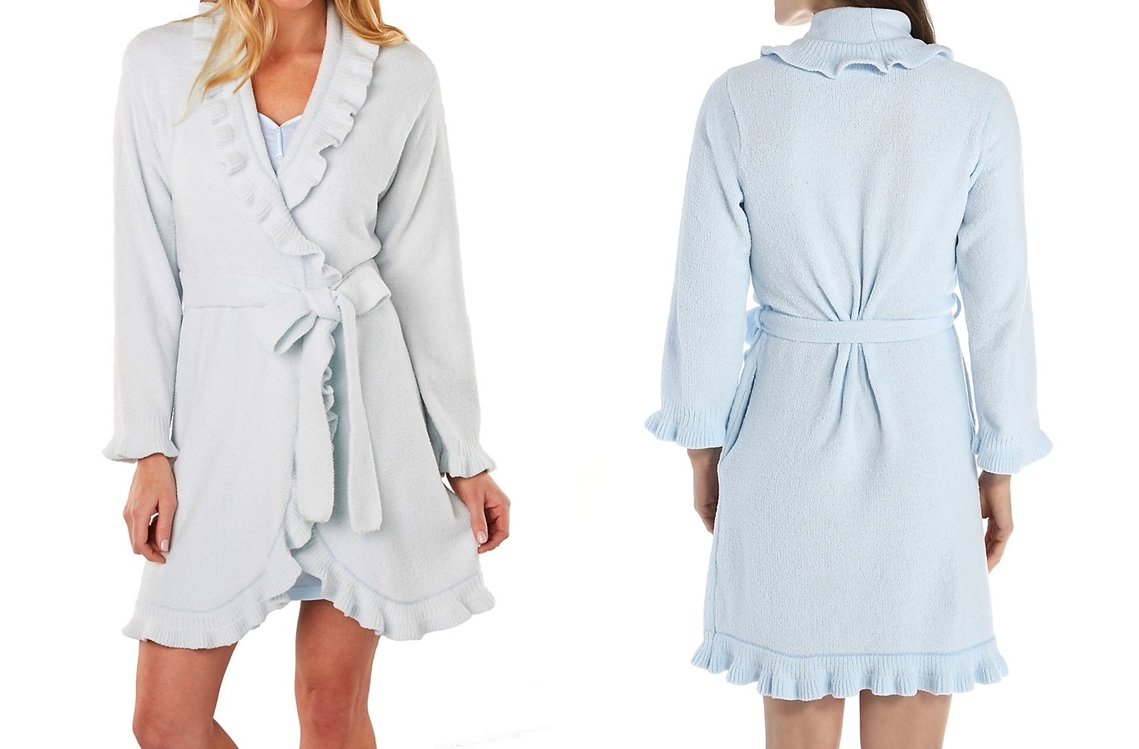 Chenille Is The Perfect Womens Robe For Winter

Chenille is the perfect weight and texture for keeping you snug and cozy on cold days and nights, without the bulk of heavier fabrics like terry cotton and velour.
Most women don't just wear their robes for lounging in bed; they actually want to move around in them, from morning coffee and reading their newspaper or iPad to snuggling up to watch their favorites on Netflix.
A bath robe that's too thick, bulky or heavy simply isn't comfortable to wear and move around in. And, a robe that's light weight and too flimsy won't keep you warm.
This is where the chenille robe wins every time; it's the perfect style that strikes the perfect balance that women want in a comfortable and wearable bath robe.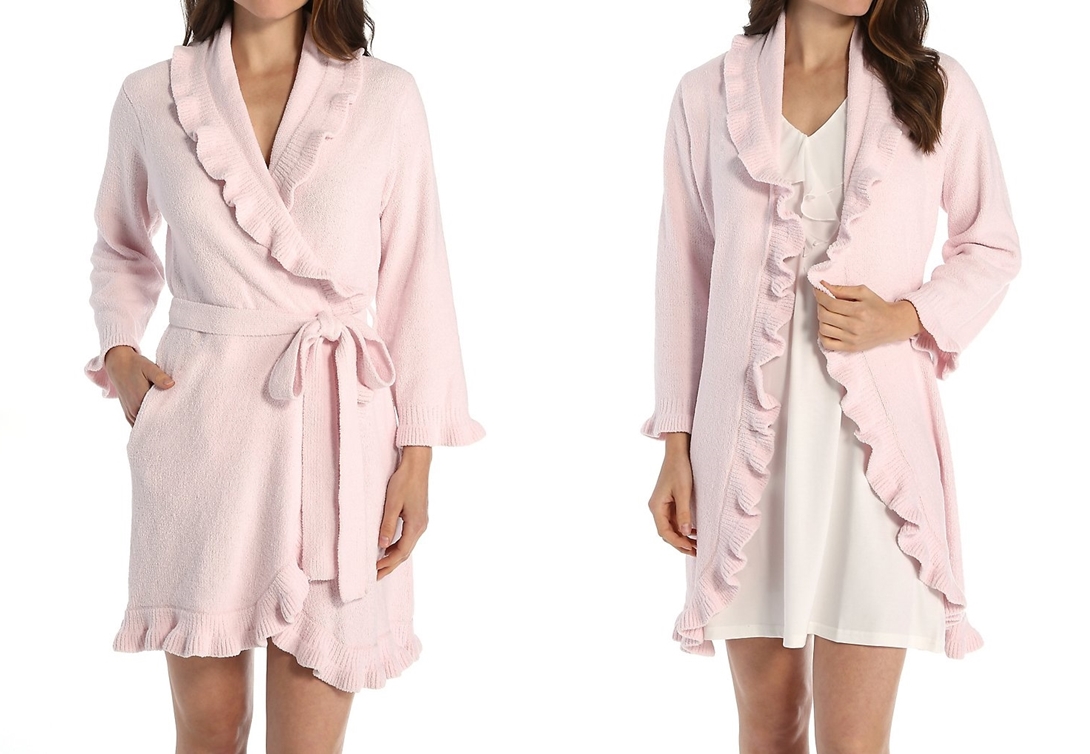 SOFTIES BY PADDI MURPHY
These Womens Robes Offer Pretty Coverage
Nightgowns, pajamas, and ladies sleepwear styles are lovely to wear in the bedroom, but are sometimes too bare or revealing for lounging in or wearing outside of the boudoir.
A robe is a boudoir basic for coverage and modesty, but it's got to look just as great as what you're wearing underneath.
We love the texture and plushness of a chenille robe as it offers the perfect coverage over your pjs or lingerie in a way looks and feels beautiful to wear.
Shopping for Chenille
Many avoid synthetic weaves like acrylic or rayon believing that they are uncomfortable. But, fabric technology has progressed to the point that synthetics are just as comfortable and soft as cotton chenille.


The Robe That You'll Love To Wear
No matter how functional your robe is, you just won't love to wear as much as a piece that makes you feel gorgeous.
Why go through life in a plain bath robe, one that's stiff or uncomfortable, or a style that's simply too bulky and cumbersome or just ho hum?
It's easy to feel pretty and pampered in chenille - something you'll actually look forward to wearing, and which may easily become the most worn piece in your sleepwear collection.
Make this stunning style a staple in your own night time wardrobe and watch it become a fast favorite for it's sensational styling and unparalleled comfort.
LA CERA