*FTC Disclosure - If you make a purchase through a link on this site, we receive a small commission at no extra cost to you.*
Chantelle Bras That Fit Beautifully - The 5 Most Popular Styles
Chantelle bras that fit... If you are a woman, you undoubtedly have experienced the frustration of bra shopping for a brassiere that fits well.
It does not matter whether you wear 32a bras or 44H, putting up with an uncomfortable bra fitting is a virtually universal experience.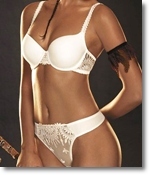 Chantelle Bras That We Love

The only way to avoid it is by skipping this item of lingerie altogether and going "braless" – a luxury few women over the age of 30 and weighing more than 110 pounds can afford.
Fortunately for the rest of us, there are Chantelle Bras that come in a variety of feminine styles that fit.
There are many reasons why women buy brassieres that don't fit. Inexperience is one; understanding bra sizes is another. Many women simply do not know what constitutes a properly fitting brassiere.
In fact, some do not even recognize the necessity of trying a bra on before buying it to be certain that it will fit. Some women choose not to acknowledge the truth about their body or the correct bra size.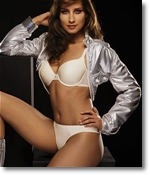 Every woman wants the perfect silhouette, and some, unfortunately, have more difficulty than most, finding the right bra size.
Breasts, unfortunately, do not come in "one-size-fits-all;" women who wear the same dress size cannot count on the fact that they will wear the same size bra.
A woman who wears a size 8 may have a broad back and small breasts and wear petite bras; another "size 8" may have larger breasts but a more petite bone structure, yet wear full figure bras.
These women quite possibly could wear the same clothing; however, they will most certainly not wear the same bra sizes.
SHOP NOW
The makers of Chantelle bras are acutely aware of these all too common issues that women face nearly every day. What's more, they design their brassieres and lingerie to address each and every one.
Whether you are hard-to-fit or simply a woman who wants a collection of lovely lingerie in a variety of styles that fit your shape perfectly, Chantelle lingerie will meet your needs.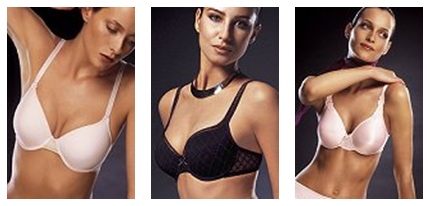 Chantelle Bras That Women Love
Consider, for example, the very popular "Rive Gauche" line of Chantelle bras.
Exquisitely detailed with a delicate lace that is reminiscent of a more romantic era, this bra collection includes several different types of bras including full support underwire bras as well as a seamless T-shirt version that is gorgeously detailed yet completely invisible under clothing.
Chantelle's "Rive Gauche" brassieres come in sizes ranging from 30AA right up to 40F, and in a variety of basic colors, including white, nude, and black.
Chantelle lingerie also offers several other versions of the very popular "T-shirt" style bra; some of the most popular of these are "Chic-C", "New Essentials" and "Senso".
But styling is not all that Chantelle lingerie offers; after all, there are many beautiful bras on the market today, many of which are considerably less expensive than this brand of French lingerie.
What Chantelle bras offer is an elusive commodity, a perfect fit combined with shopping ease. Every bra comes in a fantastic variety of sizes.
Chantelle also goes a step further in helping women find what they need by categorizing all of its bras as either:
This small "extra" allows women to quickly and easily narrow their field of choices – a big plus when one is facing an array of forty or more bra styles and a seemingly infinite number of bra sizes from which to choose.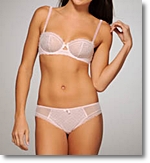 They even provide a brief description of each category.
If you are a woman who is tired of trying to adjust slipping bra straps inconspicuously, bearing the discomfort of underwires that leave you cringing in pain for most of the day, or the embarrassment of "seamless" bras that are anything but, try Chantelle lingerie.
They are, at an average cost of $50-$70 each, a bit pricey. But they are well worth every penny.
Note: Chantelle bras that are sold in North America are made in European sizes; please consult a bra size converter before buying a Chantelle bra to find the right bra size.