Guide To Full Figure Bras
FTC Disclosure - If you make a purchase by clicking a link on this page, we receive a small commission. There is no cost to you, and this does not influence our content. 

---
Full figure bras are brassieres that are intended for buxom and/or plus-sized women.
It is important to note that these two conditions do not always go hand-in-hand, and the bra requirements of a very buxom women who is slender may be quite different from the plus-sized woman with average-sized breasts.
Choosing the right types of bras can go a long ways towards helping women of all sizes and shapes look and feel their very best.
Women with very large breasts have several full figure bra options open to them.
Most buxom women prefer an underwire bra, since these are generally considered to provide the greatest level of support and uplift.


Full Figure Bras

Full figure bras with molded or injected cups offer the greatest support and the smoothest look under clothing.
Buxom women, regardless of clothing size, usually benefit from bras with thick shoulder straps; these thicker straps prevent the bra from digging painfully into the wearer's shoulders and leaving unsightly, sore red marks.

Full Bras
These full bras also often have thick bands, and are closed with three or four (or more) hooks.
The thicker bottom band helps ensure a smooth appearance beneath clothing, and guards against the formation of "back cleavage:" the unattractive effect that can occur when a thin bottom band cuts into a full-figured back.
Women who are very buxom may or may not elect to wear a bra with bra pads or gel inserts.
These pads are typically not required, as a well-fit bra can display impressive cleavage using only the wearer's natural assets.
However, other women enjoy the look and feel of padded or push up bras, such as the Miracle Bra.
Many others take the opposite route and purchase minimizer bras, which reduce the visible size of the bust to create a smoother, slimmer look. A minimizer bra can also help shirts fit better.
Plus size women who are not very buxom find themselves confronted with a unique set of wardrobe challenges.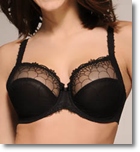 Pretty Bras
Plus size bras that are commonly available in large band sizes are most frequently produced with correspondingly large cup sizes.
However, these bra sizes are too large for certain women, who may purchase them anyway out of desperation and find themselves with an unsupported, unflattering silhouette beneath their clothing.
Women in this situation who cannot readily find plus size bras and plus size lingerie in brick-and-mortar stores should avail themselves of a professional bra sizing (such as those freely given at Victoria's Secret and other similar lingerie retailers), and then head to the Internet to find bras in their size.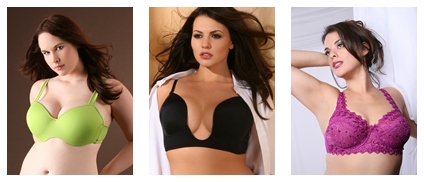 Plus Size Lingerie
Thanks to the Internet, women may easily locate and purchase full figured bras in any imaginable cup size.
With the correct bra size, a woman is meant to be supported and flattered; wearing such a brassiere is also far more comfortable than one whose cups are either too large or too small.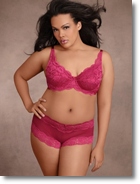 Bra cups that are too small constrict and bind the bust in a highly uncomfortable manner; cups that are too large provide virtually no support, which can lead to uncomfortable bouncing of the breasts throughout the day.
Full figure bras are available in any number of stylish fabrics and colors.
Every full-figured woman can help herself look and feel her best by treating herself to a professional bra fitting before her next lingerie purchase.
She can then make her purchases confident in the knowledge that she is purchasing the perfect size and fit for her unique body!