*FTC Disclosure - If you make a purchase through a link on this site, we may receive a small commission on the transaction - at no extra cost to you.*
Hanky Panky Underwear  - The Easy Essentials You Need To Know

Hanky Panky underwear can be described in many different ways. Comfortable, affordable, sexy, smart and classy are just a few choice words that come to mind.
Whether you're looking to add a new tanga thong or chic boyshorts to your lingerie repertoire, Hanky Panky has a plethora of panty options to choose from.
Let's take a closer look and discover why Hanky Panky panties are such a favorite of so many well-dressed women.
Hanky Panky Underwear

They're SMART - These undies are smart because they've been made in the USA. Since 1977.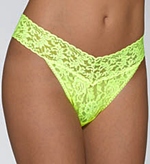 SHOP NOW
Not only does this mean quality and craftsmanship, it also means that consumers can feel good that they are supporting the American industry and keeping jobs at home in the U.S.
Most lingerie and intimate apparel nowadays - panties included - are manufactured overseas, particularly in the far east in countries like China.
Coincidentally, many of these cheaply made undies fall apart after a few washings. Not so with Hanky Panky, a brand that enjoys cult-like devotion amongst its fans.


They're SEXY - From bikinis and briefs to boyshorts and hipsters, Hanky Panky offers a range of sexy panties and lingerie to suit almost every kind of sexy - from knock-your-socks-off sexy to elegantly sexy.
And, their lace panties come in virtually every color imaginable, including shades that trend with the seasons and the ever popular basics that can be mixed and matched with favorites that you already have. 
The fall collection alone offers exotic shades such as Sangria, Cobalt, Nori, Granite, and Dark Teal, along with a cornucopia of bold and brilliant everyday colors. With more than 40 colors it sounds scrumptious!
The benefit of adding color to your lingerie drawer is, you can mix and match your favorite bras and panties for a fresh look everyday without repeating!


---
Ladies Panties - Easy Links
---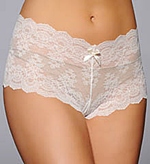 They're CLASSY - While there are some pretty tawdry lingerie undergarments out there, Hanky Panky keeps it classy with womens panties that are not only well-made, but sophisticated and stylish.
The brand is comfortable too and has a variety of different fabrics to choose from.
For those who aren't fans of lace, there is an entire section devoted to cotton underwear - great for women who like to stick to the underwear basics.

---
Did You Know?

Hanky Panky is a lingerie brand that cares. They're well-known for their philanthropy. In the past, they've supported charities such as Chabad's Children of Chernobyl, The American Red Cross, and The Girl Effect.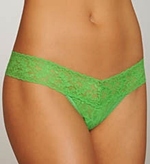 Unlike many European lingerie brands that are beyond the reach and pocketbook of most of us, Hanky Panky underwear is affordably priced.
$40 for a pair of panties may seem steep; but when you factor in style, well-known comfort (Hanky Panky customers are fiercely devoted for this reason alone), quality (made in the USA), and durability (made to last), Hanky Panky underwear is well worth it.


---
They're COMFORTABLE - Perhaps the number one reason Hanky Panky underwear is popular is because it's so comfortable.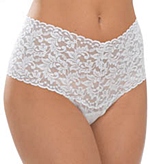 SHOP NOW
Soft and flexible, their lace is a nylon and spandex blend that molds to your shape, allowing you to move comfortably all day long.
Great panty coverage that doesn't ride up, smooth edges and covered leg openings that are tailored for the best fit and feel, no matter which style you choose.
Pretty lace trim & delicate bows give these lingerie undergarments a whimsical look.


---