*FTC Disclosure - If you make a purchase through a link on this site, we receive a small commission at no extra cost to you.*
Hanky Panky Underwear - Styles, Sizes And More - A Comprehensive Guide
Hanky Panky Underwear – like all beautiful lingerie with a devoted following, it's in a class of its own.

For close to 50 years, they've been quietly transforming the way we think about undies with a laser-like focus on great design, quality, and fit. And, in today's busy world, that's a great thing!
Join us as we delve into their most popular panty styles and reveal the wonderful features that have turned Hanky Panky lingerie into a top 10 favorite of celebrities, stylists, and, of course us!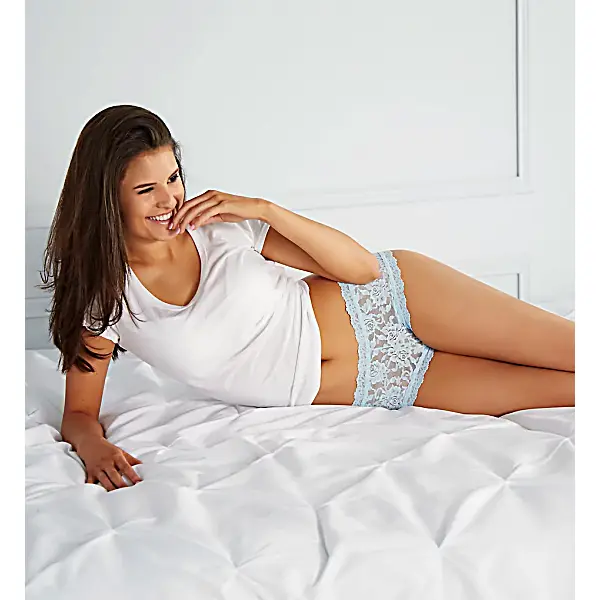 Thongs
If you love thongs like we love thongs, then you may know that Hanky Panky is like lingerie paradise.
Whether your style leans towards the classics, modern-chic, or romantic, Hanky Panky panties offer comfortable materials, including stretch laces, mesh, modal, cotton and more.
And their range of thong styles and sizes? From low, mid, and high-rise styles to crotchless and G-string thongs, in petite to sizes 2 through 14 and plus sizes, there is something for every preference and occasion.
The Original Mid Rise Thong
Introduced in 1986, the Signature Lace Original Rise Thong - style 4811 - is an everyday favorite. It sits mid-way on the hips.
The one size (OS) fits 4 through 14 (hips 36" to 45")
The OS Plus size fits 14W through 20W (hips 44" to 57")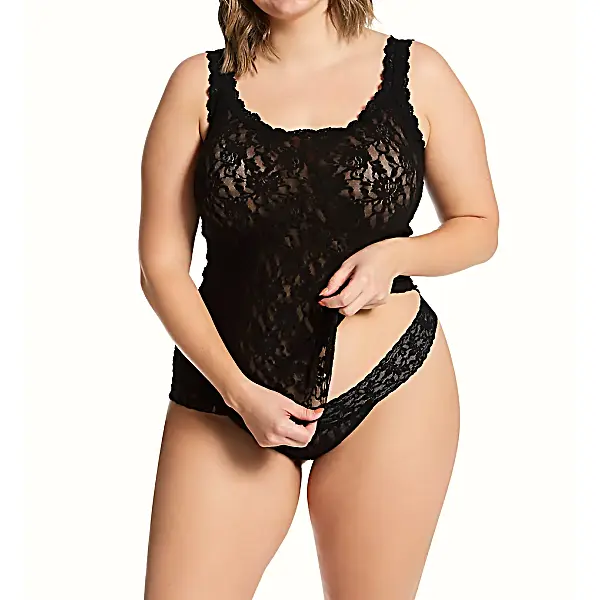 The Low Rise Thong
Looking for a style that rests lower on the hips? We like Hanky Panky's Signature Lace Low Rise Thong - style 4911.
The one size (OS) fits 2 through 12 (hips 35" to 42")
The petite low rise one size fits 0 through 4 (hips 33" to 36")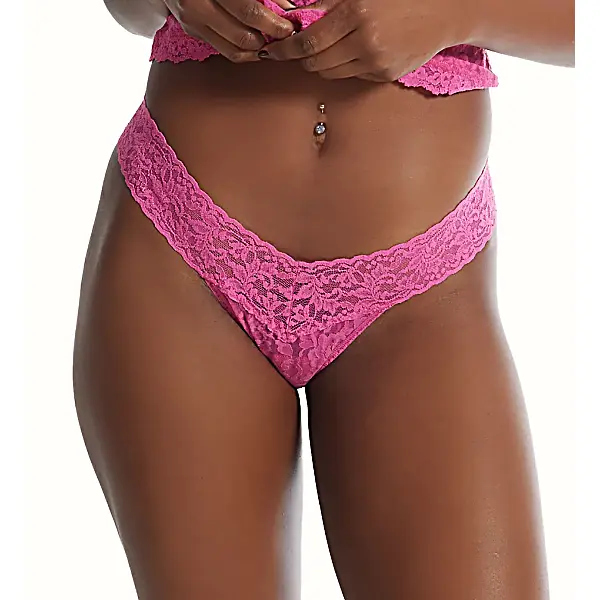 The High Rise Thong
If you're more comfortable in a high rise panty, there are two styles that we like - 
The Signature Lace Retro Thong, style 9K1926, has a wider comfort band. It's available in one size (OS) that fits 0 through 12 (hips 34" to 42"). The OS Plus size fits 14W through 24W (hips 44" to 57"). 

The Breathe Hi-Rise Thong, style 6J1921B, is a nylon spandex blend and a great option if you're not a fan of all-over lace. Sizing is Small through X-large. Small fits 4 to 6 (hips 36" to 37"). Medium fits 8 to 10 (hips 38" to 39"). Large fits 12 (hips 40" to 43", and X-large fits 14 (hip sizes 44 to 46")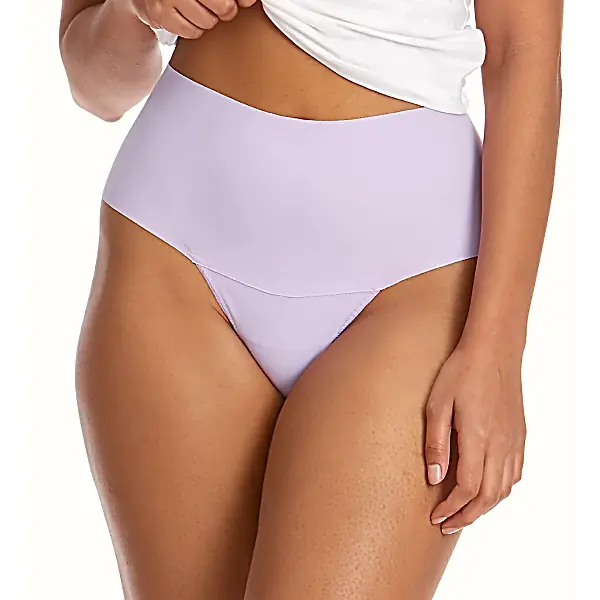 ---
Did You Know?
It takes more than 27 meters (30 yards) of thread to make one of their world-famous thongs.

---
How To Wear Thongs
What if you've never worn a thong before or would like to know what you can wear them with?  We're glad you asked!

Thongs are a versatile undie. They're perfect for your form-fitted favorites and just about any type of clothing.
They can be worn with everything from bodycon styles and skinny jeans, to yoga pants, skirts and evening gowns and more.
The icing on the cake with this type of panty? No more worries about pesky visible panty lines.
A potential pitfall of thongs? There are two things to keep in mind. 
The first - if you're wearing a super sheer skirt, pants or dress, there may be derriere show-through
The second - they offer minimal backside coverage - much less than regular full-coverage undies. And, they may take some getting used to if you've never worn this type of panty before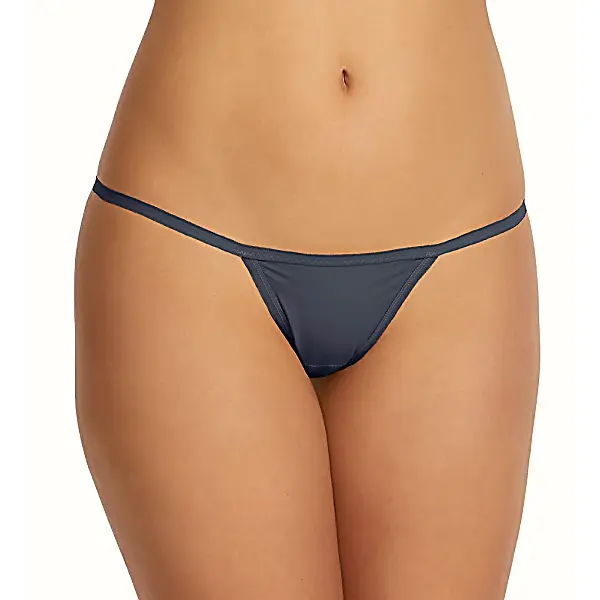 Bikini Panties
If you want a panty that's lightweight and offers more coverage in the rear, but not as much as a full brief, bikini panties are a great choice. 
Fancy or casual, Hanky Panky offers a range of comfy natural, mid,  high rise and crotchless bikini panties.
We like the Signature Lace Brazilian Bikini panty - style 482102. It sits below the belly button and is narrow along the hips. 
This style is available in sizes XSmall to Large.
XSmall fits 0 through 2 (hips 34" to 35")
Small fits 4 through 6 (hips 36" to 37")
Medium fits 8 through 10 (hips 38" to 39")
Large fits 12 (hips 40" to 43")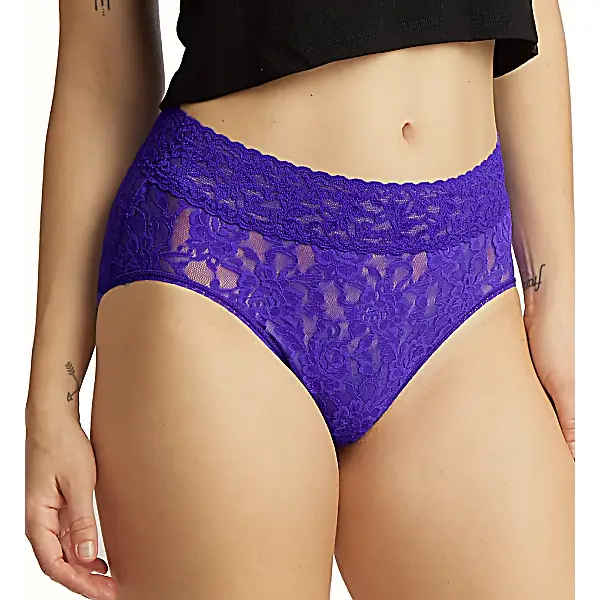 How To Wear Bikini Underwear

What can bikini panties be worn with? Just about everything in your closet.
Originally designed for low rise styles such as low slung pants, this cheeky favorite is also great for jeans, casual wear, dresses, skirts and even workout wear.
The flip side of low cut panties?
They tend to provide less coverage than fuller styles like briefs or boyshorts
And, they may not always be the best choice for form fitted clothing, as they can show visible panty lines
Boy Shorts

Looking for undies that are chic with a hint of trendy?
Similar to men's boxer briefs but more tailored for a feminine silhouette, boy shorts offer excellent coverage and sit comfortably at the hip.
There are two styles that we like -
Signature Lace Boyshort Panties, style 4812. This is a mid-rise, low leg panty

Dream Modal Boyshorts, style 631274. This is a mid-rise panty with medium rear coverage in stretchy modal spandex with lace trim 
Sizing is more tailored with Hanky Panky boyshorts. Both styles are available in XS through XL.
XS fits 0 through 2 (hips 34" to 35")
Small fits 4 through 6 (hips 36" to 37")
Medium fits 8 through 10 (hips 38" to 39")
Large fits 12 (hips 40" to 43")
XLarge fits 14 (hips 44" to 46")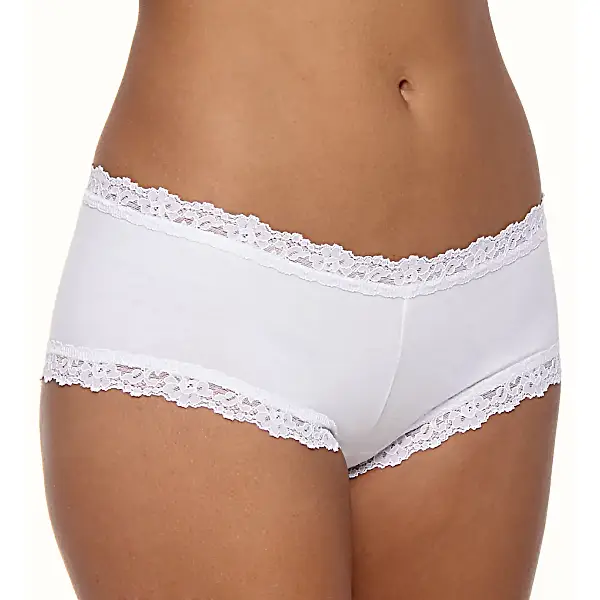 How To Wear Boy Shorts
Hanky Panky boyshorts have the sexy aesthetic of modern styling with a famous stay-in-place fit that wearers rave about.
A flexible favorite that's great with low rise styles, this popular Hanky Panky underwear can also be paired with your dresses, skirts, yoga wear, jeans and pants.
Another way that we like to wear boy short panties? We add a matching lace cami or tank top for a comfy and fun sleepwear set.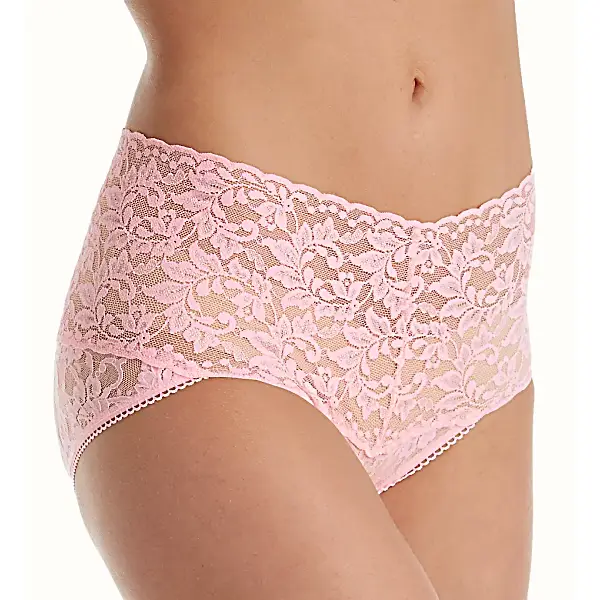 When it comes to minuses, there aren't many.
Boy shorts aren't ideal for super tight clothing as they may show through
If you're used to wearing skimpier styles such as thongs or g string panties, they may feel a bit bulky at first
More About Hanky Panky Underwear

Sustainability
Created by women for lingerie lovers, Hanky Panky lingerie has a long history of smart sustainability with a commitment to ethical and environmentally-friendly practices.
Unlike a lot of intimate apparel that is manufactured overseas of cheap fabrics, Hanky Panky is all about quality and proudly made in the Northeastern United States.
Materials are also sourced locally whenever possible which not only helps support local jobs but also reduces carbon emissions for shipping.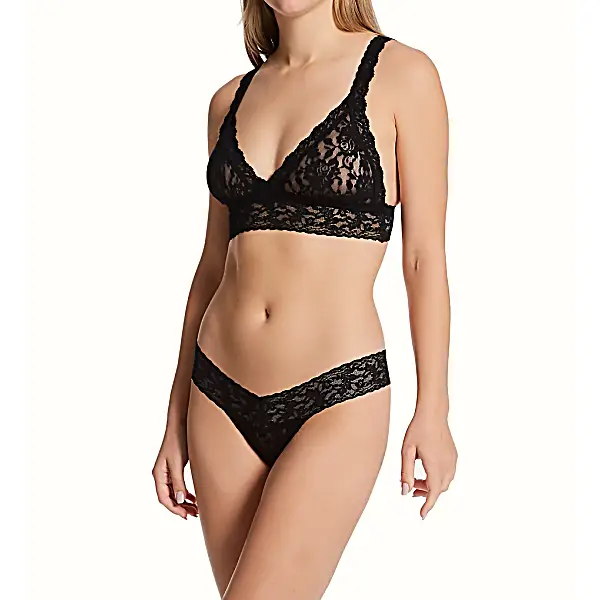 ---
Did You Know?

Hanky Panky is a brand that believes in giving back and is well-known for its philanthropy. In the past, they've supported charities such as Chabad's Children of Chernobyl, The American Red Cross, and The Girl Effect.
---
Comfort
When it comes to being comfortable as you go about your day, Hanky Panky underwear is among the best that we've had the pleasure of wearing.
The secret to a plethora of 5 star reviews? Their lace. It's lightweight, buttery soft, super STRETCHY, and only available (it's copyrighted) at Hanky Panky.
Designed to mold to your shape, it moves with you for an easy and effortless-forget-you're-wearing undies fit that stays comfortably in place throughout the day.
A Rainbow Of Colors
When it comes to colors, prints and patterns, Hanky Panky underwear is, in our humble opinion, one of the most stylish brands.
They have a color archive of more than 500 choices and a stunning palette of modern hues and timeless classics.
With yummy colors like Sangria, Cobalt, Nori, Granite, and Dark Teal for fall to Celeste Blue, Ginger Shot and Passionate Pink for spring, it's easy to add fresh and exciting mix-and-match options to your everyday favorites.
---
Color Me Beautiful!
One of the benefits of adding a few colorful panties to your lingerie drawer? You can mix and match your favorite bras and panties for a fresh and fabulous new look everyday!

---
Chic Fabrics

Beyond the monotony of bland basics, Hanky Panky panties have that something extra - sexy, chic appeal with a soupcon of elegance.
While best-known for their signature lace, over the years they've expanded their repertoire and now offer a collection of fabrics, including micromodal, cotton, microfiber, mesh, and viscose in a variety of styles.
So, if lace isn't your thing, no worries!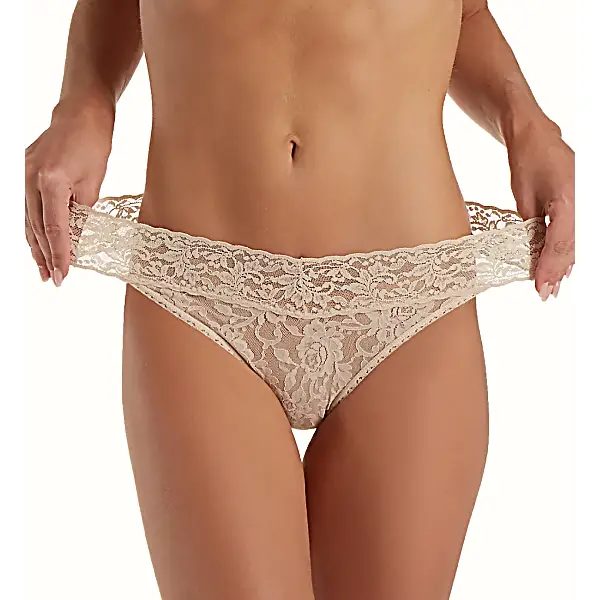 Affordability
While Hanky Panky tends to be more expensive than other lingerie brands, it does offer great value. Why?
Classic panties that never go out of style
Soft nylon spandex lace that stays put, smooth edges and covered leg openings designed for a perfect fit make it a worthwhile investment for all-day comfort
Hanky Panky underwear is also made to last
With a focus on quality, craftsmanship and durability, their intimates are designed to look fabulous, fit well and hold up wash after wash, earning them rave reviews from a fiercely loyal customer base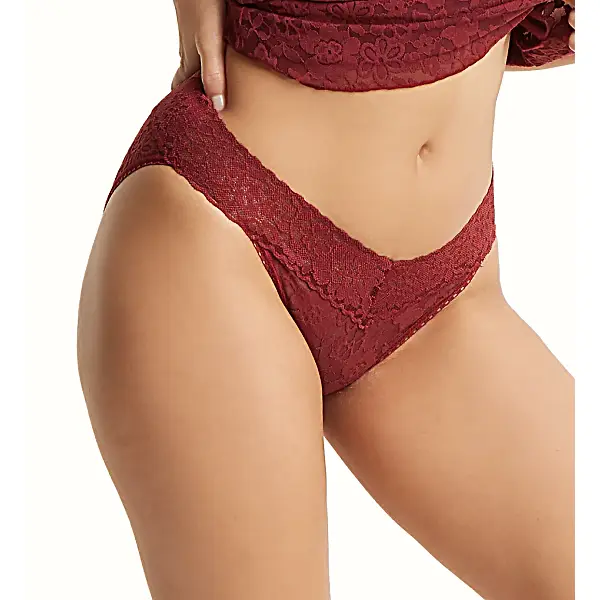 Size And Fit
Hanky Panky are big believers in inclusivity, and that beauty comes in all shapes and sizes. 
Whether you're extra small, petite, medium, plus-size or somewhere in between, their panties run from XXXS to 3X, and have a wonderfully comfortable soft stretch.