*FTC Disclosure - If you make a purchase through a link on this site, we may receive a small commission on the transaction - at no extra cost to you.*
What To Wear Under There...
Olga Panties
Olga Panties - While they may not be as sexy and revealing as many other panties, Olga enjoys an almost cult-like devotion among panty lovers.
What is the secret of their success with these rather plain underwear?
They're very comfortable and, here's the key that keeps so many women coming back, myself included - they stay in place and don't ride up.
And, while most lingerie brands offer a plethora of different panty styles, which can be confusing to say the least, Olga prefers to keep it simple. They offer 10 basic panty styles that range from high cut brief panties to hipster panties.
In this panty guide we'll take a look at 3 of their most popular panty styles, starting with the essentials...

Olga Panties

Halfpant Panties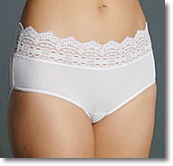 The advantage to these chic hipster panties is the signature back seam that provides a better panty fit and prevents them from riding up.
Made of a lightweight stretch nylon with a pretty lace top, they're a great everyday day with style.


---
Full Panties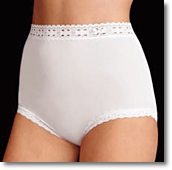 These full brief panties have the unique Olga back seam that ensures complete coverage and a molded fit from waist to thighs.
Light stretchy nylon with minimal lace trim keeps these panties cool and comfy. Narrow, flat seams make them a good choice for everyday wear under your fitted pants, skirts and dresses.


---
Highcut Panties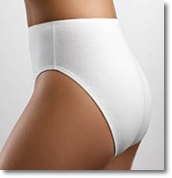 These (French) hicut panties are cut higher on the leg, and designed for women who prefer a little less coverage than traditional full briefs.
Soft, stretchy microfiber provides plenty of give for an easy fits-like-the-skin-on-a-grape panty. No panty lines makes this a lingerie drawer must have for everyday wear.


---
Shopping Online on eBay Clothing

Shopping online for your favorite Olga panties, Jockey panties, Hanes panties, or any other brand is easy on ebay clothing.

From bra and panties that match to Spanx shapewear, skimpy thongs, wedding underwear, and more, the selection has never been better.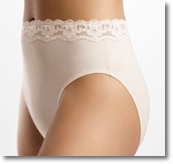 All of the underwear and panties listed below are available right now - so if you see something you like, hurry and place your bid.
When you click on a link a new window will open and you'll see a sampling of what's currently available online.
Want to continue shopping for intimate apparel? Just follow the view all items link at the end of the listings...