*FTC Disclosure - If you make a purchase through a link on this site, we receive a small commission at no extra cost to you.*
Insiders Guide To Jockey Panties
Comfortable and affordable Jockey panties offer an surprising number of panty styles that are worth investigating, especially if you prefer everyday panties with a tailored look and not too much detailing.
These lightweight womens panties deliver good value in fabrics like tactel nylon, microfiber and of course cotton.
Minimalist designs flatter virtually every silhouette and style.
And, one of the great benefits is, you don't have to sacrifice fit; Jockey offers an extensive size range from petite to plus size panties.
Ready to find out more about these popular ladies panties? Read on, as Love of Lingerie takes a closer look their 6 most popular ladies underwear styles.

Jockey Panties

High Cut Panties - Moderate to Full Coverage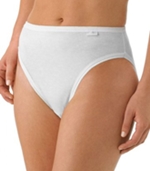 Providing moderate to full coverage, these high cut panties slim the silhouette and draw attention to long legs.
This simple yet elegant panty style is cut higher on the leg and sits just below the natural waistline; a stylish alternative to full coverage ladies briefs; also called "French panties."


---
Boy Short Panties - Moderate to Full Coverage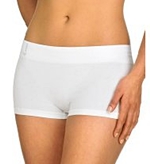 Designed for those who love mens briefs, boy short panties offer a sleek look that combines comfort and modern femininity.
Boy shorts provide greater coverage than traditional Jockey panties with a longer square shaped leg that ends at the top of the thighs.
The waistline sits several inches below the natural waist which makes it a great option for low slung jeans, pants, and short skirts.


---
Womens Thongs - Minimal Coverage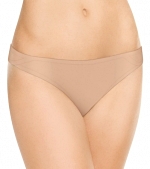 Looking to banish the dreaded VPL – Visible Panty Line from your list of lingerie problems? Womens thongs may be the answer.
This panty style has many variations from g-string and t-string to y-string. The basic thong is high cut in the front and offers minimal back coverage, leaving the derriere bare.
Designed to lay flat, the thong is tailor-made for snug clothing that needs almost invisible coverage.


---
Bikini Panties - Minimal to Moderate Coverage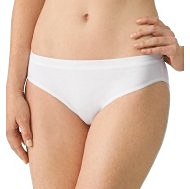 Think briefs are too frumpy and thongs are too risque? Take a look at short and sassy bikini panties that fall in the middle.
Bikinis offer less derriere coverage than traditional panties, but more coverage than thongs, with a lower rise that sits below the natural waistline.
With a higher cut panty, bikinis continue to be the most popular panty style in North America.


---
Ladies Briefs - Full Coverage


The formula remains the same because it works. Full coverage + comfort = ladies briefs.
Also referred to as granny panties, brief panties are popular with many women because they tend to stay put and not move about.
Classic ladies briefs provide full back coverage and a lower cut leg line that stops at the top of the thigh; they're high in the rise and sit at or slightly below the natural waist.


---
Hipster Panty - Moderate Coverage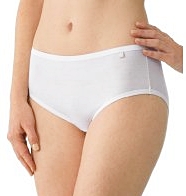 If, ladies briefs are too frumpy and bikini panties are too skimpy, consider a middle-of-the-road panty style - the hipster panty.
Modern and sleek hipster panties combine the best of two popular panty styles: the low rise look and styling of the bikini panty combined with more derriere coverage in high cut panties and ladies briefs.
Hipsters sit several inches below the natural waistline making them a great option for low-rise clothing.