Full Figure Strapless Bras
*FTC Disclosure - If you make a purchase through a link on this site, we receive a small commission at no extra cost to you.*
Full Figure Strapless Bras - A Behind The Scenes Look
Full Figure Strapless Bras – If there's one thing we know to be true - there's more to this beautiful lingerie essential than meets the eye.
A closet chameleon that has the power to smooth, support, and deliver a fresh and fabulous silhouette no matter what you're wearing, strapless bras come in a variety of styles to suit the occasion.
From classic underwire to seamless and pushup, they're often available with detachable straps that can be configured several different ways - which makes them a versatile favorite for virtually every style of clothing.
Full figure strapless bras can, and do work for busts of all sizes, even curvier ones that need additional support.
Follow along as we go behind the scenes for a closer look at this multi-use intimate apparel must-have.
---
Full Figure Strapless Bras Offer Great Support

Full figure strapless bras can offer just as much support as traditional everyday bras. Since they don't have regular straps to help lift and support your bust, they rely on a sturdier band to give you the boost you need from below the bust.
Wider bra bands, underwire, and boning are all elements that add up to offer the support of a classic bra, while giving you the flexibility of a strapless style.
---
WACOAL
They Flatter More Than Just Your Bust
Long line strapless bras, or bustier styles can whittle the waist and smooth your entire back and torso, giving you a svelte shape that's perfect for tighter fitting clothes.
Create effortless hourglass curves with a longer style that extends below the bust and hugs your midsection for a flattering silhouette that's supportive and strap-free.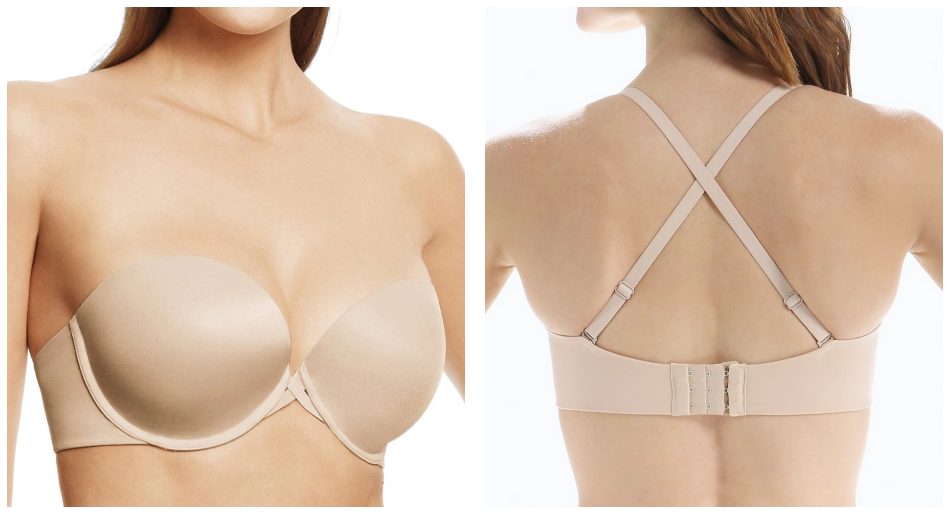 The Ultimate Closet Companion

Looking for flexibility with your lingerie drawer? Choose a convertible style bra that goes beyond the simple strapless style and fits with anything in your wardrobe and lets full figures stun in anything you choose to wear.
A convertible bra is most often worn as a strapless but has the capability to morph into four other styles, maximizing your options with just smartly designed piece.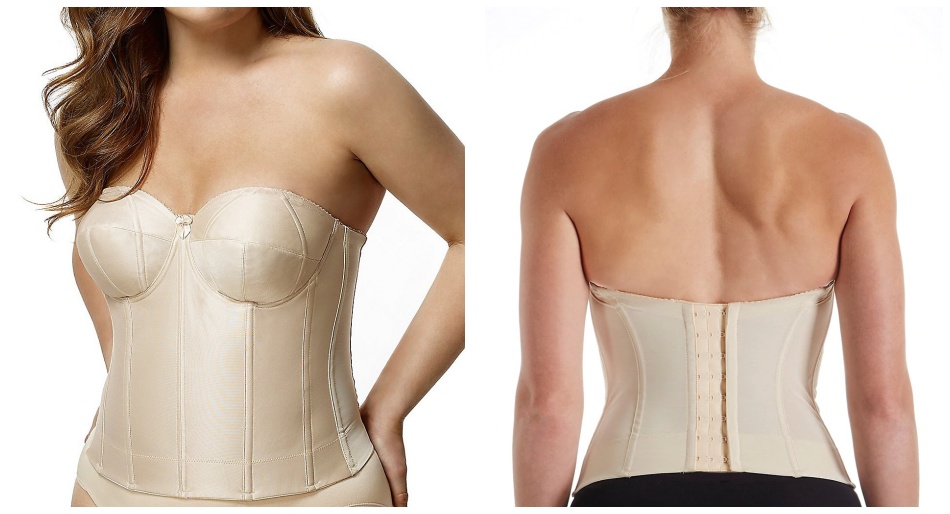 ELILA
---
Full Figure Strapless Bras That Stay Up

If you've ever had the unpleasant experience of wearing a strapless bra that keeps sliding or falling down, you know how uncomfortable it can be.
Before you swear off strapless bras for good, try one that offers a snug and comfortable fit, with a nice wide cushioned bra band, silicone gripper strips along the top and bottom edges of the cup, and boning down the sides.

---
They're Great Minimizers
These are one of the best styles that offer great coverage for full figured busts and are comfortable enough to wear on a daily basis.
The secret to their success?  Designed to provide ample support and smooth stubborn areas, their molded cups and full-coverage styles offer a great fit with a minimizing effect for a polished look.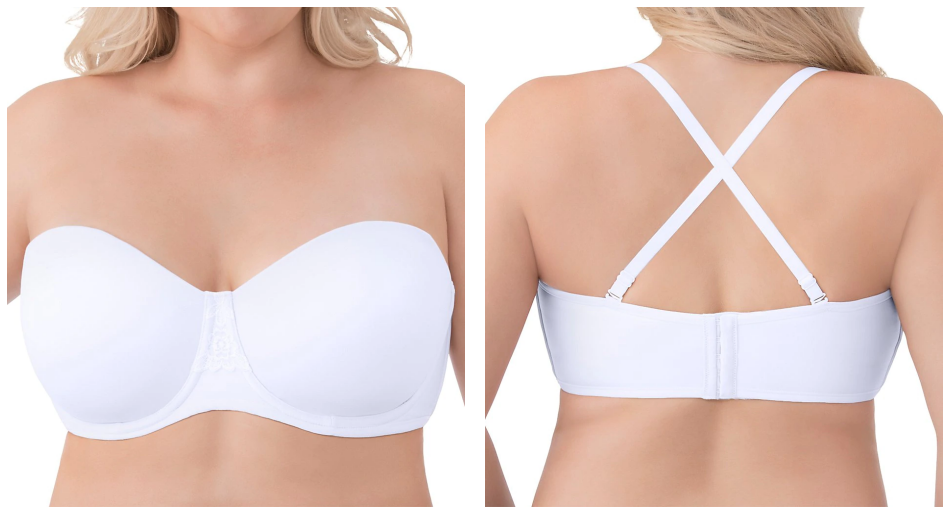 VANITY FAIR
---
They Can Even Be Sexy

Contrary to popular belief, full figure strapless bras aren't just a functional piece meant to be worn for that one special occasion. 
Perfect for showing off gorgeous bustlines and shoulders, it's easy to create a beautiful lingerie set with the addition of a sexy pair of lace panties and garter belt.
Opt for a pretty and feminine style that can be worn in the boudoir and under your favorite tops and dresses. Think lace, satin and embroidered details in your favorite colors for a sexy look that you'll love to wear again and again.
---
The Options Are Endless
Of course these brassieres can be worn under strapless dresses, that's what they're designed for, but the beauty of this particular style is their flexibility goes way beyond just one style.
Racer back tanks, delicate spaghetti strap dresses, halter tops, and more, are all perfect candidates for wearing with a strapless bra.
Think beyond dresses and cocktail attire and you'll find that it can be a regular part of your lingerie rotation, especially in the summer months.
GODDESS
They Fit Plus Size Curves

Strapless bras aren't just for petites or small busts. In fact, full figures often fit better into strapless styles because they don't slip as easily.
A larger bust creates a shelf for the top of the cups to rest on, so your bra doesn't slide and move around your middle every time you move.
Look for brands that cater to larger busts, and cups that offer enough coverage, and prepare to fall in love with a perfect fit that looks and feels fantastic every time.

FANTASIE
---
They Are Comfortable
While this particular specialty bra style needs to fit snugly and securely in order to support your bust and stay in place, it certainly should not be uncomfortable.
Look for softer elements to improve the comfort factor. Think silky microfiber or jersey knits, padded underwire casing, and smooth seams that don't dig in.
---
Take Your Pick
When it comes to shopping for strapless bras, there are options galore. Prices range from economy to ultra high-end, fabrics are feminine, sporty, and everything in between - simple styles and statement pieces, basic colors, or any shade of the rainbow.
No matter what your budget, style, or needs, there are options that work seamlessly with any full figured woman's lingerie collection.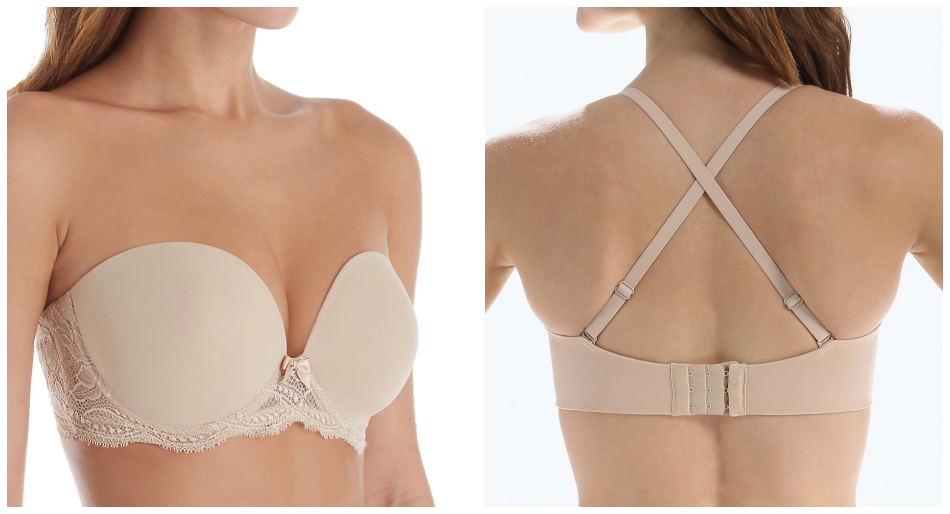 SIMONE PERELE