Why Full Figure Bras
Are Popular
FTC Disclosure - If you make a purchase by clicking a link on this page, we receive a small commission. There is no cost to you, and this does not influence our content. 

---
Full figure bras are a buxom woman's best friend. These types of bras have come to be very popular in the vast world of intimate apparel.
These plus size bras provide what is undoubtedly the best support and fullest coverage of any bra styles, and do more than any other brassiere to provide fantastic support to delicate breast tissue.
Women of any bust size would be wise to keep a couple of these brassieres in their lingerie drawer; for large-breasted women, they are a lingerie necessity! Several types of full figure bras commonly available in stores and on the Internet.
First, however, a word about bra sizes - the best brassiere in the world will not help you if it's the wrong bra size! Finding the right bra size is fairly easy.
Every woman should measure her bra size at least once per year; adolescents will need to measure themselves (or have herself professionally measured) every time they buy a bra, since their bodies are changing so rapidly.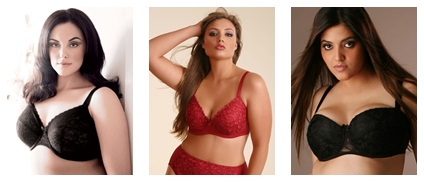 Full Figure Bras Are Stylish & Comfortable

Most women can determine bra size themselves using a soft measuring tape and instructions found on the Internet.
However, very buxom women usually find bra fitting more convenient to have a second pair of hands for this, along with the professional guidance of a professional bra fitter or intimate apparel expert.
Once armed with the proper bra size measurement, it's time to go bra shopping. There are several kinds of full bras to consider.

One of the most popular is the minimizer bra. These full figure bras are available from department stores and online lingerie shops everywhere, and are cleverly designed to compress the breasts so that they appear about one cup size smaller than they actually are.
Minimizer bras typically have wide, comfortable straps and thick lower bands for maximum comfort, and are produced in a wide array of fabrics, shapes and of course plus size bras.
Cotton and satin bras are the most popular choices.
For the niceset look for everyday wear, choose full figured bras with lined cups to ensure that your nipples remain invisible.
Another popular style of full bra is the sports bra. This is a necessity for women who are active in sports or exercise.
Womens sports bras keep the breasts compressed and supported in order to minimize uncomfortable jiggling and bouncing during jogging and aerobics.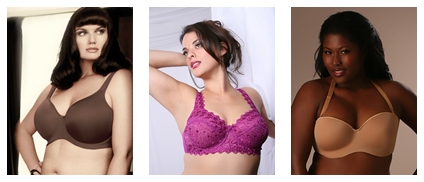 There are two principal styles of sports bras: the two-cup style, and the elastic band style.
Women who are a C cup and above should purchase a two-cup sports bra.
This kind of lingerie undergarment keeps the breasts in separate compartments, preventing sweat from building up in the cleavage area and preserving a feminine silhouette beneath clothes.

Full figured bras are also available in peekaboo styles. A favorite example of this are balconette bras or balcony bras that provide alluring support and cleavage.
These full figure bras are a lower cut variation on the demi bra and almost always feature molded underwire bra cups that provide lift together with an ultra feminine scalloped bra cup.
Many balconette bras for smaller-busted women are called demi cup bras because the cups end right above the nipple.

However, major lingerie retailers also sell full-cup balconette bras, although it may take a bit of digging to find them. Take advantage of the Internet and let your fingers do the searching!
Remember that all brassieres, no matter how expensive, are not designed for unlimited wear. When the elastic on your bra begins to lose its elasticity, it's time to start looking for a replacement.
You can extend the life of your brassieres as long as possible by always hand-washing them in a wash intended for delicate fabrics, and air-drying them on a rack or clothesline.
Taking these few extra steps will ensure that your full figure bras are beautiful and your <>intimate apparel lasts as long as it can.


Leave full figure bras are and return to bra shopping

Leave full figure bras are and return to beautiful lingerie