Best Full Figured Bras That Fit!
FTC Disclosure - If you make a purchase by clicking a link on this page, we receive a small commission. There is no cost to you, and this does not influence our content. 

---
Buxom and zaftig women, rejoice! Full figured bras that flatter and support your figure in comfort and style have never been better.
One of the biggest complaints buxom women have about full bras and plus size bras is the lack of flattering and beautiful lingerie fabrics that can stand up to the strain of supporting heavier breasts.


Petite bras are frequently manufactured in diaphanous and sheer fabrics; however, these fabrics on their own just do not provide adequate support for larger bustlines.
A number of brassiere manufacturers like Lunaire bras, Olga bras, Goddess bras, wacoal bras and Vanity Fair bras that do specialize in full figured bras and plus size bras have solved this problem by combining beautiful, sexy, sheer fabrics with a strong, firm, flesh-colored lining.
Full Figured Bras That Look Amazing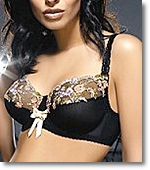 This lining provides a second layer of support for the breasts, and also ensures modesty by keeping the nipples securely covered at all times.
Additionally, a lining layer bears the majority of the weight of the breasts, helping prevent tears in the delicate outer fabric.
The modern zaftig woman can rely on these types of bras to look amazing and remain extremely comfortable during long hours of wear.

Full figured bras that fit well are usually constructed with a heavier underwire support beneath the cups.
These brassieres also have thicker and padded shoulder bra straps that evenly distribute the weight of each breast along the length of the shoulder.
This prevents the redness and irritation that are frequently caused by thinner bra straps.

Most large cup bra styles feature standard two-strap construction and practical full-coverage bra cups
But, there are specialty bras such as feminine demi cup bras and plus size push up bras that leave the top part of the breasts uncovered to accommodate revealing necklines.
For strapless tops and dresses there are specialty strapless bras and convertible bras.
For larger breasted women, adhesive bras are generally not recommended since they offer little to no support.
Full figured women who wear C to DDD bra sizes and beyond will without a doubt come to rely upon full figure bras and plus size lingerie to keep them looking gorgeous throughout the year.
For those ladies who want an extra dose of glamour and sensuality should investigate whimsical lace bras with matching panties.