Plus Size Bras
And Lingerie Tips
FTC Disclosure - If you make a purchase by clicking a link on this page, we receive a small commission. There is no cost to you, and this does not influence our content. 

---
Plus size bras and full bras are a popular choice for any full-figured and full-busted woman.
From the pretty plus size demi bra to cleavage enhancing plus size push up bras, there are a variety of different bra styles, fabrics and colors, specially designed to offer comfortable and feminine support for fuller breasted women who need it.
Lingerie and intimate apparel professionals say that up to 85% of women are wearing the wrong sized bra.
However, as women become more aware of this and educate themselves in the area of lingerie and brassieres, plus size bras and plus size lingerie will become more and more common.
Plus Size Bras And Lingerie

When buying plus size bras, the first place to start is bra fit. The way that a bra fits, or worse yet, doesn't fit is extremely important, since it will effect the look and feel of your clothing.
So, if you've never been properly fitted by a professional bra fitter, consider this important step before making any purchase.
A professional bra fitter will not only be able to measure you for the correct bra size, but she'll also be able to make style recommendations based on your shape and silhouette.
Another important thing to keep in mind is that every lingerie or brassiere brand, and bra styles within a brand will have a slightly different fit.
Brassieres are much like regular clothing and the same size in one style does not always fit the same in another style.
With plus size bras and full figured bras the majority of support comes from the bra band. So, it is important to make sure that you have the right size band and that it sits comfortably around your torso.
When you first buy a brassiere, you should be using the first set of hooks to clasp the bra.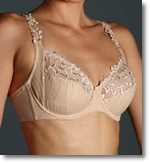 As the brassiere becomes worn and the elastic stretches out, you can move to the middle or inside hook for longer wear.
If the first set of hooks is too big or not supportive enough, then you're not wearing the right bra size.
The straps actually account for a small portion of a bra's support, and for heavier busted women, wider straps are more comfortable and distribute the weight more evenly across the shoulders.

Any time that bra straps dig into the skin it is a sign you're not wearing the correct bra size since the shoulders shouldn't carry the entire weight of the brassiere.
Every woman knows that it can be very uncomfortable to wear the wrong size of brassiere which is why finding the right bra size with a professional bra fitter is so important.
This is especially important since women's bodies change as they go through through life, with events like pregnancy, weight gain/loss, and menopause just to name a few.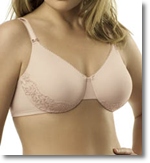 There used to be a very limited selection of plain and utilitarian plus size bras and full bras to choose from, but as full figure bras and plus size lingerie gain popularity, there are more and more fabulously feminine styles, designs and colors to choose from.
Many intimate apparel brands are expanding to include plus size lingerie and the brands that specialize in these sizes are becoming more and more creative with their designs as the demand increases.
So, what should a full busted woman select for her lingerie drawer?
A flesh toned T-shirt bra is a must have brassiere basic that is ideal to wear under white shirts and blouses.
A sports bra is another basic bra style for working out at the gym and other physical activities.

Many woman actually prefer wearing plus size sports bras with their casual weekend wear as they simply find them more comfortable.
The other should have is a strapless or backless bra for outfits like strapless dresses and halter tops.
And, finally last but certainly not least, a woman should always have a few types of bras with matching panties for better choice.