*FTC Disclosure - If you make a purchase through a link on this site, we receive a small commission at no extra cost to you.*
Plus Size Bras And Lingerie - How To Get It Right

Plus Size Bras And Lingerie – It's easy to think that bras and their beautiful counterparts are as straightforward as your uber favorite Lululemon yoga pants.
And, while some styles are easy to stock up on without hitting the fitting room, there are others that need a proper audition for the perfect fit.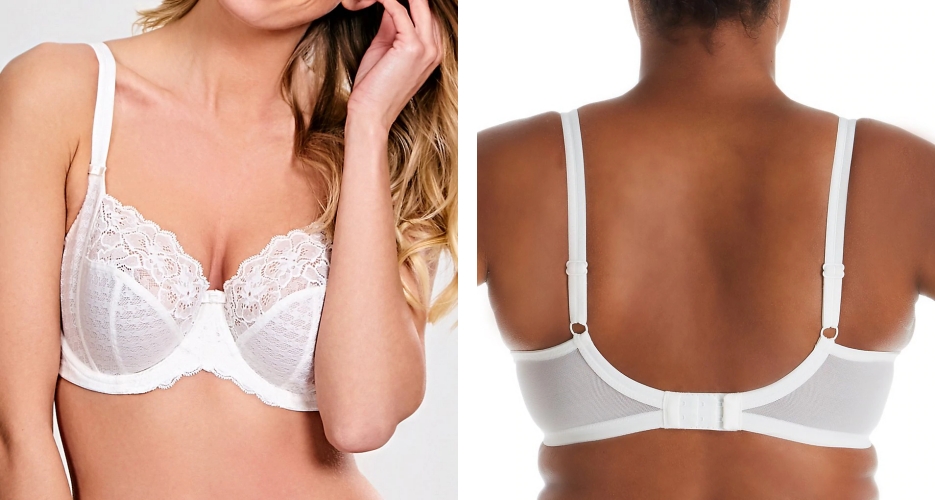 Although they may look amazing on the hanger, taking the time to try them on can make the world of difference between looking and feeling fantastic, and banishing them to the back of your lingerie drawer in frustration.
From strapless bras and shapewear to bustiers and balconette bras, here's how to get it right before you buy.
Plus Size Bras And Lingerie

Behind The Scenes With Balconette Bras

The balconette, or demi bra, is one of those glamor gal favorites that offers stunning cleavage that's quite simply hard to resist when done right.
All too easy to get wrong, one that's too small means you'll be spilling out of the cups and sides, and will end up with a lumpy and awkward silhouette under your clothing.
A size that's too big will leave the top of the cups gaping and protruding under your top, drawing the wrong kind of attention to your bust.
The solution?  Curvier figures should aim for the right touch - plus size bras and lingerie styles that create beautiful cleavage that's sexy, but not over the top.
Plus Size Bras And Lingerie Tip
Multi-part bra cups with a flexible underwire in soft and stretchy fabrics afford a sensational looking bra with a comfortable fit that strikes the perfect balance.
PANACHE
Bustiers That Make A Statement

With a reputation that's well-deserved, the blissful bustier is easy to adore for the way it hugs a curvy shape and holds everything in, while creating a gorgeous hourglass silhouette.
Because bustiers cover both the bust and the torso, there are too many fit factors to just simply wing it when buying this must-get-it-right style.
You'll want to try on a few before buying to make sure you get a style and size that fits properly in the bust and waist - one that's not too tight, is the right length in the torso, and is comfortable enough to move around in.
A bustier or longline bra with a low back design and removable bra straps and garters make it a super versatile choice that's easy to wear with many styles.
Va Bien
Matching Bra And Panty Sets

There's nothing prettier than a matching bra and panty set and we love how polished and elegant a stunning set makes us feel.
Don't risk getting home with one of the pieces in the wrong size or style, or you'll only have wasted your time and money.
Take a few extra moments to choose several sizes of each piece to take into the fitting room and make sure that both the bra and the panties are the perfect fit for your plus size curves.
When you've found the right combination nothing feels more glamorous than a set that flatters and celebrates your shape the way it's supposed to.
ELOMI
Curve Hugging Shapewear

Often referred to as miracle makers, shapewear slips and camisoles are a must have for creating a sleek and smooth silhouette under everything from blouses and pants to dresses and other wardrobe favorites.
Be sure to try before you buy to ensure that you get the perfect style and size that sculpts your curves without being so snug that you can't breathe or move about with ease.
While it may be tempting to opt for a smaller size for a minimizing look, shape wear that's too tight tends to bulge and ride up in all the wrong places, and guarantee a day spent fussing with your lingerie and feeling uncomfortable.
Opt for seamless styles for a polished and almost-invisible look under knitwear favorites and close-fitting styles.

SELF EXPRESSIONS
Strapless Bras In The Spotlight
One of the specialty bras that's surprisingly flexible and can be worn under a multitude of clothing, this is definitely a style that shouldn't be left to eyeballing it without trying on.
In the fitting room, the best way to put a strapless bra to the test is by moving around, lifting your arms, and leaning forward to make sure you aren't spilling out or wearing one that will slip down below your bust.
No lingerie drawer is complete without the versatility of a strapless bra, so make sure you get the right fit for your frame by giving this style a few moments before you add it to your drawer.
Not Sure About Plus Size Bras And Lingerie?
A professional bra fitter will not only be able to measure you for the correct bra size, but they'll also be able to make style recommendations based on your shape.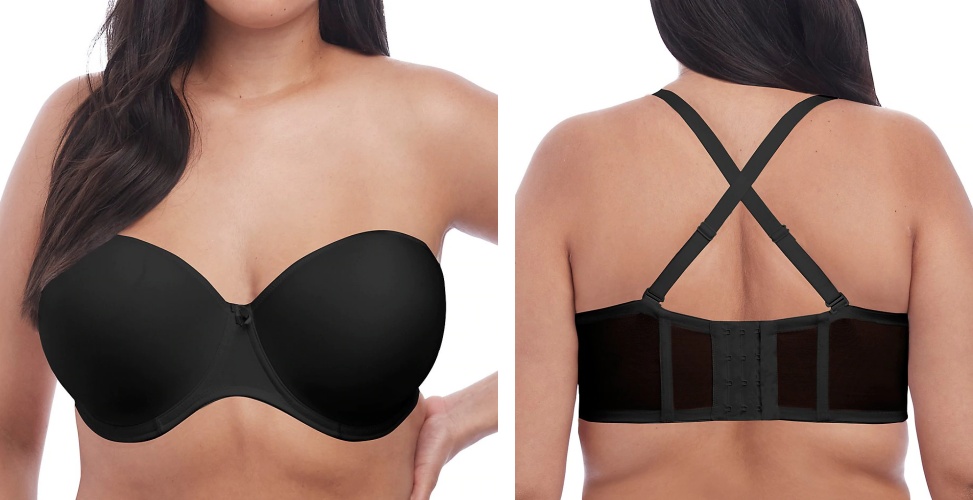 ELOMI