*FTC Disclosure - If you make a purchase through a link on this site, we receive a small commission at no extra cost to you.*
Plus Size Push Up Bra - The Best Bust Boosting Secrets
Plus Size Push Up Bra - From Beyonce and Kim Kardashian to Rhianna and J. Lo, beautiful curves have the power to excite and delight and deliver jaw-dropping allure whatever you're wearing.
Whether tucked discretely under your favorite suit, or paired perfectly with bikini panties and a dab of your favorite perfume, a curvy silhouette can be really sensational in the right pushup bra. Here, our top tips and tricks for cutting a beautiful figure.
Plus Size Push Up Bra - Add Oomph Without Padding

There is a clever way to maximize your cleavage without the traditional heavy padding that can be quite bulky and uncomfortable.
Start with a push up bra with molded cups and a little extra padding that's tapered just at the outer edges of each cup. This helps to boost your bust from the sides and push your breasts together, creating the appearance of a daring décolletage.
Look for a proper fit where the band is snug enough to hug you in and the straps are adjusted so they're providing lift from above.

CURVY COUTURE
Embrace The Best Plus Size Push Up Bra Styles

Plunge Bra
When it comes to beautiful lingerie for curvy shapes, there are endless types of bras on the market. If you're looking for an extra boost, the two best suited styles are the plunging push up and the balconette bra. Designed to enhance a beautiful cleavage, each is uniquely special and just as appealing.

A plunge bra is cut extra low in the center and focuses on hugging the breasts together instead of boosting them up like a traditional pushup bra. An ideal choice for showing off your girls in low-cut and deep necklines, it's a savvy option that is easy to wear.

Beautiful detailing like a pretty ribbon or pearl at the center really plays up this stunning pick
The best push up bra is one that not only looks great, but also works well with your favorite outfits.
Balconette Bras
The balconette bra on the other hand, is quite different from plunge bras that offer more overall coverage. It has wider set bra straps, and the cups are designed to show off the top of your breasts, rather than pushing them together. Pretty design details include -

Scalloped lace edging along the top of the cups and straps add a touch of whimsy
Both styles looks are stunning and guaranteed to show off a gorgeous push up effect that's hard to resist.
ELOMI
Pick The Best Double Duty Bras

Why choose one plus size push up bra that works for daywear and another that's meant for the boudoir? Instead, opt for one that can multi-task along with your favorites from day to night.
Choose black, navy, or red for versatile in smooth and seamless styles for a sleek look that goes with everything
Bypass anything in plain cotton, and instead look for silky fabrics like satin or microfiber with a touch of sheen
Opt for bra styles that have a little bit of added detailing along the edges, or a lace overlay, or a delicate ribbon trim
When you opt for a bra that's both pretty and practical, you'll look wonderful no matter what time of day it is.
Sculpt More Than Your Bust
Another way to show off your curves? By making the most of your shape - emphasizing your assets and camouflaging the areas you want with a one piece that offers the best of both worlds - an all in one push up bra and shapewear.
Very popular for smoothing and shaping, you can opt for different styles based on what you're wearing. 
a body-sculpting slip with a push up bra top
a smoothing camisole with a plunging push up neckline
a push up bustier that whittles the waist while boosting your bust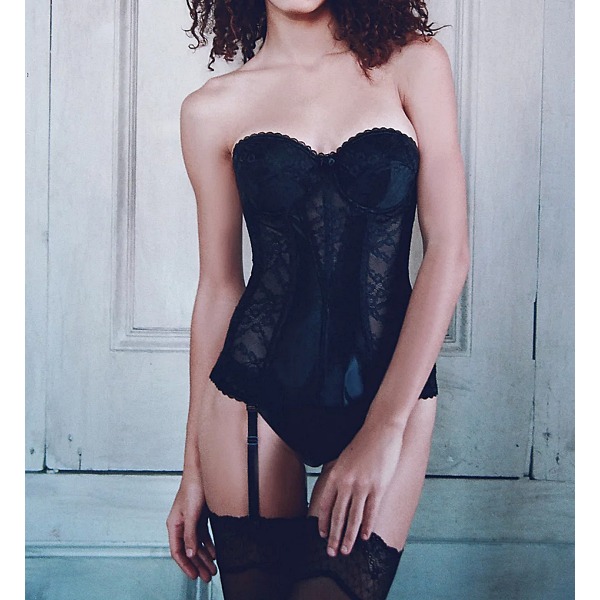 VA BIEN
Go Up A Cup Size
Many think that the secret to wearing a plus size push up bra is to squeeze into a size that's too small, but all this does is create a bumpy silhouette that's not attractive and not terribly comfortable.
Instead, think about going up a cup size so you're not spilling over. Your breasts should be comfortably nestled in the cups, while the push up elements of the bra create the cleavage that you're after.
Carmen's Tip
Bra sizes vary a lot from one brand to another. Keep this in mind as you're in the fitting room, and don't worry about the size tag.
Instead, focus on how well they fit so you can actually enjoy wearing pushup bras that make you look and feel great.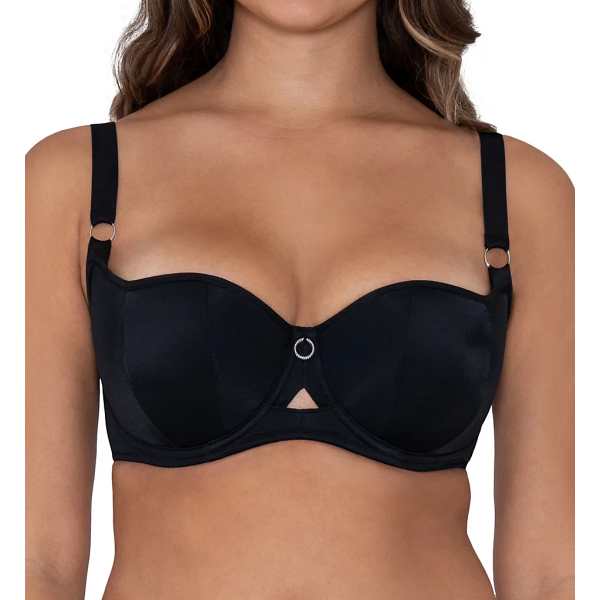 CURVY KATE