*FTC Disclosure - If you make a purchase through a link on this site, we may receive a small commission on the transaction - at no extra cost to you.*
Guide To Sexy Full Figure Bras
Full figure bras can be tricky to shop for. This is mainly because women buying them have a larger bosom and need more support than women who wear, say, A cup bras or petite bras.
Luckily, these days there are a slew of choices for fuller-figured – and regular busted women.
This is especially true as the average clothing size of women continues to climb, and that includes bra sizes.
Let's take a quick look at 6 of our favorite full figure bras that our clients, friends and family return to again and again.



Full Figure Bras - Elila Bras

Our first choice is the Elila Jacquard Softcup Bra, from Elila (Elila specializes in bra sizes for larger busted women, up to an N cup).
This pretty soft cup wireless bra has wider sides, full cups and wider cushioned bra straps which provide great support for women who don't want to wear an underwire bra.
The Elia Softcup is available in a multitude of great colors, from basic white, nude, mocha, red and purple to black. It retails for $42- U.S.
If this seems expensive, consider this. If you properly care for your bras (hand-washing or using a special laundry bag so it doesn't get damaged, and air-drying, etc.), they will last longer, and well worth the cost.


Gia Blush Bra
Another of our "best bras" pick is the Gia Blush, from the Curvy Kate collection.
This is a balcony or balconette bra that goes to a G cup.
This sexy bra combines stretch nylon, fine mesh, scalloped lace and beautiful embroidery along the bra cups. It has a comfortable feel and retails for about $72-.

Lana Full Figured Bra
The Lana Embroidered Full Figure Bra, from Fredericks of Hollywood is another stunner when it comes to full bras.
This full figured bra has wider scalloped straps with a soft flexible underwire for support. And, the benefit here is, it also includes removable push-up pads, so you can adjust your cleavage accordingly.
Let's face it, no matter what bra size you wear no one wants to be stuck with only a few color choices.
This bra doesn't disappoint! You can choose from white, ink/mulberry, teal/navy, lavender, or black. Available to an F cup, the Lana bra retails for about $36-.

                               Beautiful Lingerie Tip
Keep in mind that bra sizes can vary a lot. If, you're buying a new bra style online, read the buyer & bra fitter reviews. This will tell you if the bra fits on the large or small side.

Parfait Affinitas Charlotte Padded Bra
The Parfait by Affinitas Charlotte Padded Bra, is another sexy plus size bra that gets our vote.
This ultra feminine brassiere offers support and fabulous uplift with 3 piece bra cups and wider set bra straps.
The red / black combination of this sexy bra is particularly stunning and flirty, with decorative black detailing and a black bow in the center.
The Parfait (don't you love the name, we do!!) is available online at FreshPair and Her Room online, and retails for under $40-, which makes it very affordable.

Freyla Lyla Plunge Bra
Another of our favorites is the Freya Lyla Underwire Plunge Bra, a wonderful choice for larger bra sizes.
Featured in Lucky magazine as one of the best bras for larger busted women (to a J cup), the Lyla underwire bra offers complete cup coverage which prevents the dreaded cleavage spillage.
Available in sexy black, hot pink, and soft mocha with contrasting floral trim, these mesh bras rate a 10/10 on the scale of sexy exotic bras.
Available online at herroom, freshpair and amazon, and retails for around $58-.

Panache Jasmine Underwire
Last but certainly not least is the Panache Jasmine Underwire Bra, from Panache lingerie.
Supportive yet feminine, this is one of the newest plus size bras by Panache that combines function and demure.
It offers flexi underwire 4 part cups, and wider than average set bra straps for a more centered fit.
Currently available in a black floral matte satin with scalloped lace detailing, this plus size bra goes right up to a size JJ. Panache bras can be found at Freshpair and Herroom ; they sell for about $62-.
By seeking out the best full figure bras, larger busted women can have everything they have ever wanted in their lingerie undergarments. Support, style, and colors that pop, all at a decent price, it's never been easier to be sexy and feel great!

Bra Shopping Online On eBay Clothing Is Easy...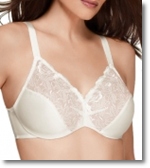 Shopping for your favorite full figure bras, plus size bras and plus size lingerie is easy on eBay clothing.

From Wacoal bras to Olga bras and a multitude of different types of bras, bra shopping has never been more affordable or offered better options.