Chenille Robes Shopping Tips
Chenille robes are a fabulously cozy and cuddly addition to any lingerie wardrobe.
With their softness and warmth, these thick luxury robes are very popular in areas with cold winters and chilly climates.
There are a multitude of different options available with chenille womens robes, including length, texture, sleeve length, pockets or no pockets, and of course, color.
Here are few things to consider when buying chenille robes -

If buying in person, make sure to check the quality of the robe and seams, as inferior seams in a womens robe can easily come undone and ruin the look. You're much better off buying more expensive, but higher quality ladies robes than cheaper ones that won't last long. Always choose quality over price.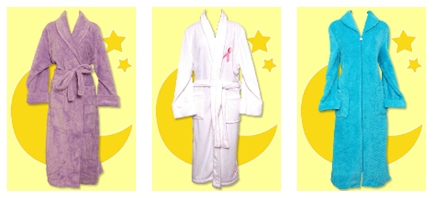 Chenille Robes

Look at different robe lengths and fabric thickness, and decide which combination best suits your needs.

Are you wearing this for warmth over night gowns or pajamas, or are you putting on the robe right after taking a shower?

Do you prefer a traditional chenille robe with a front tie closure or a zip front robe?

These types of questions should help you narrow down what you want and need.
If you're buying a chenille wrap robe for someone, be sure to consider where they live.

Short robes may be fine for a woman living alone, but a girl living in a college dorm will certainly prefer long robes that are more modest.
Be sure to order from a reputable store, particularly when buying any womens robes or lingerie online.

Before you buy, check out the corresponding size chart and the site's return policy in case you need to return the items.

If, the lingerie website offers product reviews, read through them. This is a great way to get insider opinions on fit and quality.
Make sure that you are not paying a fortune. If it isn't from a reputable brand you've heard of, and it costs more than most other chenille robes, beware!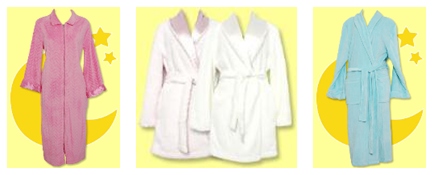 Some lingerie and intimate apparel companies use phrases like "Parisian Style" or "Limited Edition Color" to make you think their robes are worth much more than they are.
High quality chenille is often made with an acrylic core that keeps the fabric from "balding" and losing its small fibers that give the fabric its softness and warmth, so don't always assume that 100% cotton is better.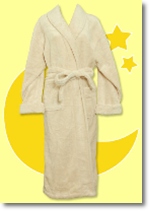 Chenille comes in a variety of colors, however, be sure to choose one that matches what you need.

A neon pink chenille microfiber robe may not be the best option for a relaxing at home spa night. On the other hand, a neutral cream colored robe might be a bit bland for a teenager.
Pockets are a great addition to a chenille spa robe and add an extra layer of practicality; but, be sure to check how well they are sewn in place and if you can, try the robe on to see if they will affect the look of the robe when worn, and how comfortable they are.