Down Robe
Insiders Guide
A down robe is undoubtedly the ultimate in warmth and luxurious comfort during chilly nights and long winters. Slip one on over your night gowns or pajamas and you'll be toasty warm.
Many people who remember the bulky, unflattering down-filled coats from 30 years ago may be wary about purchasing this womens robe.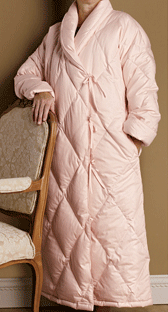 However, these womens robes don't resemble those puffy, frumpy jackets at all.
From regular to plus size robes they're lightweight and elegant while also providing remarkable warmth to the wearer.
Several manufacturers make these luxury robes with high neck cowls that encircle the neck and provide extra warmth for very cold weather; these can be folded down like lapels if the wearer prefers to leave their neck free.
So, how do these womens robes work? A down robe is filled with the warm, soft under-feathers of geese or ducks.
Down Robe

These tiny feathers are covered with microscopic fibers that help the feathers cling to each other, trapping warm air between them.
Down feathers make a terrific insulating material and are the perfect choice for a warm-weather long robe.
Most down-filled blankets and jackets have a stitched surface similar to that of a quilt; the stitches are designed to prevent the down filling from settling and gathering at the bottom of the garment.
A down robe will almost always have a similar appearance, for the same reason. Those who are concerned about puffiness should opt for a bath robe in a dark, solid color such as black or dark blue; dark shades are visually slimming.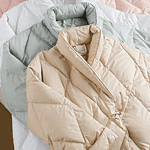 With proper care, these womens robes, like other ladies sleepwear styles can provide many years of enjoyment and comfort. While many of them need to be dry cleaned, some are machine washable.
However, preserving the fluffiness of down can present a problem for people who machine-wash their robes; a disadvantage is that down feathers have a tendency to clump up and stick together when washed.
This is thankfully an easy problem to remedy; simply wash your bathrobe according to the directions on the label, and throw a few clean tennis balls into the clothes dryer along with it.
During drying, the balls will bounce around and break up any clots of feathers that may form. This method creates a bit of a noisy drying cycle, but the results are well worth it!
It is also important to note that down is NOT designed to get wet.
As a result, these robes are not recommended to dry off after a shower or bath; the feathers inside will quickly become waterlogged and clumpy. While it is wet, a down robe is much less effective at retaining heat.
Cotton is another excellent choice, particularly in warm, humid climates, since it absorbs water very well and is considerably cooler against the skin than terrycloth is.
For ultimate warming power, consider pairing a down bathrobe with a pair of down-filled slippers.
Quilted slippers often have the added luxury of an interior foot-pad crafted from sheep's or lamb's wool, which wicks sweat away from the feet while maintaining a cozy feel.
A down robe and slipper set also makes an amazing gift for nearly everyone on your holiday gift list: a spouse, parent, child, or friend of either gender. They will think fondly of you every time they are toasty warm inside their new slippers and robe!