The Satin Robe -
Glamorous Womens Sleepwear
The satin robe is an excellent addition to the lingerie collection of any woman. From satin nightgowns to satin pajamas, luxury robes chemises and slips, there is an entire smorgasbord of satin womens sleepwear for every silhouette and preference.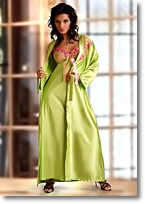 One of the most popular and glamorous styles of satin robes is the vintage-inspired womens robe that takes its inspiration from the 1930's and 40's.
These classic long robes often come with a triangular or "sweetheart" style neckline that is form fitted across the bodice, and they typically fall elegantly in an A line shape to the tops of the feet.
The more elaborate styles may have lace panels or detailing along the bust, neckline, sleeves, or bottom hemline.
Most retro-inspired satin womens robes also come with a matching or coordinating satin nightdress, or the option to buy one.
A very popular style of satin nightdress or satin nightgown is the shorter version, called a satin chemise.
Satin Robe

These sleepwear gowns are available virtually anywhere night gowns are sold, and are usually about knee-length and have spaghetti shoulder straps in lieu of actual sleeves.
Satin chemise sleepwear is quite flattering on almost any body type.
But, keep in mind that the more flowing chemises can actually add a few extra pounds around the abdomen, thighs, hips, or derriere.

Glamorous Satin Pajamas
---
Another wonderful complement to a satin robe are satin pajamas that are inspired by classic menswear designs.
Long and short versions are available; in the summer months, ladies pajamas have tap pants rather than long pants to keep cool.
During the winter months, you'll almost certainly prefer satin womens pajamas with long pants and long sleeves. The warmest satin pajama sets are lined with flannel, wool, or soft cotton backing to keep you toasty warm.
Satin nightgowns and robes, much like silk nightgowns and silk robes are made of a thin material that doesn't retain heat very well, so this second layer is essential if you live in colder climates.
Another excellent cold-weather option is the quilted satin pajama set or quilted satin robe, which has a satin outer with an insulating inner fabric, stitched together like a quilt.
Caring For Satin Lingerie
---
Be sure to check your care labels thoroughly, and don't use any harsh detergents, or stain-removers without testing them on an invisible area of any silk or satin lingerie first.
Many satins, particularly those that true vintage pieces, are not as colorfast as modern lingerie and intimate apparel, and will bleed and fade if exposed to strong chemicals.
Keep this in mind so that your satin lingerie will always be as beautiful as the day it was first made.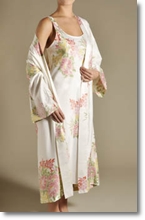 Another issue to consider when cleaning any satin lingerie is how to properly dry it.
The labels are your first line of defense here; read them and follow them to the letter, even if you think you could probably get away with devising your own method instead.
It's usually wise to avoid high-heat dryer settings when dealing with delicates; when in doubt, use the "air-only" setting, or drape the lingerie across a drying rack instead.
This way you will be able to ensure many years of enjoyment of your delicates.