Charmeuse Robe Sleepwear Guide
Charmeuse robe - bringing to mind memories of enchanting movie stars from the 1940's like Jean Harlow, Carole Lombard and Marlene Dietrich, satin lingerie has come to represent the ultimate in glamor from that era.
Fast forward 70+ years and satin charmeuse holds the same luxurious appeal.
It offers a silky smoothness and cozy feel on the skin.
Available in a variety of different lengths, styles, sizes, and colors satin can tempt even the most discerning lingerie diva.
Now more than ever, affordable charmeuse or satin robes (or a satin lingerie set that includes one) are a sexy sleepwear favorite of both sexes - men love to give and women love to receive. Want to learn more? Let's take a closer look ...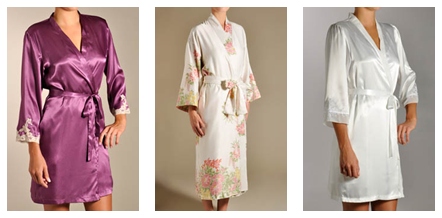 Charmeuse Robe

Charmeuse is a silky-soft man made intimate apparel material that is shiny on the front side but dull on the back.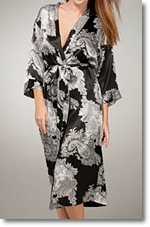 The fabric may be made either from silk fibers, or from silk-like synthetic fibers.
This lingerie fabric differs from "regular" silk in that it is lighter and exceptionally soft.
The second option is generally more affordable, but still produces a glorious fabric.
True silk charmeuse makes a wonderful and luxurious gift.
The material is also warmer than synthetic charmeuse and more affordable than expensive silk robes. However, it is also more delicate and is prone to ripping.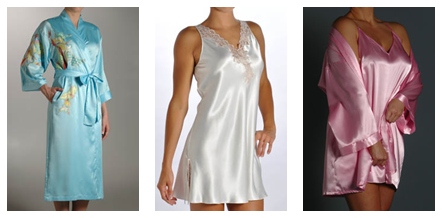 Silk charmeuse loses strength when wet and is particularly prone to rips during this time; so these lingerie undergarments must never be machine-washed and are usually labeled as dry-clean only.
However, synthetic charmeuse may almost always be cleaned in a washing machine.
Charmeuse's inherent softness, along with its tendency to caress a woman's curves, makes it an ideal choice for luxury seekers.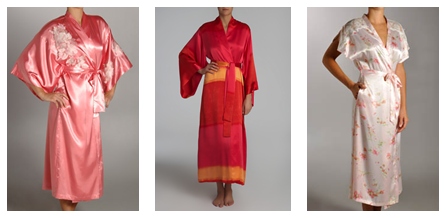 Mini Satin Lingerie Guide
---
Night gowns, sexy babydolls, teddies, ladies sleepwear and womens robes of all lengths are frequently crafted from this fabric; satin lingerie is also often combined with fabrics such as lace and chiffon.
A womens robe in charmeuse is an asset to any collection of lingerie; such a robe may be worn while dressing and applying makeup, and is also wonderful for sleeping and romantic moments. And, brushed back satin nightgowns are a wonderful choice for keeping warm during those cold winter nights!
However, due to charmeuse's incompatibility with water, such luxury robes should not be used to help dry off after a bath or shower; stick with cotton or terry cloth robes in such a situation.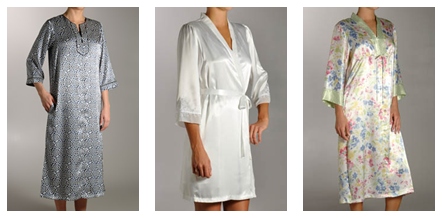 Back To Sleepwear ....
---
A long charmeuse robe or satin robe feels incredible against the skin and looks amazing on anyone. For maximum wearability, choose a solid color or a subtle print; garish and overly trendy designs will fall out of fashion more quickly.
Cream and white are also popular colors; be aware that these shades visually add weight, however, so if you are self-conscious about your size it would be wise to avoid them.
For a flirtier look, consider a calf or knee length kimono robe with half sleeves; these robes look particularly stunning when crafted using wide, kimono-style sleeves.
If your budget allows for it, consider a hand-painted silk charmeuse robe; you will always pay more for this high level of craftsmanship, but you may find that it is worth the cost to own such a unique work of wearable art!
Shorter charmeuse robes are frequently sold in sets with a matching pair of sleep pants and a tank top or cap-sleeve t-shirt.
A long robe may be sold in tandem with a matching floor-length satin nightgown or silk nightgown. in the same shade. These lingerie sets can really take the guesswork out of gift-giving!
If you are unsure of the nightgowns sleepwear size to buy for the intended recipient, avoid the possibility of disaster and hurt feelings by purchasing a gift certificate to a lingerie boutique instead of the actual lingerie undergarment. This will allow the recipient to select their own lingerie and intimate apparel without disclosing what size they wear.