*FTC Disclosure - If you make a purchase through a link on this site, we receive a small commission at no extra cost to you.*
Charmeuse Robe - How To Get The Best One

Charmeuse Robe - silky smooth with a touch of glam, yes, you can wear one of these gorgeous luxury robes, no matter what you may have heard.
In fact, once you slip into this delightful sleepwear favorite, you'll be surprised at how simple it is to wear and how it seamlessly fits into the rest of your lingerie wardrobe.

From style tips to budget basics, here are the four key essentials that make a beautiful charmeuse robe work.
Charmeuse Robe - The Easy Essentials

Consider function - First and foremost, what are you going to be wearing your satin robe for?  If you're looking for a robe that's strictly for the boudoir, you can get ultra fancy with exquisite trims, luxe detailing, and real silk robe.
If you're looking for a lightweight style that you can slip on over your pajamas or sleep wear while you sip coffee or lounge with the newspaper, then you may want to consider a synthetic satin charmeuse that's easier to wash and wear, and you might want a simpler style that will be fuss free as you move about your morning and evening routines.
Did You Know?
That womens robes in charmeuse were considered to be the epitome of glamor during the 1940s and 1950s.  Publicity shots from that era often reveal movie stars like Jean Harlow, Carole Lombard and Marlene Dietrich in luxurious satin lingerie.
Pick your length - Again thinking about function, if you're looking for a sexy little number for wearing over your beautiful lingerie, you may want to opt for a shorter, kimono robe in satin charmeuse.
If you're looking for coverage, then go for a longer style. You should also consider your body type when choosing the length of robe that looks best on you.
Petites will look taller in ladies robes that are at the knee or above, and if you're tall then you can pull off floor sweeping long robes.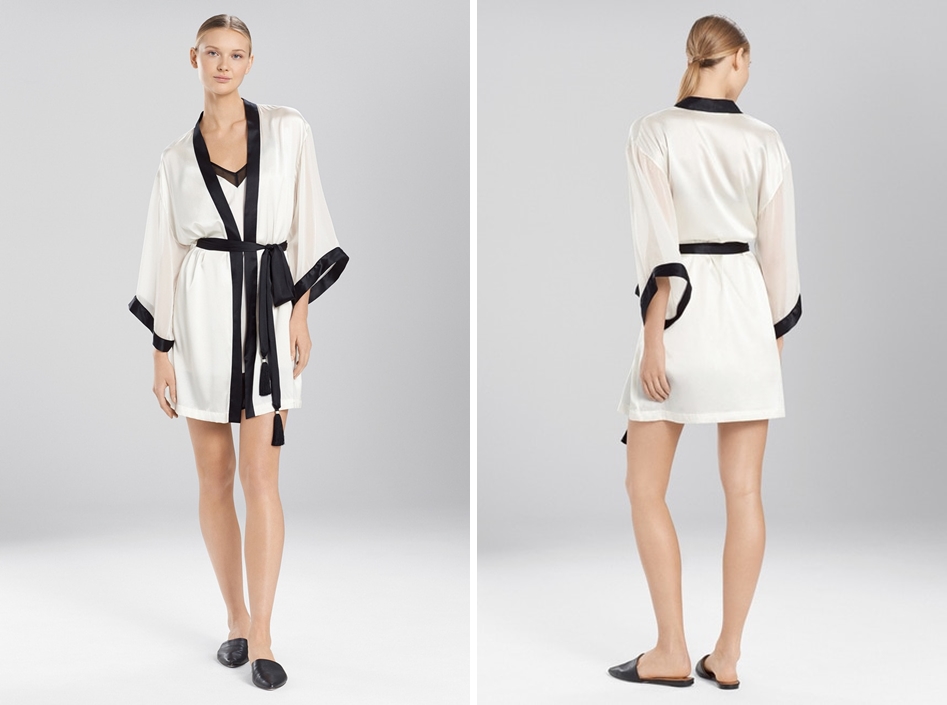 Stay within your budget - It's easy to get carried away when it comes to buying beautiful lingerie and sleepwear items, but it's just as simple to find a charmeuse robe that fits within your budget and doesn't break the bank.
If you're on a more modest budget look for styles that are made from satin charmeuse instead of womens silk robes.
Try shorter styles, which are typically more affordable.
Or, opt for microfiber robes with charmeuse cuffs and a sash if you only want a hint of silk - this will look luxurious and cost a fraction of the price.
If money is no object you can choose from the finest silk lingerie fabrics and can look for opulent floor length styles and specialty hand painted kimonos that can easily run into thousands of dollars.
Beautiful Lingerie Tip
Silk charmeuse is a delicate fabric that's particularly prone to rips and tears when wet;so these lingerie undergarments must never be machine-washed and are usually labeled as dry-clean only.
However, synthetic satin charmeuse tends to be far more durable and may almost always be cleaned in a washing machine.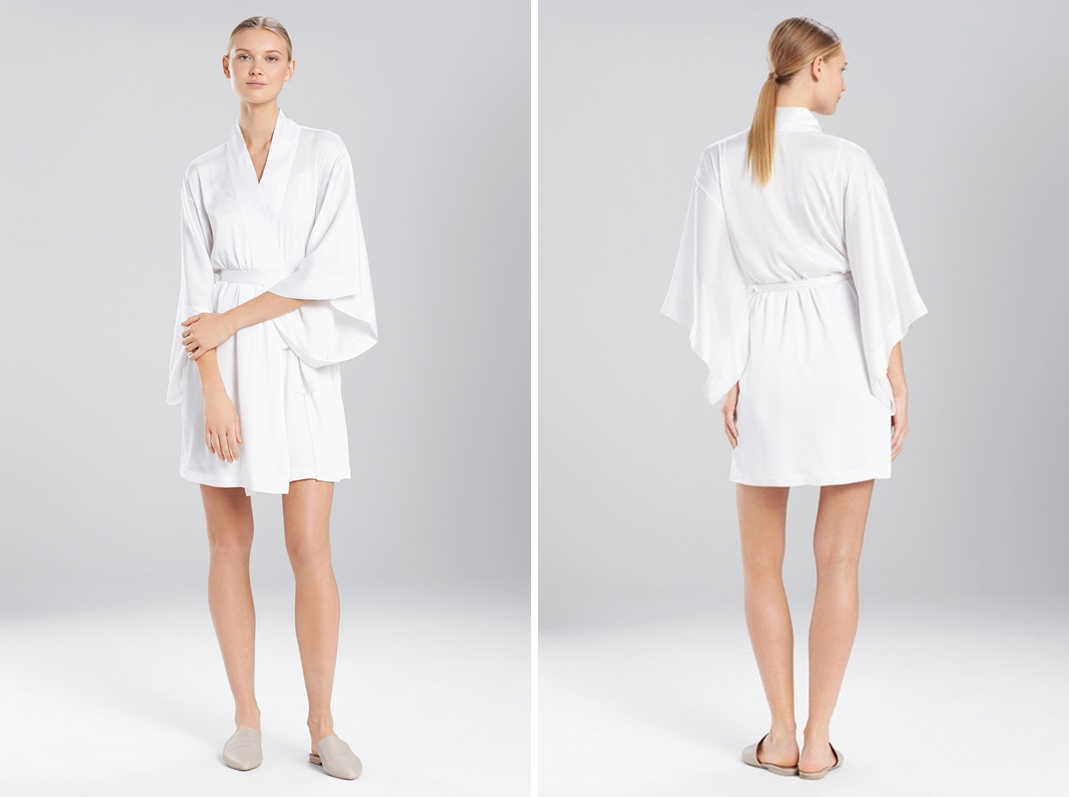 Coordinate with other items in your drawer - You're more likely to wear a satin robe often if it blends in with other pieces in your lingerie collection.
If you have mostly solid colored bras, panties and chemises, then a printed soft robe can be a fun addition, in a pretty design like paisley or floral.
If your sleepwear tends to be more minimalist, then choose a style that's fuss free with a clean and classic look in a solid color.
If you love natural colors, you can either coordinate with a neutral robe, or you can opt to introduce bright shade for a bold pop of color that will make your other intimate apparel suddenly come to life.
Think about your lingerie collection as a whole and choose a robe that works with the overall look and styles that you love.