Silk Robes Insiders Guide
Few would argue that silk robes provide the pinnacle of luxury to the wearer. These luxury robes feel as amazing as they look. And, without a doubt they make tasteful gifts for both men and women and offer instant sex appeal for both genders.
Silk robes are available in several womens robes styles. The most common is a floor-length belted long robe with long, loose sleeves. Shorter, knee-length versions (often with half sleeves) are also frequently seen.
Either length often has an interior tie that helps keep the robe closed and is used in conjunction with the belt or sash.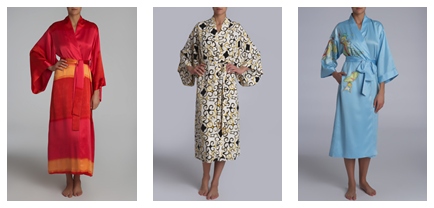 Robes
Silk Robes

Due to the slippery nature of this delicate womens robe, the sash alone is often not enough to keep the robe securely wrapped around its wearer.
This popular ladies sleepwear style is also frequently made in the kimono style, with very wide sleeves and thick sashes. The kimono robe may feature artisanal, hand-painted designs, and is also often heavily embroidered.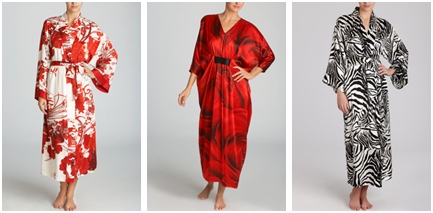 Kimonos
They're one-of-a-kind works of art and are often produced entirely by hand.
Different styles of kimono robes may have "wings" attached to the sleeves; if your robe is cut this way, you will need to take extra care not to catch the extra fabric on furniture or any sharp objects.
Silk robes and night gowns may feature an elongated back hem that creates a short sweep or chapel train in the back of the garment.
This is a particularly elegant effect when paired with heels and worn for romantic evenings.
Similar to satin robes, these ladies robes are frequently sold as part of lingerie sets that also contain a silk nightgown in an identical or complimentary color. This allows the robe to be worn for warmth and modesty as needed, and shed when necessary or desired.
These lingerie and intimate apparel sets can become extremely expensive, especially when they are made entirely without machines.
While probably not appropriate or practical for everyday wear, these silk sleepwear sets make spectacular anniversary gifts and will be treasured for a lifetime.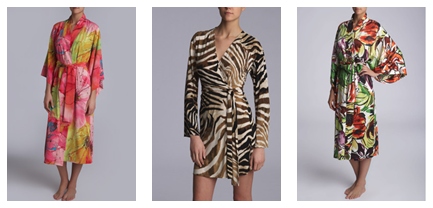 Most silk robes and their close cousin, satin robes are quite delicate, and should either be washed by hand or taken to a professional dry cleaner.
The care tags that come with the garment will state exactly how the piece must be cleaned.
Many people remove these tags before wearing the garment because the tag feels itchy or bothersome against the skin.
The tags should be saved in a safe place, or the care instructions copied down so that the garment will always receive the treatment required to keep it in top condition.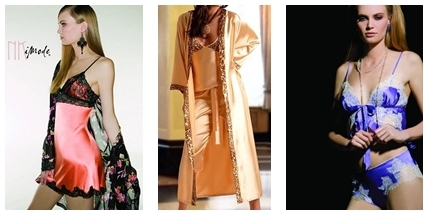 Any silk lingerie and robes that are candidates for hand washing should always be cleansed in a very mild solution, preferably one designed specifically for fine lingerie.
These delicate robes for women should never be dried in a clothes dryer, but rather should be gently placed on a drying rack and allowed to gradually drip dry.
The extreme care necessary to preserve these garments can be seen as excessive, but the payoff - lifelong enjoyment of a wearable work of art - is absolutely worth it!