*FTC Disclosure - If you make a purchase through a link on this site, we receive a small commission at no extra cost to you.*
Silk Robes - How To Choose The Best Styles

Silk Robes - Stunning. Sophisticated. Incredibly soft. When it comes to luxury robes that inspire, nothing is as sumptuous as silk.
From exquisite hand painted kimonos to ultra modern short wraps, these sleepwear favorites are a great way to glam up everything from chemises and nightgowns to pajamas and baby dolls.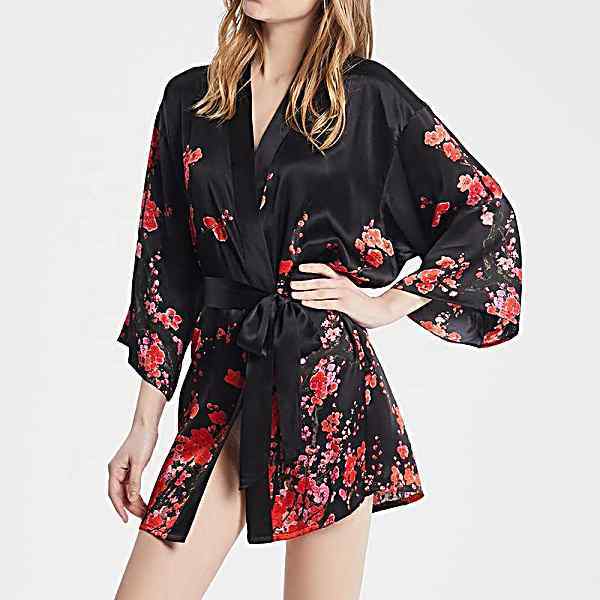 While there is an great variety of long and short styles, colours, sizes and even different types of silk, choosing the perfect robe for  your shape can at times be tricky.
No worries - whether you're curvy, petite, tall or plus, there are tips and tricks to help every silhouette find the best robe for them and avoid the ones that aren't.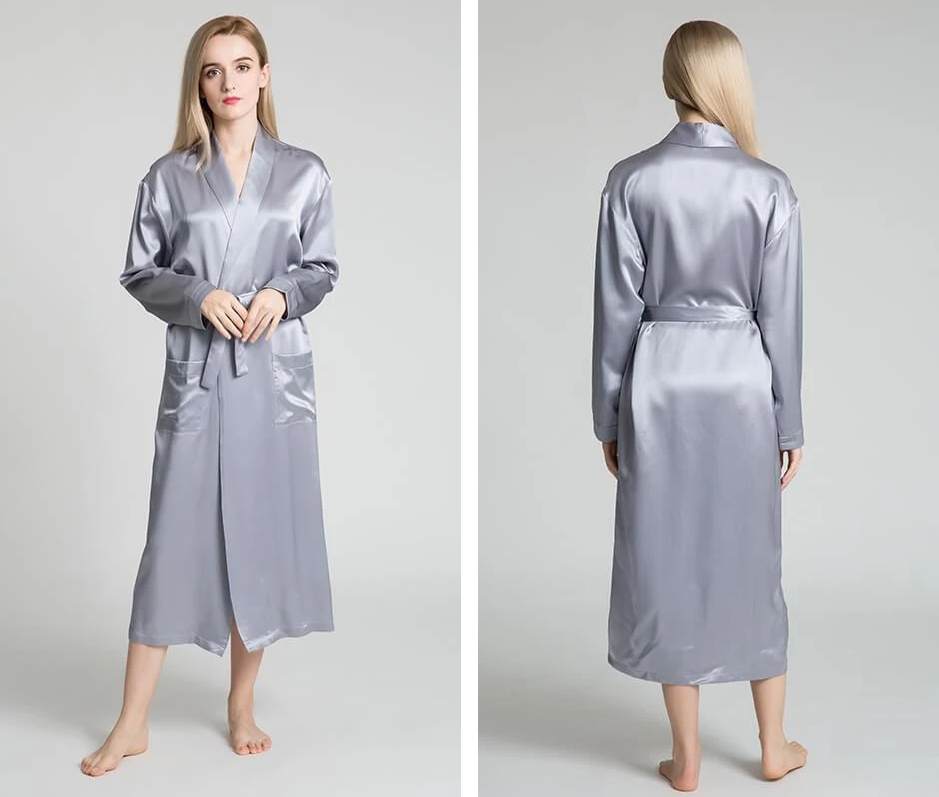 LONG ROBES
Silk Robes - Pointers For Petites

Petites can easily be overwhelmed by flowing robes and sleep wear styles that have too much fabric for your silhouette.  As with all shapes, the key to choosing the right style is proportion.

Avoid oversize collars, wide kimono sleeves and floor sweeping styles in favor of shorter lengths that hit at or just below the knee.  Avoid styles that hit mid-calf
Short robes with subtle stripes or vertical patterns will add length to a petite silhouette and show off your legs
Also, keep the volume and size in proportion so your shape isn't overpowered by the robe. The best styles are quite streamlined or fitted

Solid colors in beautiful jewel tones and smaller prints or patterns with delicate lace detailing are great choices that will showcase a petite shape
Style Suggestions - robe chinoise, short robes and petite robes
Sleepwear Style Tip
Popular silk robes and matching night gown sets that feature an elongated back hem with a short sweep or chapel train in the back of the garment are a great option for honeymoon lingerie.
BEAUTIFUL SLEEPWEAR
Tips for Tall Silhouettes
Taller women can wear just about any style they fancy, and tend to look amazing in dramatic floor length or long robes that showcase longer legs.  Again, paying attention to proportion and a great fit are key.

Avoid styles that hit the mid calf and create a cut-in-half look that's not flattering
For those who prefer short robes, one of the best options is a just below or knee length style that looks great on virtually every body type
Avoid robes with sleeves that are too short 

Prefer long robes? Relaxed and loose styles with long, exaggerated sleeves, and side slits offer a sensational look

Pick just about any print, pattern or color. Your height will allow you to wear any size of pattern without overwhelming your frame
Style Suggestions - long silk robes, kimono robes, short robes, zip front caftans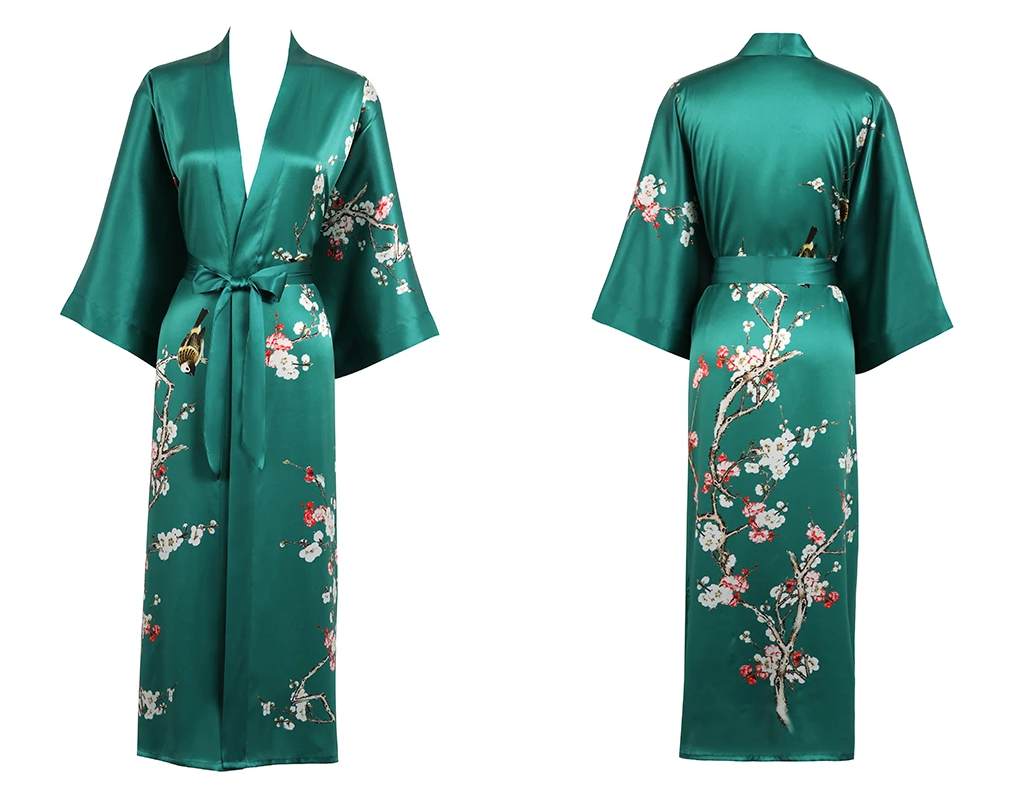 KIMONO ROBES
Silk Robe Care

Silk sleepwear is delicate and should be hand-washed in a very mild solution, preferably one designed specifically for fine lingerie.
These robes for women should never be dried in a clothes dryer, but gently placed on a drying rack and allowed to gradually drip dry.
The care can be time consuming and and may be seen as excessive, but the payoff - lifelong enjoyment of a wearable work of art - is absolutely worth it!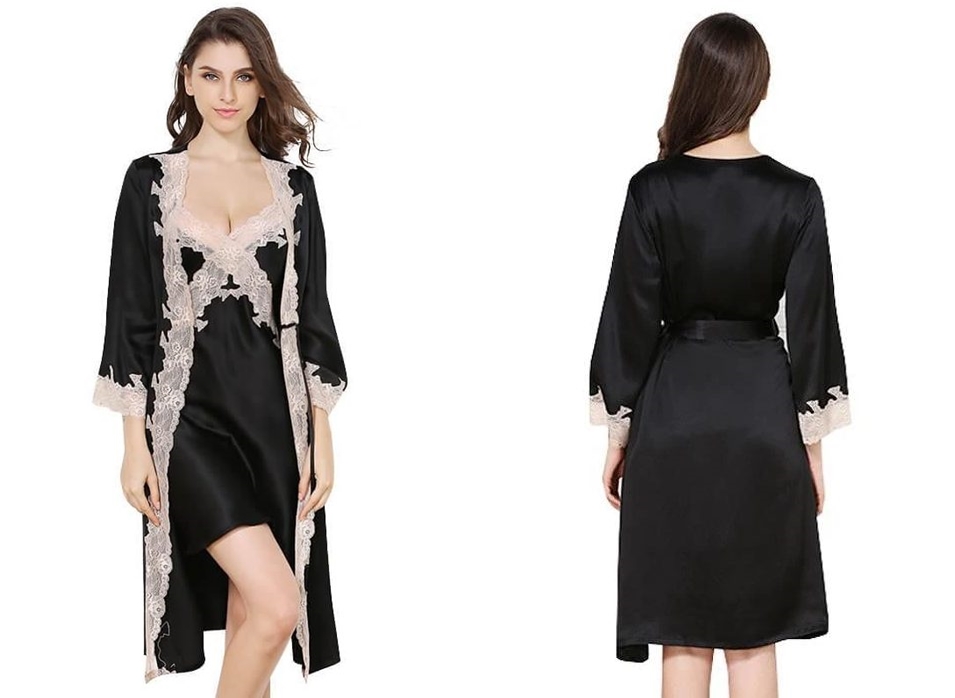 Cues for Curvy Silhouettes
Women with enviable hourglass figures look amazing in silk robes designed to accentuate curves, without adding too much volume that can inundate their shape.
Look for wide lapels and an A-line cut to emphasize the bust and hips, while playing up your curves
Knee length ladies robes and long classic wrap styles are flattering, particularly those that figure skimming
Avoid womens robes with a boxy shape.  Look for styles with a tailored look that will show off your curves
Opt for robes with a belt that's slightly wider - styles that can be cinched for a balanced look
Style Suggestions - long robes, wraps, caftans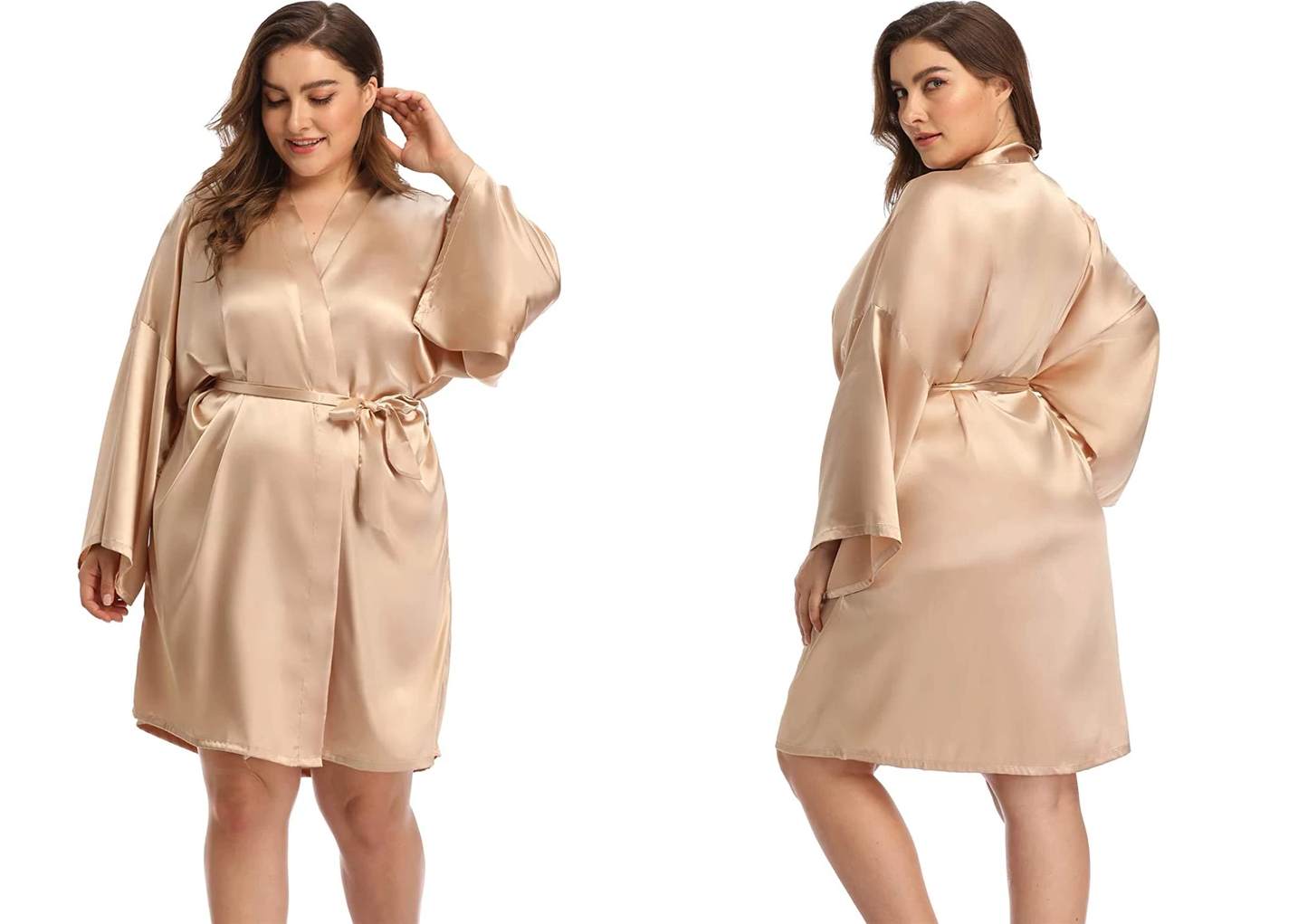 PLUS ROBES
Tips for Curvy Silhouettes
Dressing for a fuller shape?  The key to looking great in silk robes are smooth curve-hugging styles that are a bit more structured, drape well, and are not too tight.
Avoid unflattering boxy robes and caftans.  Avoid robes with too much fabric, large, bulky pockets, or too much detailing that can overpower your shape
A knee length style is the perfect way to show off a bit of leg while still giving you fashion and coverage
Opt for form fitted womens silk robes that nip in at the waist and flare slightly at the hips
For robes with a belt, choose wider cut styles that can be cinched to define your waist.  Avoid thin or strappy sashes

Avoid high necklines. Opt for V shaped lapel front for a tailored look
Look for classic colors, prints, and patterns that won't compete with your curves
Style Suggestions - kimono robes, wraps, short robes, long robes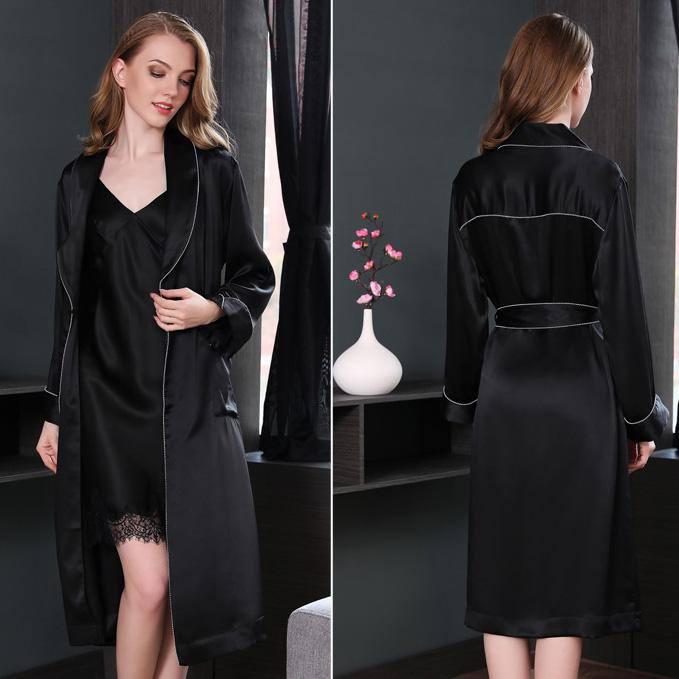 NIGHTGOWN & ROBE SETS