Cashmere Robe Luxury
A cashmere robe is unquestionably one of the most fabulous luxury robes that a woman (or man) can own.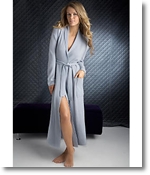 As warm as fleece robes, cashmere wool is soft, warm, and feels amazing against the skin.
The thin texture and fine drape of these luxury robes is flattering to all body types; cashmere is a wonderful insulator that does not add bulk, making it very desirable for everyone.
Because of its unparalleled luxury, a 100% cashmere wrap robe is a very expensive lingerie undergarment.
More expensive than popular satin robes and silk robes, you can expect to pay from several hundred to several thousand dollars for a top-quality womens robe from a reputable retailer such as Bare Necessities.
Cashmere Robe

Once purchased, however, a properly cared for robe will become an heirloom garment that will delight generations of lucky wearers.
Where does cashmere wool come from? From the soft undercoat of the cashmere goat.
But, not all cashmere ladies sleepwear materials are created equal. Look for 100% cashmere for the finest quality wool.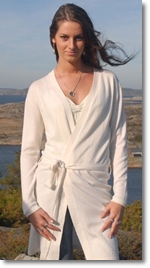 Cashmere wool in intimate apparel appears naturally in several colors, including cream, grey, and light brown. However, other colors may be easily created with dyes.
The thin fabric of cashmere night gowns, ladies pajamas and women sleepwear are strong and soft. Even calf-length and short robes will provide exceptional warmth.
If you live in a cool or cold climate, consider a long robe or hooded robe. for maximum warmth.
A cashmere robe should always be folded and stored in a drawer or on a shelf; hanging it up will pull the robe out of shape.
This rule also applies for any other cashmere garments. Do not expose cashmere robes to deodorants, makeup, hairspray, perfumes, or other harsh chemicals; they can cause permanent stains.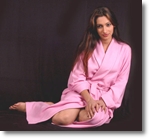 Many cashmere ladies robes can be dry cleaned; others may also be hand washed using a very mild detergent, or a mild baby shampoo.
Any detergent you use should be extremely mild and formulated for use with delicate fabrics. A rinse with a small quantity of mild hair conditioner will help your robe stay extra soft.
Cashmere also tends to soften with repeated washings; cared for in the proper way, cashmere will only grow more and more soft and cuddly!
The robe should be rolled up in a clean towel and pressed on to squeeze out excess water.
The garment may then be laid flat to dry on a dry towel. Never wring out a cashmere robe, as this may tear the wool fibers and cause major damage.
Sunlight can fade cashmere garments; they should be stored in a cool, dark, dry place.
Since wool is appetizing to moths, consider storing the robe in a cedar chest, or placing a cedar sachet nearby. Scattering cloves around will also help.
When storing a cashmere spa robe in a trunk or attic long-term, scatter some mothballs around.
It is much easier to prevent damage caused by moths than it is to repair it!
The few extra moments needed to properly care for cashmere lingerie are well worth the payoff.
With proper care, robes for women in luxurious cashmere will last for a lifetime and will be a joy to wear.