*FTC Disclosure - If you make a purchase through a link on this site, we receive a small commission at no extra cost to you.*
Cashmere Robe - How To Get One That's Affordable
Cashmere Robe - Soft and cozy, long or short, when it comes to the luxury robes, to wrap yourself in cashmere is the ultimate extravagance. It's akin to saying you have arrived in style.
But, as beautiful as cashmere is, it's also not for the faint of heart. Why? It can be very pricey, running from several hundred dollars to thousands in the blink of an eye.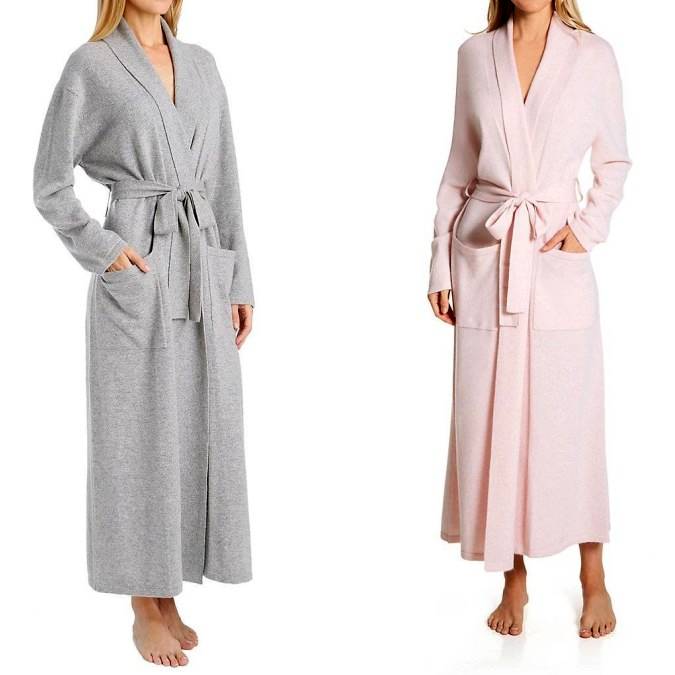 Not to worry if you've experienced cashmere sticker shock. Where there's a will, there's always a way.
It has never been easier to find one of these beautiful robes at a price that isn't so eye-watering. It just takes a little strategic planning and patience. Below, we share how you can get the robe that you want for less.

The Cashmere Robe - Shopping Tips And Tricks
Shop the sales - Timing is everything, especially when it comes to cashmere.  Of course watching out for sales is a way to save on cashmere robes, but it's the really big sales that occur at strategic times throughout the year that will help you get you the deep discounts you want.
What should you look out for? Since cashmere is a popular Christmas gift, brick and mortar stores and online retailers often have major blowouts after Christmas, at the end of the winter season in February, and again at the end of summer in August.
If there's a particular cashmere robe that you're after, resist the temptation of instant gratification and wait until the biggest sales to scoop it up.
Know your cashmere - Did you know that not all cashmere is created equal? It's true. Much like silk, cotton and many other fabrics, there are a variety of thicknesses and qualities.
How can you use this to your advantage? Do you homework and take a quick dive into the various types of cashmere so you can seek out the more affordable types, and more importantly, spot a super deal when one is available.
Here's an example - three-ply cashmere is more expensive than two-ply, as it's thicker and plusher.
But, even the lower ply knits can be just as cozy and luxe, so look for these thinner styles for a budget friendly alternative to thicker weights.
Did You Know?
More expensive than popular satin robes and silk robes, the best cashmere is manufactured with long fine fibers that offer a luxurious feeling and tend to pill less.
Consider a blended cashmere - high end 100% cashmere can really set back your savings, but there's another way that you can enjoy all of the cozy softness without the hefty price tag - with a cashmere blend.
Look for cashmere blended with other types of finer wool like merino, or cashmere blended with cotton, modal, viscose or angora.
You'll be hard pressed to notice a difference once you're wrapped up in your sumptuous, cozy robe that looks and feels like the ultimate indulgence. The best part? You'll love knowing that you got a great deal at a fraction of the cost.
Opt for a shorter robe - Keep in mind that a  long, floor sweeping style will be more expensive than a short cashmere robe, simply because it uses more fabric and costs more for the designer to produce.
As an alternate, try a short, kimono style, or even a cashmere wrap top as a way to snuggle into luxe softness without overspending.
Become a VIP member - Another great way to save is by joining the club. Most retailers offer exclusive sales and deals for their VIP members, email subscribers, or Facebook followers.
Sign up for your favorite sleepwear store's mailing lists and watch your inbox for special deals, advanced sales, and discounts that are only available to members.
Cashmere Care Tips

Sunlight can fade cashmere garments; they should be stored in a cool, dark, dry place.
Since wool is appetizing to moths, consider storing the robe in a cedar chest, or placing a cedar sachet nearby. Scattering cloves or a few mothballs nearby will also help.
Care for it at home - Embrace the DIY spirit when it comes to caring for your cashmere robe and you'll save big on dry cleaning bills.
All you need is a mild detergent and a little time. Hand wash your robe in luke warm water with a very mild detergent or baby shampoo.  Gently squeeze out excess water, and lay it flat to dry between 2 towels.
Once it's completely dry you can gently reshape it. With a little TLC at home you can skip the dry cleaners and their hefty prices for cleaning your cashmere.
After your robe is clean, store it properly by hanging it on a padded hanger, or fold and store in a drawer.
Avoid exposing your robe to deodorants, makeup, hairspray, perfumes, or other harsh chemicals that can cause permanent damage.
These few extra steps not only save on cleaning costs but will make your robe last longer so your investment becomes even more savvy.