*FTC Disclosure - If you make a purchase through a link on this site, we may receive a small commission on the transaction - at no extra cost to you.*
Bridal Panties - The 5 Scary Mistakes No One Mentions

Bridal Panties - No woman wants to commit a fashion faux pas, especially not a bride on her wedding day, when you're supposed to look and feel your most beautiful.
Don't let the wrong undergarments ruin your look or make you feel anything less than flawless when you avoid these bridal panty no-nos. We're sharing the 5 underwear mistakes that every bride should steer clear of on her big day.
Choosing Bridal Panties That Create A VPL

Visible panty lines, or VPLs, are a dreaded thing for any woman, and your wedding day is no exception. Don't spend your time and money looking perfect in your gown only to have your panties show through your dress.
Delicate fabrics, bias cuts, and ultra fine silks and satins need equally wispy panties for a seamless look.
Try a seamless thong for an invisible finish, and avoid looking back at your wedding photos only to see VPLs that take away from letting the beauty of your gown shine through.
Did You Know?

Ball gowns and A-line wedding dresses allow for a great variety of undies - from  low rise panties and bikinis to thongs and tanga panties.
Not Trying On Panties Before The Wedding
What might look like the prettiest pair of bridal panties on the rack may end up to be a nightmare to wear. We've all owned a pair of underwear that's itchy, pinches, are too tight, or a pair that rides up.
Why risk such a pair on your big day? You can't fully tell how a pair of panties will fit and feel until you try them on, so make sure you test them out ahead of time.
If they're at all uncomfortable then consider another pair. You won't want to spend the night fussing with, or even thinking about your panties when you could be enjoying your big day.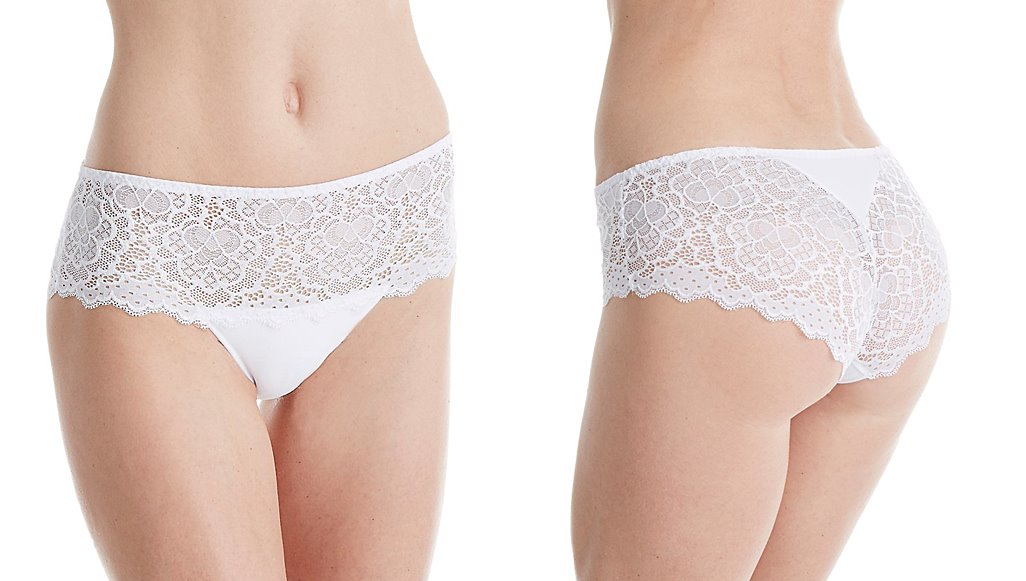 Trying To Conform With Bridal Lingerie
While bridal lingerie is traditionally white and lacy, by no means does this mean you need to wear panties that aren't "you".
This is your special day, and a modern bride should choose the styles that suit her style and make her feel like her most fabulous self.
Choose a pair of bridal panties that are special and beautiful but still work with your signature style.
There's no need to overdose on ruffles if you're more of a minimalist, so shop around until you find the bridal lingerie that you want to wear instead of focusing on what you think you should wear.
Shapewear

Fitted mermaid or sheath style bridal gowns can often benefit from womens shapewear favorites like Spanx shapewear, Flexees shapewear, and Rago shapwear.

Blowing Your Savings On Expensive Wedding Lingerie
Of course your bridal lingerie should be special and make you feel pretty and pampered, but keep it within reason.
You can choose a lovely pair of panties at a modest cost, which is a much better idea than spending a fortune on high-end underwear that you'll probably never wear again.
Your groom will likely only seen them for a few seconds before he sweeps you off your feet, so blowing your savings on overpriced designer panties is an investment that simply doesn't pay off.
Instead, choose a pair of mid-range underwear that's pretty and romantic, but save the big splurges on nighties or bras that you'll wear on your honeymoon and will become a regular part of your lingerie rotation.
Ignoring Your Lingerie Wants & Needs
Of course you want to look stunning for your sweetie, choose panties that are comfortable, and find a pair that doesn't break the bank, but don't forget to think about your own wants and needs too.
After all, this is your special day and your time to feel your most beautiful and glamorous, so choose bridal panties that you adore and make you feel gorgeous.
Chances are, he'll love whatever you slip on, so put yourself first when choosing your underpinnings and you'll exude a sense of beauty and confidence that makes you feel more special than ever.