Insiders Guide To Bridal Panties
Bridal panties, like their matching counterparts, bridal bras are are an important part of the bride lingerie ensemble.
Many women envision wearing bridal undergarments that are flimsy, ephemeral and maybe a tad erotic under their wedding dress.
But, it's wiser to wear bridal bras and wedding underwear beneath the gown, and change into honeymoon lingerie after the reception.
Most sexy bridal underwear is very skimpy and flimsy, offering little in the way of support.

Bridal Panties

This is great for the wedding night, but many brides are better suited by fuller, more supportive womens panties beneath their wedding gown.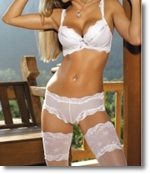 The kind of wedding underwear that are most appropriate beneath the wedding dress varies depending on the body type of the bride and the style of gown she has chosen.
Poofy ball gowns and A-line dresses are great at hiding large tummies, hips, and thighs.
Women sporting gowns in these styles can usually wear womens panties of their choice that range from low rise panties to tanga panties and even ultra peekaboo undies. However, a more revealing wedding dress may require brides to wear body shaping undergarments such as Spanx underwear.
Control underwear is usually flesh-colored and constructed from stretchy, supportive intimate apparel fabrics that smooth out cellulite and often reduce one's hip and thigh measurements by several inches.
Brides with fitted gowns, such as those in the mermaid or sheath style, can often benefit from such microfiber based ladies underwear even if they are not overweight.

The lingerie fabric of the chosen bridal underwear and the bridal bra should be as comfortable, breathable and soft as possible so that the bride remains comfortable throughout the wedding and ensuing celebration.
Wedding undergarments are usually available in a variety of colors, including white, cream, tan, brown, and black.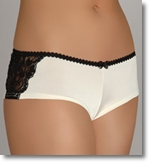 Bridal lingerie in white and cream look romantic and bridal, but are often visible beneath thin gown fabrics.
When possible, brides should choose bridal underwear and brassieres that match their skin tone as it is virtually invisible under white wedding dresses.
Surprisingly, white lingerie and intimate apparel tends to show through under any white clothing.
A wide array of fun, decorative bridal panties is available from many major lingerie retailers.
These womens panties make excellent gifts at a bridal shower or bachelorette party, and are often festooned with rhinestones, sequins, lace, and other adornments.
Some novelty panty styles even have a chiffon veil that hangs from the back of the waistband!
These bridal panties are fun and flirty, although wildly impractical. Many brides enjoy wearing them at their bachelorette parties, and often during the wedding rehearsal as well.
They are also very popular to take along as part of your honeymoon lingerie.
Because bridal underwear is not usually worn after the honeymoon, some brides choose to launder them and then preserve them with their wedding dress, veil, and other memorabilia.
The bridal lingerie garter belt is also often preserved in these collections, and may be lent or given to other family members to wear during their nuptial celebrations.