*FTC Disclosure - If you make a purchase through a link on this site, we receive a small commission at no extra cost to you.*
Corset and Bustiers - Little Known Secrets
Corset and Bustiers - Romantic and inviting, this exotic lingerie is a popular choice for anyone wanting to incorporate a little panache and sensual into their lingerie wardrobe.
Harkening back to an era when women's curves were meant to be celebrated, bustiers and their more structured cousin, the corset, can literally change your shape in an instant.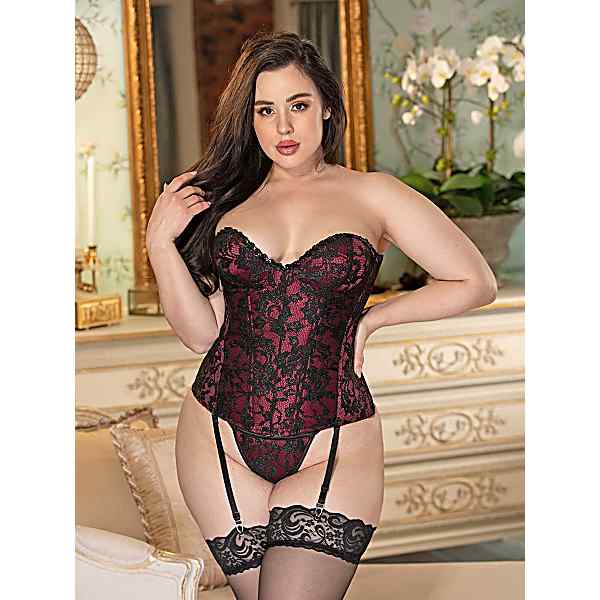 What's the difference between the two?
Both will lift your bustline, but a corset is heavier with vertical boning that will also slim your waist and give you a lush hourglass figure.
So, if, it's a corset or a bustier that you're looking for, you've come to the right place.... here are a few favorite secrets.
A Corset And Bustiers Are More Than Intimate Apparel

A corset and bustiers are not just underwear!
More conservative versions of these lingerie undergarments go wonderfully underneath blazers, shirts, suits, and other daytime pieces from your wardrobe.
They can make a great starting point for an outfit, and can be used to breathe life into an old pants suit, or clothing you want to glam up.
Before getting rid of a suit that's boring, you can always add a little magic back into it with a nice lacy corset (one that is not too low-cut, of course).
Letting the corset peek through can change the entire look of the outfit. Add some heels, and the look is complete.

Beautiful Lingerie Doesn't Need To Cost A Fortune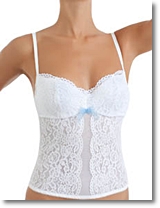 Contrary to popular belief, corset and bustiers do not have to cost a fortune.
By shopping online, you can easily find a a variety of options that are affordably priced.
And, while it is true that more expensive prices usually mean better quality (think of it as an investment in your wardrobe), there are some great pieces that are not outrageously expensive.
Vintage is also a great option if you're on a budget, since the quality / design combination are second to none.

                                          Lingerie Tip
Corsets and bustiers are a great choice for strapless wedding dresses. Opt for seamless styles for a smoother, flawless fit.

Mix And Match With Your Favorites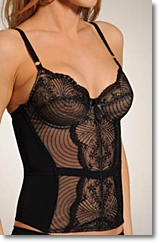 Think outside the box, and you'll be surprised what you come up with.
A classic lace corset or silk bustier makes a great base for a Halloween or masquerade costume.
They also go well with everything else in your wardrobe – from jeans and leather, to skirts and tights, etc.
They always look sexy, and come in a variety of colors, styles, materials, that you can dress up or dress down as much as you want.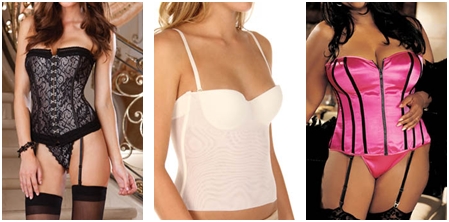 Shapewear Anyone?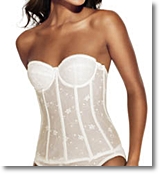 Instead of a girdle, control-top panties, or "Spanx shapewear", why not opt for the original shapewear?
Corsets and bustiers have been around for a very long time - long before traditional brassieres as we know them entered the lingerie scene.
Not only do corsets hold in a tummy and camouflage love handles, they also smooth everything else out, eliminate lumps and bumps, give a nice shape, and lift the bustline for a classic feminine look.

Thinking Outside The Lingerie Box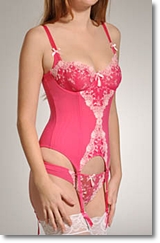 Corsets can be worn OVER long-sleeved tops. Madonna is a fan of this flirty yet sophisticated look.
And, since a corset is much longer than a bra, it won't look like you're wearing a bra over your shirt, but it will create a unique style.
For something that really pops, try a black corset over a red ¾ sleeve shirt with jeans or black pants.
Opt for a corset or a bustier and watch your wardrobe options grow exponentially. You'll never have to ponder, "what should I wear?" again!

Shopping Online For Specialty Lingerie Styles
Shopping online for a corset and bustiers, bustier tops, bridal bustiers, and a variety of different types of bras is easy online with places like eBay clothing.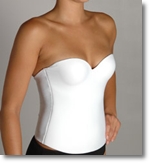 Need help with bra sizes ? Check out our easy 3 step bra size calculator for sizing tips and finding the right bra size.
When you click on a link a new window will open and you'll see a sampling of what's currently available online.
Want to continue lingerie and bra shopping ? Just follow the view items link at the end of the listings...